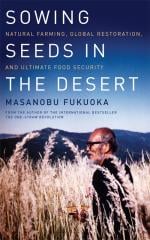 Like this book? Digg it!

Book Data
ISBN: 9781603585224
Year Added to Catalog: 2013
Book Format: Paperback
Dimensions: 5 x 8
Number of Pages: 216
Book Publisher: Chelsea Green Publishing
Release Date: September 3, 2013
Web Product ID: 752
Also in Gardening & Agriculture
Sowing Seeds in the Desert
Natural Farming, Global Restoration, and Ultimate Food Security
Foreword by Larry Korn
Masanobu Fukuoka ran a course on natural farming, and gave our Howard lecture at Navdanya's biodiversity farm in the Doon valley of India, and we even have a cottage named the Fukuoka hut. He was a teacher ahead of his time. "Sowing seeds in the desert" is what all of humanity has to learn to do, whether it is in economic desert created by Wall Street, or an ecological desert created by globalized corporate agriculture."

—Vandana Shiva, founder of Navdanya Research Foundation for Science Technology & Ecology
The last major work from the author of international bestseller The One-Straw Revolution
The earth is in great peril due to the corporatization of agriculture, the rising climate crisis, and the ever-increasing levels of global poverty, starvation, and desertification on a massive scale. This present condition is not "natural," according to farmer and philosopher Masanobu Fukuoka, but a result of humanity's destructive actions. Our global trauma, however, can be remedied—and maybe even reversed—but only when we change our methods of earth stewardship, and the very way we think about the relationship between humans and nature.
Fukuoka's inspiring and international best-selling book, The One-Straw Revolution (1978), spoke directly to the growing movement of organic farmers and activists seeking a new way of life. For years after its publication, Fukuoka traveled the world spreading his teachings and developing a devoted following of farmers seeking to return to the truth of nature.
Sowing Seeds in the Desert, a summation of those years of travel and research, is Fukuoka's last major work—and perhaps his most important. Fukuoka spent years working with people and organizations in Africa, India, Southeast Asia, Europe, and the United States, to show how you could grow food and regenerate forests with very little irrigation in the most desolate places. This revolutionary book presents Fukuoka's plan to rehabilitate the world's deserts and achieve global food security by using natural farming, including practical solutions for feeding a growing human population and providing a deep and renewed understanding of the relationship between human beings and nature. Fukuoka's message comes at a time when people around the world seem to have lost their frame of reference, and offers us a way forward.