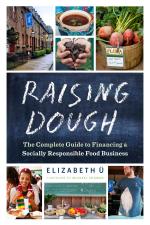 Like this book? Digg it!

Book Data
ISBN: 9781603584289
Year Added to Catalog: 2012
Book Format: Paperback
Dimensions: 6 x 9
Number of Pages: 288
Book Publisher: Chelsea Green
Release Date: June 6, 2013
Web Product ID: 745
Also in Socially Responsible Business
Raising Dough
The Complete Guide to Financing a Socially Responsible Food Business
Foreword by Michael H. Shuman
Upcoming Author Events
SAN FRANCISCO, CA

January 12, 2015, 12:00 pmElizabeth Ü at Good Food, Great Business

595 Market St, San Francisco CA 94105

Elizabeth Ü will join a panel of other women entrepeneurs for "Good Food, Great Business: How Food Startups Take Good Ideas from Concept to Success." Learn how these foodie forerunners put their ideas in motion, funded their ventures, kept going through the inevitable peaks and valleys of running a business – and how they continue to balance "good" with growth. This free member event organized by the Bay Gourmet Forum of the Commonwealth Club of California will take place at their office in San Francisco on January 12th at 12:00 PM. Following the panel, there will be a book signing at 1:00 PM.

PACIFIC GROVE, CA

January 23, 2015, 1:30 pmElizabeth Ü at the 35th Annual EcoFarm Conference

Asilomar Conference Grounds , Pacific Grove CA 93950

Elizabeth will be co-presenting a workshop on crowdfunding for farmers at the Ecological Farming AssociationÂ's flagship event at Asilomar Conference Grounds in Pacific Grove, CA. Elizabeth's workshop will begin at 1:30 PM on Friday, January 23rd. For more information on registration for this event, click here: http://eco-farm.org/conference/rates-and-discounts.

BEND, OR

June 26, 2015, 12:00 pmElizabeth Ü at Regards to Rural Conference

The Riverhouse Hotel, 075 U.S. 97 Business, Bend OR 97701

In partnership with the Nonprofit Association of Oregon, Oregon State University Rural Studies Program and Extension Service, Sustainable Northwest, and The Ford Family Foundation, the Regards to Rural 2015 conference is a gathering to inform and inspire all that is rural! Renew your energy, share practices, and spark innovative ideas for strengthening the economic vitality and social vibrancy of rural communities. Elizabeth will be delivering a keynote address and a more intimate workshop at this event.

Online for US Orders Only
International orders can be placed by phone (802-295-6300) or email
Additional Information
Elizabeth Ü's Upcoming Events
Elizabeth Ü at Good Food, Great Business


595 Market St, San Francisco CA 94105

January 12, 2015, 12:00 pm

Elizabeth Ü at the 35th Annual EcoFarm Conference


Asilomar Conference Grounds , Pacific Grove CA 93950

January 23, 2015, 1:30 pm

Elizabeth Ü at Regards to Rural Conference


The Riverhouse Hotel, 075 U.S. 97 Business, Bend OR 97701

June 26, 2015, 12:00 pm