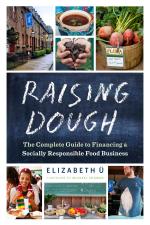 Like this book? Digg it!

Book Data
ISBN: 9781603584289
Year Added to Catalog: 2012
Book Format: Paperback
Dimensions: 6 x 9
Number of Pages: 288
Book Publisher: Chelsea Green
Release Date: June 6, 2013
Web Product ID: 745
Also in Socially Responsible Business
Raising Dough
The Complete Guide to Financing a Socially Responsible Food Business
Foreword by Michael H. Shuman
Upcoming Author Events
ATLANTA, GA

November 18, 2014, 12:00 pm

Elizabeth U at Atlanta Community Food Bank's Partner Meeting

Atlanta Community Food Bank, Atlanta GA

Elizabeth will be teaching an interactive workshop on creative financing opportunities for food entrepreneurs and the dozens of partners that work with the Atlanta Community Food Bank. Please contact the Atlanta Community Food Bank for more information.

SONOMA COUNTY, CA

December 13, 2014, 12:00 pm

Elizabeth U at The Farmers Guild

The Farmers Guild, Sebastopol Grange Hall, 6000 Sebastopol Ave. / Hwy 12, Sonoma County CA

Elizabeth U will teach a workshop at an Entrepreneurial Farm Business Intensive at The Farmers Guild on December 13 and 14. Cost: (includes 2 meals): Before Dec 1st: Sliding Scale: $30 - $50 After Dec 1: $50 flat rate

SAN FRANCISCO, CA

January 12, 2015, 12:00 pmElizabeth Ü at Good Food, Great Business

595 Market St, San Francisco CA 94105

Elizabeth Ü will join a panel of other women entrepeneurs for "Good Food, Great Business: How Food Startups Take Good Ideas from Concept to Success." Learn how these foodie forerunners put their ideas in motion, funded their ventures, kept going through the inevitable peaks and valleys of running a business – and how they continue to balance "good" with growth. This free member event organized by the Bay Gourmet Forum of the Commonwealth Club of California will take place at their office in San Francisco on January 12th at 12:00 PM. Following the panel, there will be a book signing at 1:00 PM.

Online for US Orders Only
International orders can be placed by phone (802-295-6300) or email
Additional Information
Elizabeth Ü's Upcoming Events
Elizabeth U at Atlanta Community Food Bank's Partner Meeting


Atlanta Community Food Bank, Atlanta GA

November 18, 2014, 12:00 pm

Elizabeth U at The Farmers Guild


The Farmers Guild, Sebastopol Grange Hall, 6000 Sebastopol Ave. / Hwy 12, Sonoma County CA

December 13, 2014, 12:00 pm

Elizabeth Ü at Good Food, Great Business


595 Market St, San Francisco CA 94105

January 12, 2015, 12:00 pm