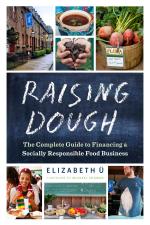 Like this book? Digg it!

Book Data
ISBN: 9781603584289
Year Added to Catalog: 2012
Book Format: Paperback
Dimensions: 6 x 9
Number of Pages: 288
Book Publisher: Chelsea Green
Release Date: June 6, 2013
Web Product ID: 745
Also in Socially Responsible Business
Raising Dough
The Complete Guide to Financing a Socially Responsible Food Business
Foreword by Michael H. Shuman
Upcoming Author Events
BELLINGHAM, WA

July 24, 2014, 12:00 pmElizabeth Ü at Sustainable Connections

1701 Ellis St, Suite 221 (in the Creekside Building), Bellingham WA

Village Books, Sustainable Connections, and other local organizations are hosting Elizabeth for this free brown bag lunch presentation and conversation for entrepreneurs and those that want to support them. "Fundraising Techniques for Small Businesses, from the Traditional to the Cutting Edge." Note: this event will be held in the Sustainable Connections office, not the bookstore!

MEDFORD, OR

August 5, 2014, 6:00 pm

Elizabeth Ü at Homegrown Finance

, Medford OR

An evening event with a presentation on the range of financing options for food businesses by Elizabeth, plus a panel of food companies and people who have invested in them. Hosted by Thrive, OSU Extension, Slow Money Southern OR, and Sustainable Valley. Featuring local food! More information coming soon.

SANTA ROSA, CA

September 9, 2014, 12:00 pmElizabeth Ü at National Heirloom Expo

1350 Bennett Valley Rd, Santa Rosa CA

Elizabeth will speak at the 2014 National Heirloom Expo, to be held September 9-11 at the Sonoma County Fairgrounds.

CHARLOTTESVILLE , VA

October 20, 2014, 12:00 pmElizabeth Ü at Regenerative Enterprise and Commercial Food Forestry

, Charlottesville VA

Elizabeth is honored to co-present this workshop (hosted by the Blue Ridge Permaculture Network) along with the esteemed, inspirational, and endlessly entertaining Eric Toensmeier and Rafter Sass Ferguson. If you are serious about building a viable business from your farm… all while improving your land and helping mitigate climate change, don't miss this workshop! More information coming soon.

Online for US Orders Only
International orders can be placed by phone (802-295-6300) or email
Additional Information
Elizabeth ‹'s Upcoming Events
Elizabeth Ü at Sustainable Connections


1701 Ellis St, Suite 221 (in the Creekside Building), Bellingham WA

July 24, 2014, 12:00 pm

Elizabeth Ü at Homegrown Finance


, Medford OR

August 5, 2014, 6:00 pm

Elizabeth Ü at National Heirloom Expo


1350 Bennett Valley Rd, Santa Rosa CA

September 9, 2014, 12:00 pm

Elizabeth Ü at Regenerative Enterprise and Commercial Food Forestry


, Charlottesville VA

October 20, 2014, 12:00 pm