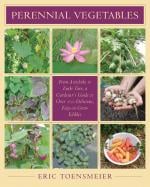 Like this book? Digg it!

Book Data
ISBN: 9781931498401
Year Added to Catalog: 2007
Book Format: Paperback
Book Art: full-color photographs, illustrations, recipes
Number of Pages: 8 x 10, 256 pages
Book Publisher: Chelsea Green Publishing
Old ISBN: 1931498407
Release Date: May 16, 2007
Web Product ID: 162
Perennial Vegetables
From Artichokes to Zuiki Taro, a Gardener's Guide to Over 100 Delicious, Easy-to-Grow Edibles
Praise
"Full of surprising edible possibilities, this book 'promotes fresh thinking as to what a vegetable garden can be,' says Doreen Howard. 'This topic is presented in a thorough and engaging way,' says Susan Eubank. 'It teaches responsible gardening practices without preaching,' adds Marty Ross. Gene Bussell notes that the book's production 'reflects Chelsea Green's earth-friendly policy,' while maintaining an overall high quality."

—From the American Horticultural Society's announcement of the 2008 AHS Book Award
"Toensmeier's knowledge of edible plants is impressive and inspiring. His excitement for a sustainable landscape helps us focus away from buying food to harvesting it naturally. Perennial Vegetables offers an excellent range of edible plants for long-term cultivation and enjoyment."

—Ellen Ecker Ogden, co-founder of The Cook's Garden seed catalog, author of From the Cook's Garden
"Growing perennial vegetables is a true pleasure. This fine book gives the knowledge to successfully add variety to both the garden and the table while also enhancing the home environment."

—Miranda Smith, author of The Plant Propagator's Bible and Complete Home Gardening
"Eric Toensmeier has comprehensively filled a huge gap in the sustainable landscape. Perennial Vegetables lets you put away your tiller, and covers everything you need to grow, harvest, and eat vegetables and greens that will keep coming back year after year."

—Toby Hemenway, author of Gaia's Garden
"That there are more perennial vegetables than asparagus is no surprise, but that there are more than 100 species we North American gardeners can choose from is news. Toensmeier's Perennial Vegetables, the first comprehensive guide to growing them, will have all of us reexamining our plans for next year's vegetable plot."

—Karan Davis Cutler, author of Burpee: The Complete Flower Garden

US Orders Only.
International Orders: Click here.
Additional Information
Eric Toensmeier's Upcoming Events
Eric Toensmeier at Food Forest Farm


, Holyoke MA

April 26, 2014, 12:00 pm

Eric Toensmeier at the Omega Institute


150 Lake Dr, Rhinebeck NY

May 16, 2014, 12:00 pm

Eric Toensmeier at Ferme Au Petit Boisé


Ferme Au Petit Boisé, Frelighsburg Quebec, Canada

May 23, 2014, 12:00 pm

Eric Toensmeier at Financial Permaculture & Local Business Summit


, Miami FL

May 31, 2014, 12:00 pm

Eric Toensmeier at Vermont Edible Landscapes


The Teal Farm, Huntington VT

June 28, 2014, 8:00 am