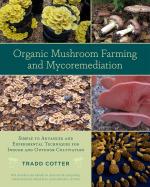 Like this book? Digg it!

Book Data
ISBN: 9781603584555
Year Added to Catalog: 2014
Book Format: Paperback
Book Art: 4 Color
Dimensions: 8 x 10
Number of Pages: 400
Book Publisher: Chelsea Green
Release Date: August 12, 2014
Web Product ID: 812
Also in Gardening & Agriculture
Organic Mushroom Farming and Mycoremediation
Simple to Advanced and Experimental Techniques for Indoor and Outdoor Cultivation
Praise
"Finally, an accessible resource covering a wide variety of mushroom-cultivation approaches. Tradd Cotter's book fills an enormous need—I've been wishing for a resource like this for a long time. This is the kind of book I'll keep nearby and will turn to often over the years. Any farmer or gardener who wishes to garner food or medicine value from wood needs to understand and cultivate mushrooms. And this is the best all-around manual I've seen."

—Ben Falk, author of The Resilient Farm and Homestead
"Wow! Tradd Cotter is a genius of organic mushroom production. His step-by-step instructions and beautiful photography make this a must-have book."

—Robert Rogers, author of The Fungal Pharmacy: The Complete Guide to Medicinal Mushrooms and Lichens of North America
"Tradd Cotter has done a wonderful job sharing his practical experience in a well-organized way with illustrations that clearly underline the topics. Organic Mushroom Farming and Mycoremediation is an invaluable resource for teaching students about mushroom cultivation."

—Peter Oei, author of Mushroom Cultivation, director of horticulture innovation at InnovatieNetwerk, Dutch Ministry of Economic Affairs, and founder of MeattheMushroom.nl and spore.nl.
"This is a reference book for the next generation of DIY mycologists. It is a great practical guide to mushroom cultivation, starting with basic concepts and building from there to mycoremediation and experimental strain development. Tradd Cotter is a man with a mission, who has done and thought about all this a lot; he has learned to explain it with great clarity and in a simple and well-organized manner."

—Sandor Ellix Katz, fermentation revivalist and author of The Art of Fermentation and Wild Fermentation
"Mushroom cultivation should be playing a much bigger role in our gardens and farms. Tradd Cotter's Organic Mushroom Farming and Mycoremediation provides low-cost, easily accessible techniques for growing mushrooms indoors and outdoors, from home to commercial scale."

—Eric Toensmeier, author of Paradise Lot and Perennial Vegetables
"Tradd Cotter has written a clear, comprehensive guide that is a gift to amateur as well as professional mushroom growers. The pages are enlivened by Cotter's enthusiasm for the many possibilities that fungi offer, and his obvious familiarity with growing these marvelous creatures—not just theoretical knowledge—makes the book particularly valuable. This book opens the doors wide to a diverse and fascinating fungal world."

—Toby Hemenway, author of Gaia's Garden: A Guide to Home-Scale Permaculture
"Organic Mushroom Farming and Mycoremediation is a guide and inspiration for new and experienced mushroom cultivators alike. Tradd Cotter has done a great job of combining the complexity of mushroom cultivation with the intuitive simplicity of 'small steps.' Highly recommended for fungophiles as a great read and reference!"

—Jim Gibson, past president, Colorado Mycological Society

Online for US Orders Only
International orders can be placed by phone (802-295-6300) or email
Tradd Cotter's Upcoming Events
Tradd Cotter at the Southern SAWG Conference


1 South Water Street, Mobile AL 36602

January 16, 2015, 12:00 pm

Tradd Cotter at NOFA NY Winter Conference


NOFA NY Winter Conference, Saratoga Springs NY

January 23, 2015, 8:00 am

Tradd Cotter at NOFA NY Winter Conference


534 Broadway , Saratoga Springs NY 12866

January 23, 2015, 1:15 pm

Tradd Cotter at NOFA NY Winter Conference


NOFA NY Winter Conference, Saratoga Springs NY

January 24, 2015, 1:30 am

Tradd Cotter at NOFA NY Winter Conference


NOFA NY Winter Conference, Saratoga Springs NY

January 24, 2015, 9:30 am