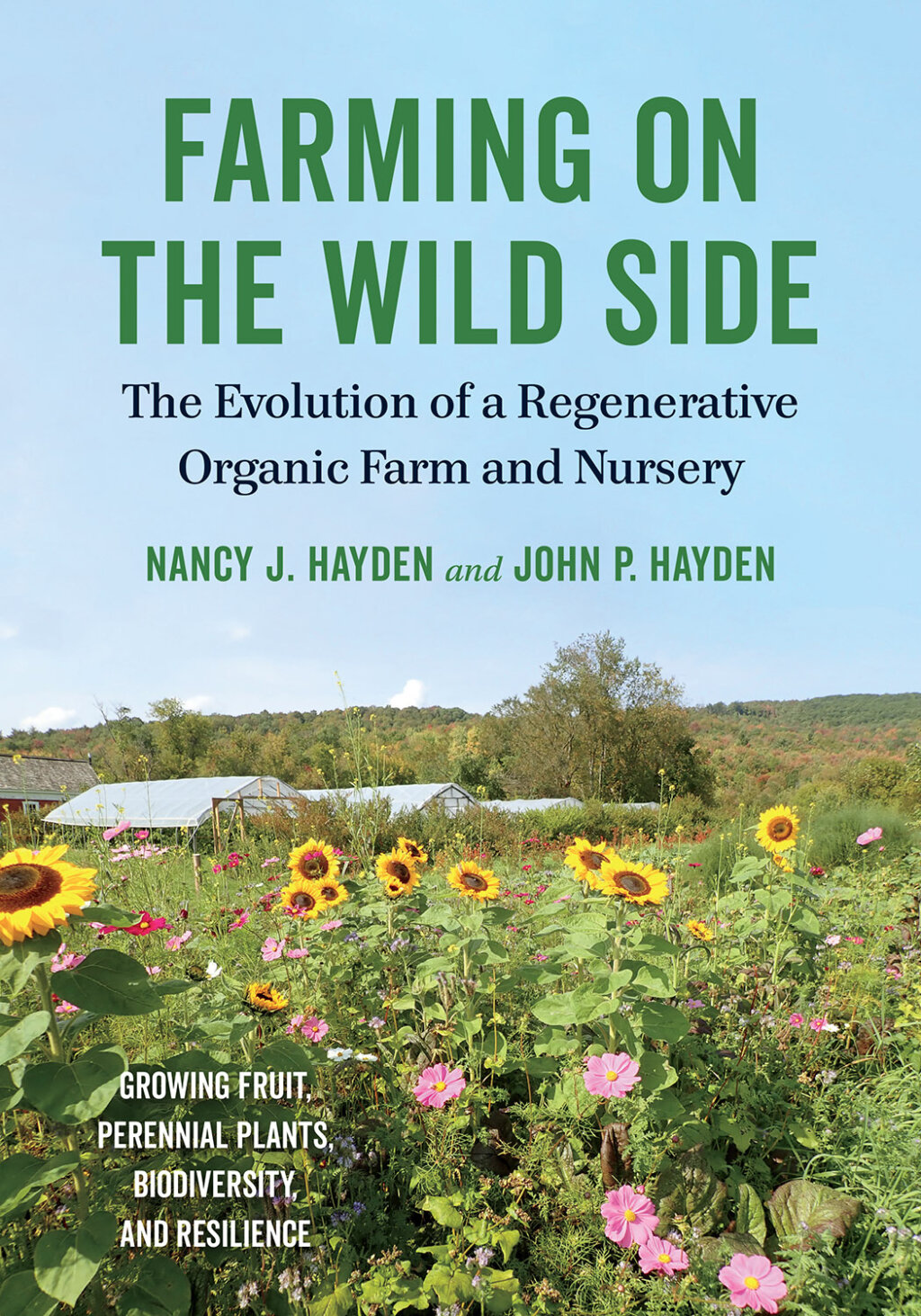 | | |
| --- | --- |
| Pages: | 272 pages |
| Book Art: | Full-color photographs and illustrations throughout |
| Size: | 7 x 10 inch |
| Publisher: | Chelsea Green Publishing |
| Pub. Date: | September 19, 2019 |
| ISBN: | 9781603588287 |
The Evolution of a Regenerative Organic Farm and Nursery
Availability: In stock
Paperback
One farm's decades-long journey into regenerative agriculture—and how these methods enhance biodiversity, pollinators, and soil health
Northern Vermont's Nancy and John Hayden have spent the last 25 years transforming their draft horse–powered, organic vegetable and livestock operation into an agroecological, regenerative, biodiverse, organic fruit farm, fruit nursery, and pollinator sanctuary. In Farming on the Wild Side they explain the philosophical and scientific principles that influenced them as they phased out sheep and potatoes and embraced apples, pears, stone fruits, and a wide variety of uncommon berry crops; turned much of their property into a semi-wild state; and adapted their marketing and sales strategies to the new century. As the Haydens pursued their goals of enhancing biodiversity and regenerating their land, they incorporated agroforestry and permaculture principles into perennial fruit polycultures, a pollinator sanctuary, repurposed greenhouses for growing fruit, hügelkultur, and ecological "pest" management. Beyond the practical techniques and tips, this book also inspires readers to develop greater ecological literacy and respect for the mysteries of the global ecosystem. Farming on the Wild Side tells a story about new ways to manage small farms and homesteads, about nurturing land, about ecology, about economics, and about things that we can all do to heal both the land and ourselves.
Reviews and Praise
Publishers Weekly—

"Married couple Nancy and John Hayden bring together her degrees in biology, ecology, and creative writing and his in entomology in this remarkable biography of The Farm Between, their 18 acres in the foothills of Northern Vermont's Green Mountains . . . [They] will delight anyone interested in modern-day organic agriculture with this detailed history of one farm's progress."

More Reviews and Praise
"I love this book, which is an incredible and inspiring ray of hope. Farming on the Wild Side shows both experienced and aspiring farmers how to build a highly productive, biodiverse, and profitable family farm and have a fulfilling lifestyle. This is the future of farming."—André Leu, international director, Regeneration International; author of Poisoning Our Children
"As a fellow farmer and longtime member of the organic community, the journey Nancy and John Hayden take us on with their new book resonates in my mind and carries me back through similar transitions with my own farm. While the book touches gently on many topics, I appreciate the realistic view of farming and rural life and their very real commitment to the concepts of soil health."—Jeff Moyer, executive director, Rodale Institute
"With Farming on the Wild Side, Nancy and John Hayden have delivered an inspiring story of shepherding an old, tired Vermont dairy into a new, diversified organic farm that serves the needs of the twenty-first century. It covers their journey step-by-step with new crops, new markets, and new farming methods, modeling an ecological balance that farms must achieve in the future. But the book is more than their personal experience with innovation over three decades; it's also a philosophical and practical guide to restoring land to health, which benefits the farmer, one's community, and all living things. Given the pace of climate change and the importance of regenerative agriculture as a key solution, this book is very timely!"—Will Raap, founder and chairman, Gardener's Supply
"This amazing book details how Nancy and John are living the new farming paradigm, one that maximizes ecosystem functionality and values soil, biodiversity, human well-being, and long-term resiliency. Their farming journey and philosophical evolution provide practical and science-based solutions for how the backyard gardener, hobby farmer, or large-scale grower can be part of the pollinator, food, and climate solution."—Heather Holm, pollinator educator; author of Bees and Pollinators of Native Plants
"Good farmers learn how to listen to the land. Nancy and John Hayden work with Nature to produce wholesome food for their family and community. Life doesn't get better than this. Farming on the Wild Side provides plenty of practical advice and green inspiration to up your growing game."—Michael Phillips, author of The Holistic Orchard and Mycorrhizal Planet
"An inspiration—Farming on the Wild Side lays down an ecologically justified path for others to follow for a biodiverse farm."—Jo Ann Baumgartner, executive director, Wild Farm Alliance
"This intelligent book is written by two people who have a pure love and appreciation for the land and its inhabitants. Farming on the Wild Side serves as an authentic account of the farmers' personal transformation, a practical guide to agroecological transition, and an inspiration to live in greater harmony with nature. The farm that was created and described in detail here truly embodies the concept of a multifunctional landscape, supporting productive, ecological, and cultural functions."—Dr. Sarah Lovell, H.E. Garrett Endowed Chair Professor and director of the Center for Agroforestry, University of Missouri
"Nancy and John use a forensic but accessible approach to explore their personal journey from scientists to farmers. New crops and enterprises are approached with careful planning, and their successes, or otherwise, are carefully observed to inform future decisions. Even non-farmers will enjoy reading about how they gradually adapted their farm to create a diverse farming system suited to their character and their geography. Farming on the Wild Side is a masterclass in working with nature to create abundance."—Ben Raskin, Head of Horticulture, Soil Association
"In telling the history of a farm and its farmers, Farming on the Wild Side addresses issues of great relevance to the future of agriculture. John and Nancy Hayden remind us that an ecologically based and socially just agriculture needs to involve deep and diverse relationships between people and landscapes. The Haydens present a true example of co-evolution between the Farm Between and its stewards, documenting their use of agroecological principles to transform a conventional dairy into a diversified farm, which takes full advantage of its ecological processes. Each one of the stages of transformation—from dairy to organic vegetables to a regenerative fruit farm and nursery—offer valuable lessons to reflect on. I have been working on research and education with the Haydens for a decade, and they have generously taught me and my students how to fully integrate the science and practice dimensions of agroecology."—V. Ernesto Méndez, PhD, professor of agroecology and environmental studies, University of Vermont
"We need many, many more farmers like Nancy and John Hayden, and this book will go a long way toward inspiring them. In these pages the Haydens share twenty years of wisdom, weaving together equal measures of story, philosophy, and practice about resilient and sustainable farming."—Taylor Ricketts, director, Gund Institute for Environment, University of Vermont
"It's no secret that the way in which we feed ourselves and inhabit the land must change, but few of us truly know how to make that happen. The beauty of this book is that John and Nancy Hayden do know; even better, they've graciously shared their knowledge in these pages."—Ben Hewitt, author of The Nourishing Homestead
"I love this book. It takes me back to a time and a place my grandparents used to talk about—a good time and place—when farmers and growers worked with nature instead of against it. Farming on the Wild Side inspires, informs, and fills me with hope that we can heal our relationship with the wild. Just reading this book is healing, and I can't wait to put some of Nancy and John Hayden's ways into practice on our own little plot of land."—Brigit Strawbridge Howard, author of Dancing with Bees
"This lavishly illustrated book follows the Hayden family as they bring nature back to their farm, and in the process, it tells a story of learning, testing, observing, and creating an agroecological model of how to farm with nature, not against her. They combine the science of biodiversity management, the practices of good farming, and the transformative change humans need in order to return to the kinds of food systems that will feed the land as well as feed us."—Steve Gliessman, professor emeritus of agroecology, UC Santa Cruz
"In easy, conversational prose, Nancy and John Hayden offer the aspiring regenerative farmer a compendium of wisdom on the practicalities of establishing, developing, surviving, enjoying, and profiting from the small farm without losing sight of bigger ecological and political issues. Their warts-and-all history of their own farming practice rings true and is full of inspiration for those seeking a better future while dealing with present realities—which is hopefully all of us. We need more books like this."—Chris Smaje, writer, Small Farm Future; farmer, Somerset, UK
Reviews and Praise
Publishers Weekly—

"Married couple Nancy and John Hayden bring together her degrees in biology, ecology, and creative writing and his in entomology in this remarkable biography of The Farm Between, their 18 acres in the foothills of Northern Vermont's Green Mountains . . . [They] will delight anyone interested in modern-day organic agriculture with this detailed history of one farm's progress."
More Reviews and Praise
"I love this book, which is an incredible and inspiring ray of hope. Farming on the Wild Side shows both experienced and aspiring farmers how to build a highly productive, biodiverse, and profitable family farm and have a fulfilling lifestyle. This is the future of farming."—André Leu, international director, Regeneration International; author of Poisoning Our Children
"As a fellow farmer and longtime member of the organic community, the journey Nancy and John Hayden take us on with their new book resonates in my mind and carries me back through similar transitions with my own farm. While the book touches gently on many topics, I appreciate the realistic view of farming and rural life and their very real commitment to the concepts of soil health."—Jeff Moyer, executive director, Rodale Institute
"With Farming on the Wild Side, Nancy and John Hayden have delivered an inspiring story of shepherding an old, tired Vermont dairy into a new, diversified organic farm that serves the needs of the twenty-first century. It covers their journey step-by-step with new crops, new markets, and new farming methods, modeling an ecological balance that farms must achieve in the future. But the book is more than their personal experience with innovation over three decades; it's also a philosophical and practical guide to restoring land to health, which benefits the farmer, one's community, and all living things. Given the pace of climate change and the importance of regenerative agriculture as a key solution, this book is very timely!"—Will Raap, founder and chairman, Gardener's Supply
"This amazing book details how Nancy and John are living the new farming paradigm, one that maximizes ecosystem functionality and values soil, biodiversity, human well-being, and long-term resiliency. Their farming journey and philosophical evolution provide practical and science-based solutions for how the backyard gardener, hobby farmer, or large-scale grower can be part of the pollinator, food, and climate solution."—Heather Holm, pollinator educator; author of Bees and Pollinators of Native Plants
"Good farmers learn how to listen to the land. Nancy and John Hayden work with Nature to produce wholesome food for their family and community. Life doesn't get better than this. Farming on the Wild Side provides plenty of practical advice and green inspiration to up your growing game."—Michael Phillips, author of The Holistic Orchard and Mycorrhizal Planet
"An inspiration—Farming on the Wild Side lays down an ecologically justified path for others to follow for a biodiverse farm."—Jo Ann Baumgartner, executive director, Wild Farm Alliance
"This intelligent book is written by two people who have a pure love and appreciation for the land and its inhabitants. Farming on the Wild Side serves as an authentic account of the farmers' personal transformation, a practical guide to agroecological transition, and an inspiration to live in greater harmony with nature. The farm that was created and described in detail here truly embodies the concept of a multifunctional landscape, supporting productive, ecological, and cultural functions."—Dr. Sarah Lovell, H.E. Garrett Endowed Chair Professor and director of the Center for Agroforestry, University of Missouri
"Nancy and John use a forensic but accessible approach to explore their personal journey from scientists to farmers. New crops and enterprises are approached with careful planning, and their successes, or otherwise, are carefully observed to inform future decisions. Even non-farmers will enjoy reading about how they gradually adapted their farm to create a diverse farming system suited to their character and their geography. Farming on the Wild Side is a masterclass in working with nature to create abundance."—Ben Raskin, Head of Horticulture, Soil Association
"In telling the history of a farm and its farmers, Farming on the Wild Side addresses issues of great relevance to the future of agriculture. John and Nancy Hayden remind us that an ecologically based and socially just agriculture needs to involve deep and diverse relationships between people and landscapes. The Haydens present a true example of co-evolution between the Farm Between and its stewards, documenting their use of agroecological principles to transform a conventional dairy into a diversified farm, which takes full advantage of its ecological processes. Each one of the stages of transformation—from dairy to organic vegetables to a regenerative fruit farm and nursery—offer valuable lessons to reflect on. I have been working on research and education with the Haydens for a decade, and they have generously taught me and my students how to fully integrate the science and practice dimensions of agroecology."—V. Ernesto Méndez, PhD, professor of agroecology and environmental studies, University of Vermont
"We need many, many more farmers like Nancy and John Hayden, and this book will go a long way toward inspiring them. In these pages the Haydens share twenty years of wisdom, weaving together equal measures of story, philosophy, and practice about resilient and sustainable farming."—Taylor Ricketts, director, Gund Institute for Environment, University of Vermont
"It's no secret that the way in which we feed ourselves and inhabit the land must change, but few of us truly know how to make that happen. The beauty of this book is that John and Nancy Hayden do know; even better, they've graciously shared their knowledge in these pages."—Ben Hewitt, author of The Nourishing Homestead
"I love this book. It takes me back to a time and a place my grandparents used to talk about—a good time and place—when farmers and growers worked with nature instead of against it. Farming on the Wild Side inspires, informs, and fills me with hope that we can heal our relationship with the wild. Just reading this book is healing, and I can't wait to put some of Nancy and John Hayden's ways into practice on our own little plot of land."—Brigit Strawbridge Howard, author of Dancing with Bees
"This lavishly illustrated book follows the Hayden family as they bring nature back to their farm, and in the process, it tells a story of learning, testing, observing, and creating an agroecological model of how to farm with nature, not against her. They combine the science of biodiversity management, the practices of good farming, and the transformative change humans need in order to return to the kinds of food systems that will feed the land as well as feed us."—Steve Gliessman, professor emeritus of agroecology, UC Santa Cruz
"In easy, conversational prose, Nancy and John Hayden offer the aspiring regenerative farmer a compendium of wisdom on the practicalities of establishing, developing, surviving, enjoying, and profiting from the small farm without losing sight of bigger ecological and political issues. Their warts-and-all history of their own farming practice rings true and is full of inspiration for those seeking a better future while dealing with present realities—which is hopefully all of us. We need more books like this."—Chris Smaje, writer, Small Farm Future; farmer, Somerset, UK