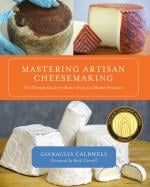 Like this book? Digg it!

Book Data
ISBN: 9781603583329
Year Added to Catalog: 2012
Book Format: Paperback
Book Art: Full-Color Throughout
Dimensions: 8 x 10
Number of Pages: 368
Book Publisher: Chelsea Green
Release Date: September 7, 2012
Web Product ID: 693
Mastering Artisan Cheesemaking
The Ultimate Guide for Home-Scale and Market Producers
Foreword by Ricki Carroll
Reviews, Interviews, & Articles
Bookwatch Review: Home hobbyists and any serious about commercial artisans will find MASTERING ARTISAN CHEESEMAKING the ultimate key to moving from very basic ideas to creating masterpiece cheeses. Recipe-based cheese-making books alone often fail to cover the science and art of small-scale cheese making for all skill levels: this book packs in some thirty basic recipes with profiles of cheesemakers from around the world, information on home-scale equipment and cheese aging, and more. The result is a powerful recommendation that goes far beyond recipes alone to delve into the art and science of cheesemaking.
Booklist Review: The first point to make is that this oversize book is stunningly presented, with easy-on-the-eye text, helpfully broken up by subject headings, several on a page. And the photographic illustrations are in rich color and with clear detailing that makes the close-up shots comfortable on the eye as well. This handbook is for readers serious in their interest in and pursuit of home cheesemaking. With authority and clarity, the author delves deeply into the subject, explaining all the scientific aspects of the processes involved (in her words, "the beautiful interplay of science and art that goes into creating truly great cheeses"), including measuring acid development, aging cheese, adding flavors to cheese, and thinking about various ideas for equipment and work space. Part two is, as the author indicates, where the fun begins. Recipes are offered and explained in very easy terms. A complete package. — Booklist
ForeWord Review:


Somewhere between art and science, cheesemaking is not for the faint of heart. Caldwell begins her guide to the enterprise with a great deal of science. An extremely nuanced process becomes friendly through the author's cheery advice and enthusiasm, then the book transitions into recipes that range from simple to quite advanced. A great guide for beginners and experts alike, Caldwell makes sense of the culture of cheese-making.

Caldwell, the proprieter of Pholia Farm, a licensed cheese dairy, has taught cheesemaking at all levels. She is also the author of The Farmstead Creamery Advisor: The Complete Guide to Building and Running a Small, Farm-Based Cheese Business. Her experience and awards speak to her ethos in writing this book. Here she focuses on the intricacies of the cheesemaking process. By teaching the science behind the process, Caldwell enables would-be artisans to gather the knowledge necessary to troubleshoot their own work. Not all of the science will immediately make sense and Caldwell offers a lot of information in the initial pages, from the best type of milk to use to when and how to cut the curds. As the text progresses, she makes references to earlier points to help integrate the newly offered information with the old. The second half of the book features recipes from rindless blue cheese to firm and salty Greek-style grilling cheese, again with increasing levels of difficulty.

Between recipes and advice, Caldwell gives credit to other experts in the field, pointing to relevant books, suppliers, and masters of the craft. The book also features a useful glossary of terms, an appendices with a troubleshooting guide, quick reference guide, and resources list. The layout is easy to read and well-organized; pictures illustrate what the end product should look like, a useful referent for those new to the process. More experienced cheesemakers will find ample difficulty to suit their study. Recipes start with the history of the cheese, then list ingredients, steps, and large-batch guidelines.

From equipment to acidity, humidity to storage, Caldwell takes care to make sense of every step and each element. Throughout the process, she offers multiple options for further study and understanding, encouraging her readers to embrace the art, science, and community of cheesemaking. Caldwell's comforting and impassioned talk of cheese will encourage any student willing to take on the adventure of cheesemaking. With its depth of information, this book will keep on giving as cheesemakers increase their mastery of the craft.

Del Norte Triplicate (of Crescent City, CA) – Rogue River Dairy Finds Niche for Nigerian Dwarf Goat Cheese
Other Books by Gianaclis Caldwell

US Orders Only.
International Orders: Click here.
Gianaclis Caldwell's Upcoming Events
Gianaclis Caldwell at State of Maine Cheese Co.


461 Commercial St, Rockport ME

April 26, 2014, 12:00 pm

Gianaclis Caldwell at Mother Earth News Fair in Puyallup, WA


Mother Earth News Fair, Puyallup WA

May 31, 2014, 12:00 pm

Gianaclis Caldwell at American Cheese Society Conference


American Cheese Society , Sacramento CA

July 29, 2014, 12:00 pm

Gianaclis Caldwell at Mother Earth News Fair


Mother Earth News Fair, Seven Springs PA

September 12, 2014, 12:00 pm