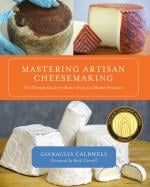 Like this book? Digg it!

Book Data
ISBN: 9781603583329
Year Added to Catalog: 2012
Book Format: Paperback
Book Art: Full-Color Throughout
Dimensions: 8 x 10
Number of Pages: 368
Book Publisher: Chelsea Green
Release Date: September 7, 2012
Web Product ID: 693
Mastering Artisan Cheesemaking
The Ultimate Guide for Home-Scale and Market Producers
Foreword by Ricki Carroll
"I am in awe! For anyone who has ever written a book or sweated over a cheese vat, you know that both require artistry, focus and discipline, dedication, time and more time, and perhaps a bit of creative insanity. Gianaclis Caldwell has either a twin or a clone! As an accomplished artisan enterprise in Southern Oregon, her cheeses from Pholia Farm are beautiful, luscious, and consistently at the top of the game. In her new book, she argues eloquently for the strong relationship between art and science, for deeper understanding and appreciation of milk, and the chemistry and alchemy of a cheese vat. With dozens of recipes, she guides us to create delicious, consistently top-quality cheeses. And as the landscape of American artisan cheese heads towards 1,000 small-scale producers, Mastering Artisan Cheesemaking offers each of them new insights, essential knowledge, and encouragement to experiment and succeed. I deeply admire and respect her ability, standards, and work ethic…now if I could just figure out how she did both!"

—Jeffrey P. Roberts, author of The Atlas of American Artisan Cheese
The key to becoming a successful artisan cheesemaker is to develop the intuition essential for problem solving, and creating unique styles of cheeses.
There are an increasing number of books on the market about making cheese, but none approach the intricacies of cheesemaking science alongside considerations for preparing each type of cheese variety in as much detail as Mastering Artisan Cheesemaking.
Indeed, this book fills a big hole in the market. Beginner guides leave you wanting more content and explanation of process, while recipe-based cookbooks often fail to dig deeper into the science, and therefore don't allow for a truly intuitive cheesemaker to develop. Acclaimed cheesemaker Gianaclis Caldwell has written the book she wishes existed when she was starting out. Every serious home-scale artisan cheesemaker—even those just beginning to experiment—will want this book as their bible to take them from their first quick mozzarella, to a French mimolette, and ultimately to designing their own unique cheeses.
This comprehensive and user-friendly guide thoroughly explains the art and science that allow milk to be transformed into epicurean masterpieces. Caldwell offers a deep look at the history, science, culture, and art of making artisan cheese on a small scale, and includes detailed information on equipment and setting up a home-scale operation. A large part of the book includes extensive process-based recipes dictating not only the hard numbers, but also the concepts behind each style of cheese and everything you want to know about affinage (aging), and using oils, brushes, waxes, infusions, and other creative aging and flavoring techniques. Also included are beautiful photographs, profiles of other cheesemakers, and in-depth appendices for quick reference in the preparation and aging room. Mastering Artisan Cheesemaking will also prove an invaluable resource for those with, or thinking of starting, a small-scale creamery.
Let Gianaclis Caldwell be your mentor, guide, and cheering section as you follow the pathway to a mastery of cheesemaking. For the avid home hobbyist, to the serious commercial artisan, Mastering Artisan Cheesemaking is an irreplaceable resource.

US Orders Only.
International Orders: Click here.
Gianaclis Caldwell's Upcoming Events
Gianaclis Caldwell at Mother Earth News Fair


,

June 1, 2013, 12:00 am

Gianaclis Caldwell at Auburn Library


1140 Auburn Way S , Auburn WA 98002

June 3, 2013, 2:00 pm

Gianaclis Caldwell at the American Cheese Society Conference


American Cheese Society Conference, Madison WI

July 31, 2013, 12:00 pm

Gianaclis Caldwell at College of Marin


1800 Ignacio Blvd, Novato CA 94949

October 25, 2013, 12:00 pm

Gianaclis Caldwell at 2013 Wise Traditions Conference


Weston Price Conference, Atlanta GA

November 10, 2013, 12:00 pm