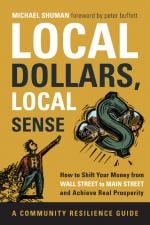 Like this book? Digg it!

Book Data
ISBN: 9781603583435
Year Added to Catalog: 2011
Book Format: Paperback
Dimensions: 6 x 9
Number of Pages: 288
Book Publisher: Chelsea Green
Release Date: February 6, 2012
Web Product ID: 598
Local Dollars, Local Sense
How to Shift Your Money from Wall Street to Main Street and Achieve Real Prosperity
In an important and path-breaking work, Michael Shuman shows clearly and persuasively how to transform our nation's financial system from a destructive engine for increasing economic inequality into a positive force for creating human well-being and community resilience. The cry today is for new laws and regulations to instill greater accountability and integrity in existing national and global financial markets. Shuman calls, instead, for legislative reforms that shift savings away from those growth-oriented and life-destroying markets to new local financial markets that serve life-enhancing, place-based community enterprise. Local Dollars, Local Sense: How to Shift Your Money from Wall Street to Main Street and Achieve Real Prosperity must be required reading for every elected official in the country as well as all "experts" in finance and business from the academic and corporate worlds.

—H. Thomas Johnson, professor of sustainability management, Portland State University, and author of Profit Beyond Measure
A Community Resilience Guide

Americans' long-term savings in stocks, bonds, mutual funds, pension funds, and life insurance funds total about $30 trillion. But not even 1 percent of these savings touch local small business—even though roughly half the jobs and the output in the private economy come from them. So, how can people increasingly concerned with the poor returns from Wall Street and the devastating impact of global companies on their communities invest in Main Street?
In Local Dollars, Local Sense, local economy pioneer Michael Shuman shows investors, including the nearly 99% who are unaccredited, how to put their money into building local businesses and resilient regional economies—and profit in the process. A revolutionary toolbox for social change, written with compelling personal stories, the book delivers the most thorough overview available of local investment options, explains the obstacles, and profiles investors who have paved the way. Shuman demystifies the growing realm of local investment choices—from institutional lending to investment clubs and networks, local investment funds, community ownership, direct public offerings, local stock exchanges, crowdfunding, and more. He also guides readers through the lucrative opportunities to invest locally in their homes, energy efficiency, and themselves.
A rich resource for both investors and the entrepreneurs they want to support, Local Dollars, Local Sense eloquently shows how to truly protect your financial future—and your community's.