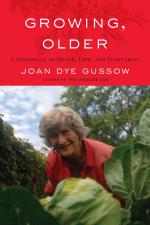 Like this book? Digg it!

Book Data
ISBN: 9781603582926
Year Added to Catalog: 2010
Book Format: Paperback
Dimensions: 6 x 9
Number of Pages: 248
Book Publisher: Chelsea Green Publishing
Release Date: October 14, 2010
Web Product ID: 539
Also By This Author
Growing, Older
A Chronicle of Death, Life, and Vegetables
Praise
Gussow has written and taught extensively on food and politics (This Organic Life, 2001), but here she turns to a more personal subject, the period following the death of her husband of 40 years. She assumed (as did others) that she would be grief-stricken, yet she found herself able to move into the next period of life with grace and anticipation. This is due in no small part to long-term differences the two experienced (although they seem minor), and to her rededication to gardening. It would be incorrect to classify this as a guide to plant care or landscape design, however, as Gussows view on life and living is far too broad. She writes about removing pests from the yard and then shifts gears to discuss national food policy, share recipes for zucchini, and reminisce about her son and butterflies. She rails against humanity's interest only in itself, yet expresses pride in her ability to still heft bags of soil and rocks. Gussow is an octogenarian who will not go gently in any direction, and certainly won't be ignored.

—Booklist
"Once in a while, when I have an original thought, I look around and realize Joan said it first."

—Michael Pollan, bestselling author of In Defense of Food, The Omnivore's Dilemma, and other books
"In Growing, Older Joan Dye Gussow once again proves herself the consummate writer, gardener, cook, professor and—it turns out—philosopher, too. This is a memoir about death, but much like Joan herself, it's brimming with life. A vivid, unflinching, and unexpected self-portrait."

—Dan Barber, chef and co-owner of Blue Hill and Blue Hill at Stone Barns

US Orders Only.
International Orders: Click here.
Additional Information
Joan Dye Gussow's Upcoming Events
Joan Gussow at Maple Grove


Maple Grove, Poughkeepsie NY

June 30, 2013, 3:00 pm

Joan Gussow at Bioneers by the Bay Conference


Bioneers by the Bay, New Bedford MA

October 26, 2013, 12:00 pm