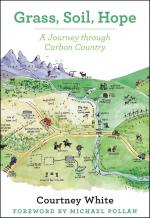 Like this book? Digg it!

Book Data
ISBN: 9781603585453
Year Added to Catalog: 2014
Book Format: Paperback
Book Art: All Text
Dimensions: 6x9
Number of Pages: 272
Book Publisher: Chelsea Green
Release Date: May 19, 2014
Web Product ID: 796
Also in Nature & Environment
Grass, Soil, Hope
A Journey Through Carbon Country
Foreword by Michael Pollan
Upcoming Author Events
SAN RAFAEL, CA

TOPEKA, KS

October 24, 2014, 12:00 pm

Courtney White at Mother Earth News Fair in Topeka, KS

Mother Earth News Fair, Topeka KS

Courtney White will present at the 2014 Mother Earth News Fair in Topeka, KS, on October 24-26. More details to come...

COLORADO SPRINGS, CO

December 1, 2014, 7:00 pmCourtney White at Colorado College

14 East Cache La Poudre St., Colorado Springs CO

Courtney will visit Colorado College on Monday, December 1st to speak as a part of the '14-'15 State of the Rockies Lecture Series. The talk will begin at 7pm, with a Q&A and book signing to follow.

Online for US Orders Only
International orders can be placed by phone (802-295-6300) or email
Additional Information
Courtney White's Upcoming Events
Courtney White at the 2014 Bioneers Conference


Marin Center, San Rafael CA

October 18, 2014, 12:00 pm

Courtney White at Mother Earth News Fair in Topeka, KS


Mother Earth News Fair, Topeka KS

October 24, 2014, 12:00 pm

Courtney White at Colorado College


14 East Cache La Poudre St., Colorado Springs CO

December 1, 2014, 7:00 pm