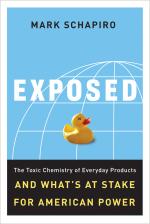 Like this book? Digg it!

Book Data
ISBN: 9781603580588
Year Added to Catalog: 2008
Book Format: Paperback
Dimensions: 6x9
Number of Pages: 224
Book Publisher: Chelsea Green Publishing
Release Date: January 26, 2009
Web Product ID: 412
Exposed
The Toxic Chemistry of Everyday Products and What's at Stake for American Power
Upcoming Author Events
MENLO PARK, CA

October 7, 2014, 7:30 pm

Mark Schapiro at Kepler's Books

1010 El Camino Real, Menlo Park CA 94025

Tuesday, October 7, 7:30 p.m. Carbon Shock: A Tale of Risk and Calculus on the Front Lines of the Disrupted Global Economy As the world moves toward making more and more polluters pay to emit carbon, a financial mystery unfolds: What are the costs? Who has the responsibility to pay for them? Who do you pay? How do you pay? And what are the potential impacts? These are the questions veteran journalist Mark Schapiro attempts to answer as he illuminates the struggle to pinpoint carbon's true costs and allocate them fairly—all while bumping up against the vagaries of the free market, the lobbying power of corporations, the political maneuverings of countries, and the tolerance of everyday consumers buying a cup of coffee, a tank of gas, or an airplane ticket. Schapiro explores the intersection of the environment, economics, and political power, most recently as a correspondent at the Center for Investigative Reporting. His work has been published in Harpers, The Atlantic, Yale 360, and other publications. He has reported stories for the PBS newsmagazine Frontline/World, NOW with Bill Moyers, and public radio's Marketplace, and is the author of Exposed: The Toxic Chemistry of Everyday Products and What's at Stake for American Power. Schapiro lives in San Francisco, California.

SAN FRANCISCO , CA

November 25, 2014, 6:00 pmMark Schapiro at The Commonwealth Club

The Commonwealth Club, 595 Market Street, Second Floor, San Francisco CA

Mark Schapiro will speak at The Commonwealth Club on November 25 at 6:00 PM to promote his new book, "Carbon Shock." The lecture will be part of the Science and Technology Forum at The Commonwealth Club. More details to come...