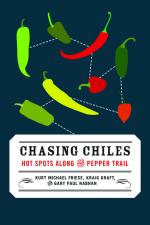 Like this book? Digg it!

Book Data
ISBN: 9781603582506
Year Added to Catalog: 2011
Book Format: Paperback
Dimensions: 6 x 9
Number of Pages: 224
Book Publisher: Chelsea Green
Release Date: March 4, 2011
Web Product ID: 601
Chasing Chiles
Hot Spots Along the Pepper Trail
Upcoming Author Events
Kurt Michael Friese's Events
Kraig Kraft's Events
Gary Paul Nabhan's Events
DENVER , CO

PHOENIX, AZ

June 11, 2015, 3:30 pmGary Paul Nabhan at BALLE Conference

BALLE Conference, Phoenix AZ 85042

Gary Paul Nabhan will speak at this year's BALLE Conference, which will take place from June 10-12 2015 in Phoenix, AZ.

SANTA ROSA, CA

September 8, 2015, 12:00 pmGary Paul Nabhan at the 2015 National Heirloom Expo

1350 Bennett Valley Road, Santa Rosa CA 95404

Gary Paul Nabhan will present at this year's National Heirloom Expo. The expo will take place at the Sonoma County Fairgrounds in Santa Rosa from September 8-10.