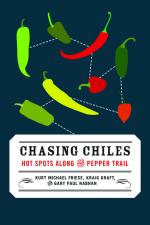 Like this book? Digg it!

Book Data
ISBN: 9781603582506
Year Added to Catalog: 2011
Book Format: Paperback
Dimensions: 6 x 9
Number of Pages: 224
Book Publisher: Chelsea Green
Release Date: March 4, 2011
Web Product ID: 601
Chasing Chiles
Hot Spots Along the Pepper Trail
Upcoming Author Events
Kurt Michael Friese's Events
Kraig Kraft's Events
Gary Paul Nabhan's Events
DAVIS, CA

April 24, 2014, 5:30 pm

Gary Paul Nabhan at UC Davis

One Shields Avenue, Davis CA

Gary will give a public lecture at UC Davis on April 24th as a part of the Agricultural Sustainability Institute Speaker Series. The talk will take place 5:30-7:30pm in the Student Community Center. Hosted by the UC Davis College of Agricultural and Environmental Studies.

POINT REYES STATION, CA

April 25, 2014, 7:00 pmGary Paul Nabhan at Point Reyes Books

11445 California 1, Point Reyes Station CA

Point Reyes Books will host Gary Nabhan for a book talk and signing on Friday, April 25 @ 7pm at the Point Reyes Presbyterian Church. Gary will speak about his book, "Growing Food in a Hotter Drier Land," and John Wick, co-founder of Marin Carbon Project, will join him in conversation to discuss the local implications of climate change and agriculture.

BERKELEY, CA

April 27, 2014, 12:00 pmGary Paul Nabhan at Agrarian Trust Symposium

David Bower Center, 2150 Allston Way, Berkeley CA

Gary Nabhan will speak at the Agrarian Trust Symposium on April 27 in Berkeley, CA. About the event: In the next two decades 400 million acres of U.S. farmland will change hands. Will that land be consolidated into larger holdings and treated as a commodity or investment asset? Or will it prove the foundation for a new business, a next-generation farmer, a passionate entrepreneur? Join us for a daylong teach-in to tackle the historical context, long-range implications and economic impact, and stewardship potential of the transition ahead.

PORTLAND, OR

May 5, 2014, 7:30 pmGary Paul Nabhan at Portland State University

1241 NW Johnson St, Portland OR

Portland State University hosts Dr. Nabhan as a featured speaker for the Illahee Lecture Series on May 5 @ 7:30pm. Nabhan will be joined by colleagues in conservation and food systems for a lively discussion about the future of conservation in food-producing landscapes in the west. These lectures are held in the Pacific Northwest College of Art's Swigert Commons.

NEW YORK, NY

May 10, 2014, 1:00 pmGary Paul Nabhan at the 2014 Edible Institute

66 West 12th Street, New York NY

Gary will moderate a panel at the 2014 Edible Institute, to be held at The New School in Manhattan May 10-11, on "Farm-based food chain restoration for pollinators and people." Panel speakers include Scott Chaskey (Quail Hill Farm), Ken Greene (Hudson Valley Seed Library), Jack Algiere (Stone Barns), Chuck Eggert (Pacific Foods).

ST. LOUIS, MO

June 17, 2014, 12:00 pmGary Paul Nabhan at the Saint Louis Zoo

1 Government Dr, St. Louis MO

Dr. Nabhan will be the featured speaker at the Center for Native Pollinator Conservation annual dinner on June 17th. More details to come.

ST. LOUIS, MO

June 18, 2014, 12:00 pmGary Paul Nabhan at the Missouri Botanical Garden

4344 Shaw Blvd, St. Louis MO

Gary will give a public lecture at the MIssouri Botanical Garden on June 18th. Copies of "Growing Food in a Hotter, Drier Land" will be available for sale and signing.

US Orders Only.
International Orders: Click here.
Additional Information
Gary Paul Nabhan's Upcoming Events
Gary Paul Nabhan at UC Davis


One Shields Avenue, Davis CA

April 24, 2014, 5:30 pm

Gary Paul Nabhan at Point Reyes Books


11445 California 1, Point Reyes Station CA

April 25, 2014, 7:00 pm

Gary Paul Nabhan at Agrarian Trust Symposium


David Bower Center, 2150 Allston Way, Berkeley CA

April 27, 2014, 12:00 pm

Gary Paul Nabhan at Portland State University


1241 NW Johnson St, Portland OR

May 5, 2014, 7:30 pm

Gary Paul Nabhan at the 2014 Edible Institute


66 West 12th Street, New York NY

May 10, 2014, 1:00 pm