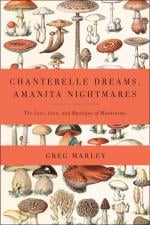 Like this book? Digg it!

Book Data
ISBN: 9781603582148
Year Added to Catalog: 2009
Book Format: Paperback
Book Art: Color Photos
Dimensions: 6 x 9
Number of Pages: 288
Book Publisher: Chelsea Green Publishing
Release Date: August 31, 2010
Web Product ID: 500
Also in Food & Health
Chanterelle Dreams, Amanita Nightmares
The Love, Lore, and Mystique of Mushrooms
Mushroom lovers who can only get their fix by sampling the often paltry array that appears in their grocers produce section may be sorely tempted to indulge their mycophilia when they encounter some choice fungi in the wild. Unlike many Asian and European cultures, however, most Americans are hesitant to just pluck one off the forest floor and eat it on the spot. Perhaps such evocative names as the Death Cap mushroom has something to do with this mycophobia. Yet, says Marley, armed with proper background, this culinary caution can turn into complete confidence. From the fabled psychedelic magic mushrooms to the duplicitous appearance of false morels, Marley examines these fungal fiends and provides thorough descriptions of their habitat, appearance, and toxic properties to ward off potential misadventures. An avowed mycophile, Marley offers an entertaining and inquisitive look at both the heroes and villains of the kingdom Fungi in an enlightened guide that comprehensively examines their nutritional benefits, undesirable properties, and diverse cultural history.

—Booklist
2011 Winner, International Association of Culinary Professionals Jane Grigson Award
2011 Finalist, International Association of Culinary Professionals in the Culinary History category
Throughout history, people have had a complex and confusing relationship with mushrooms. Are fungi food or medicine, beneficial decomposers or deadly "toadstools" ready to kill anyone foolhardy enough to eat them? In fact, there is truth in all these statements. In Chanterelle Dreams, Amanita Nightmares, author Greg Marley reveals some of the wonders and mysteries of mushrooms, and our conflicting human reactions to them.
With tales from around the world, Marley, a seasoned mushroom expert, explains that some cultures are mycophilic (mushroom-loving), like those of Russia and Eastern Europe, while others are intensely mycophobic (mushroom-fearing), including, the US. He shares stories from China, Japan, and Korea—where mushrooms are interwoven into the fabric of daily life as food, medicine, fable, and folklore—and from Slavic countries where whole families leave villages and cities during rainy periods of the late summer and fall and traipse into the forests for mushroom-collecting excursions.
From the famous Amanita phalloides (aka "the Death Cap"), reputed killer of Emperor Claudius in the first century AD, to the beloved chanterelle (cantharellus cibarius) known by at least eighty-nine different common names in almost twenty-five languages, Chanterelle Dreams, Amanita Nightmares explores the ways that mushrooms have shaped societies all over the globe.
This fascinating and fresh look at mushrooms—their natural history, their uses and abuses, their pleasures and dangers—is a splendid introduction to both fungi themselves and to our human fascination with them. From useful descriptions of the most foolproof edible species to revealing stories about hallucinogenic or poisonous, yet often beautiful, fungi, Marley's long and passionate experience will inform and inspire readers with the stories of these dark and mysterious denizens of our forest floor.