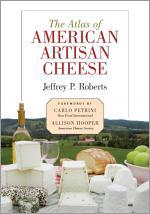 Like this book? Digg it!

Book Data
ISBN: 9781933392349
Year Added to Catalog: 2007
Book Format: Paperback
Book Art: full-color photographs, illustrations, index, resource list
Number of Pages: 7 x 10, 464 pages
Book Publisher: Chelsea Green Publishing
Old ISBN: 1933392347
Release Date: June 21, 2007
Web Product ID: 205
Also in Food & Health
The Atlas of American Artisan Cheese
Foreword by Carlo Petrini
"Innovative but rooted in tradition, American artisan cheese production is making great strides forward. Its quality and diversity are masterfully recorded in The Atlas of American Artisan Cheese."

—Jacques PĂ©pin, chef, cookbook author, and host of numerous PBS-TV cooking series
The first comprehensive guide to the award-winning American artisan cheese movement.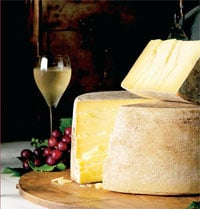 The Atlas of American Artisan Cheese is the first reference book of its kind and a must-have for every foodie's library. Jeffrey P. Roberts lavishes loving attention on the growing local food and farmstead movement in what is fast becoming a national trend. This fully illustrated atlas of contemporary artisan cheeses and cheese makers will not only be a mainstay in any cookery and cuisine library—guiding consumers, retailers, restaurateurs, and food professionals to the full breadth and unparalleled quality of American artisan foods—it will be the source of many a fabulous food adventure.
Organized by region and state, The Atlas of American Artisan Cheese highlights more than 350 of the best small-scale cheese makers in the United States today. It provides the most complete overview of what's to be had nationwide—shippable, attainable, delectable. Each entry describes a cheesemaker; its cheese; whether from cow, sheep, or goat milk; availability; location; and even details on cheese-making processes.
The Atlas captures America's local genius for artisan cheese: a capacity for adaptation, experimentation, and innovation, while following old-world artisanship. It is destined to become a classic resource and reference.