As planting season arrives for many of us in the Northeast, Chelsea Green is offering some of our essential gardening books to help make this year's garden — and those to come — more resilient and more productive.
Whether it's saving heirloom seeds, finding new techniques to boost flavors and variety, restoring and rejuvenating your soil or growing food in small spaces — we have a book for you.
If you have a garden obsession—or want to nurture a budding obsession—we've got a book for you.
Chelsea Green is proud to have published some of the foundational books about sustainable and resilient gardening—books that go beyond just how-to techniques, but are aimed are restoring our depleted soils and reconnecting us to our communities and our food.
Happy reading from the folks at Chelsea Green Publishing. 
P.S. Have you
'liked [1]
' us yet? Well, take a look at our
Facebook page
[1]
. It is a great way to stay connected to our authors, special events, how-to tips for gardening, as well as plenty of news about the politics and practice of sustainability. So, if you haven't yet, click on over, and let us know how much you
'like [1]'
us!
The Resilient Gardener: Food Production and Self-Reliance in Uncertain Times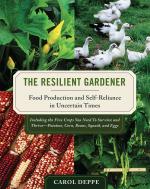 [2]
The book is packed with expert advice on plant varieties and discusses the best way to grow, prepare, and store five "key crops"—potatoes, corn, beans, squash, and eggs. Beginner and the most expert gardeners will find this an invaluable resource, with new information, recipes, and simple tips for self-sufficiency they won't find elsewhere. At its heart, this is a realistic book about how resilient gardeners (and their gardens) can flourish even in challenging times.
"The Resilient Gardener is so essential, timely and important, and I will recommend it to everyone I know. It doesn't matter if you garden or if you don't—this is practical wisdom good for humans to know, passed on by a careful student who has deeply studied her life. Carol Deppe's lens is the garden—which is great for gardeners, but really, she speaks clearly to all of us. If you try to think like Deppe, you will find you have a new view of your life no matter who you are. This is a wise and intelligent book. Hats off to Carol Deppe!" —Deborah Madison, Author of Local Flavors and Vegetarian Cooking for Everyone
Slow Gardening: A No-Stress Philosophy for All Senses and Seasons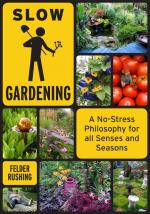 [3]
Sharing the wisdom of well-known garden expert Felder Rushing, Slow Gardening offers a commonsense, informal, and outright funny philosophy that will appeal to gardeners no matter where they live or how often they weed.
By taking the road less traveled, Slow Gardening will have gardeners focusing on the long haul and remembering to take it easy along the way. As Felder says,"Life has lots of pressures—why include them in the garden?"
"Slow Gardening is a delight—a welcome stress-free approach, refreshing in its simplicity and firmly placing the gardener in their own space, at their own pace." —Sandy Felton, Reckless Gardener UK
Fresh Food From Small Spaces: The Square-Inch Gardener's Guide to Year-Round Growing, Fermentng, and Sprouting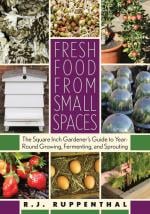 [4]
Books on container gardening have been wildly popular with urban and suburban readers, but until now, there has been no comprehensive "how-to" guide for growing fresh food in the absence of open land. Fresh Food from Small Spaces fills the gap as a practical, comprehensive, and downright fun guide to growing food in small spaces.
With this book as a guide, people living in apartments, condominiums, townhouses, and single-family homes will be able to grow up to 20 percent of their own fresh food using a combination of traditional gardening methods and space-saving techniques such as reflected lighting and container "terracing." Those with access to yards can produce even more.
The Chinese Medicinal Herb Farm: A Cultivator's Guide to Small-Scale Organic Herb Production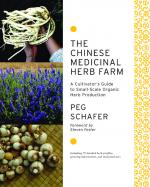 [5]
Peg Schafer, longtime grower and teacher, guides readers with information on propagating, cultivating, and harvesting Chinese herbs, and presents fascinating new scientific data that reveal the ageold wisdom of nature and the traditional systems of Chinese medicine.
Through seventy-nine detailed herb profiles—all tested and trialed on Schafer's certified organic farm—Schafer offers easy-to follow information, suitable for both growers and practitioners, for growing efficacious wild-simulated herbs.
"Peg Schafer is the best artisanal grower I know. For this book, she has distilled the knowledge of the small group who, over the past two decades, has pioneered North American production of Chinese medicinal herbs, and tested it through direct experience. This book clearly explains the whys as well as the how-tos, and delivers information into the eager hands of all perennial polyculturalists who will grow us a post-peak oil healthcare system; it is a gift to us all." —Jean Giblette, owner, High Falls Gardens and co-founder, LocalHerbs.org
The Holistic Orchard: Tree Fruits and Berries the Biological Way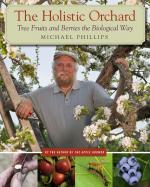 [6]
Michael Phillips, author of The Apple Grower, demystifies the basic skills everybody should know about the inner workings of the orchard ecosystem, as well as orchard design, soil biology, and organic health management. Detailed insights on grafting, planting, pruning, and choosing the right varieties for your climate are also included, along with a step-by-step instructional calendar to guide growers through the entire orchard year.
"For decades experts have insisted that organic orcharding is an impossibility. Michael Phillips has led the effort to show that the truly sustainable, organic orchard is something we all can have. His example has been an inspiration. His tireless research has provided a road map to creating our own holistic orchards." —John Bunker, apple historian and author, Not Far from the Tree
The Winter Harvest Handbook: Year-Round Vegetable Production Using Deep-Organic Techniques and Unheated Greenhouses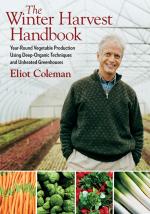 [7]
From the bestselling author of The New Organic Grower and Four-Season Harvest, a revolutionary guide to year-round harvests of fresh, organic produce—with little or no energy inputs. Gardeners and farmers can use the innovative, highly successful methods Coleman describes in this comprehensive handbook to raise crops throughout the coldest of winters.
Make sure to read the New York Times [8] article that recently featured Eliot Coleman
and Barbara Damrosch. The in-depth story focused on the couple's continued ability to innovate and thrive on their year-round organic farm in Maine. Well worth the read. [8]
"Eliot Coleman's books have been called Bibles for small farmers and home gardeners. I suspect that's because he writes about not just gardening but about everything that connects to good food and pleasure; a Renaissance man for a new generation, he'll quote Goethe in the same breath as Ghandi, and as a result, you'll dig, weed, eat, think, and live more fully." —Dan Barber, Chef, Blue Hill and Blue Hill Stone Barns
Making the Most of Your Glorious Glut: Cooking, Storing, Freezing, Drying & Preserving Your Garden Produce
Making the Most of Your Glorious Glut is the answer to the perennial problem of an over abundance of wonderful fruit and vegetables. From cucumbers to spinach, tomatoes to runner beans, and blackcurrants to plums, most gardeners will recognize the sinking feeling that creeps over you when you realize you have had such a good harvest that you cannot actually face picking, cooking or eating any more.
With the help of this book you will be able to make the most of any glut; as well as recipes for using fresh produce in new and exciting ways, you will learn how to pickle, preserve, dry, bottle, and juice all your surplus fruit and vegetables so that they can be enjoyed throughout the year. Grow Your Food for Free (Well Almost)
Don't like spending money in garden centers? Think you can make it yourself for a fraction of the price or find a cheaper option?
Dave Hamilton shows you how, by recycling and reusing materials creatively and making the most of what you have, you can gather all you need to grow your food on a budget.
In Grow Your Food For Free you'll get:
Money-saving tips for every season plus occasional tips on the actual gardening!

Is crammed full of projects from seed-saving and making your own plant feed to building a fence or garden shed.

Gives step-by-step instructions, with easy-to-follow diagrams.

  Includes beautiful photos and quirky illustrations.
Seed to Seed: Seed Saving and Growing Techniques for Vegetable Gardeners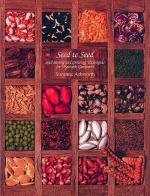 [9]
Seed to Seed is widely acknowledged as the best guide available for home gardeners to learn effective ways to produce and store seeds on a small scale.This newly updated and greatly expanded second edition includes additional information about how to start each vegetable from seed, which has turned the book into a complete growing guide.
The author has grown seed crops of every vegetable featured in the book, and has thoroughly researched and tested all of the techniques she recommends for the home garden.
Food Not Lawns: How to Turn Your Yard Into a Garden and Your Neighborhood Into a Community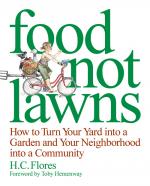 [10]
Gardening can be a political act. Creativity, fulfillment, connection, revolution—it all begins when we get our hands in the dirt.
Food Not Lawns combines practical wisdom on ecological design and community-building with a fresh, green perspective on an age-old subject. Activist and urban gardener Heather Flores shares her nine-step permaculture design to help farmsteaders and city dwellers alike build fertile soil, promote biodiversity, and increase natural habitat in their own "paradise gardens." In Food Not Lawns, Flores shows us how to reclaim the earth one garden at a time.
Perennial Vegetables: From Artichokes to Zuiki Taro, a Gardener's Guide to Over 100 Delicious, Easty-to-Grow Edibles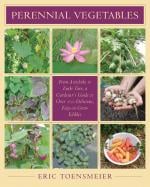 [11]

There

 

is a fantastic array of vegetables you can grow in your garden, and not all of them are ann

 

uals. In Perennial Vegetables the adventurous gardener will find information, tips, and sound advice on less common edibles that will make any garden a perpetual, low-maintenance source of food. Imagine growing vegetables that require just about the same amount of care as the flowers in your perennial beds and borders–no annual tilling and planting. They thrive and produce abundant and nutritious crops throughout the season. Perennial vegetables are perfect as part of an edible landscape plan or permaculture garden. Perennial Vegetables is a groundbreaking and ground-healing book that will open the eyes of gardeners everywhere to the exciting world of edible perennials.
More Gardening Essential Titles on Sale:
Sale Valid through April 3rd 2012
U.S. orders only. International orders click here [22].
Pricing and sales for online orders only. Please contact a representative [23] for wholesale or retail orders