Donella Meadows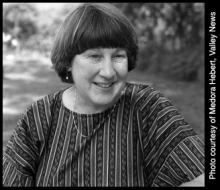 A woman whose pioneering work in the 1970s still makes front-page news, Donella Meadows was a scientist, author, teacher, and farmer widely considered ahead of her time. She was one of the world's foremost systems analysts and lead author of the influential
Limits to Growth
—the 1972 book on global trends in population, economics, and the environment that was translated into 28 languages and became an international bestseller. That book launched a worldwide debate on the earth's capacity to withstand constant human development and expansion. Twenty years later, she and co-authors Dennis Meadows and Jorgen Randers reported on their follow-up study in
Beyond the Limits
and a final revision of their research,
Limits to Growth: The 30-Year Update
, was published in 2004.
Meadows' work as a scientist, communicator, and leader in the sustainability movement earned her a MacArthur Foundation "genius" award, recognition as a Pew Scholar in Conservation and the Environment, and many other top honors from organizations like the Swiss Federal Institute of Technology and the Conservation Law Foundation. To many, Meadows is most remembered for her weekly, nationally syndicated column, "The Global Citizen," which ran for 16 years and was nominated for a Pulitzer Prize.
Dana, as she was known to friends, was also an inspired teacher of environmental systems, ethics, and journalism at Dartmouth College, not far from the small town where she lived on and managed an organic farm.
She was the founder of the Sustainability Institute, cofounder of the International Network of Resource Information Centers (INRIC, also called the Balaton Group), and a generally recognized leader in getting people at all levels of society, government, and business to think differently, understand systems, and strive for sustainability.
She died unexpectedly in 2001 while she was finishing
Thinking in Systems
.
---
Thomas Friedman ends his book,
Hot, Flat and Crowded
, with a quote from Donella Meadows. Read his interview with the
Guardian UK
here.