Joseph Jenkins is an internationally recognized slate roofing expert with a penchant for environmental and social justice issues. Other books of his include The Slate Roof Bible, and The Humanure Handbook.
Books By Joseph C. Jenkins
$

25.00
Add to basket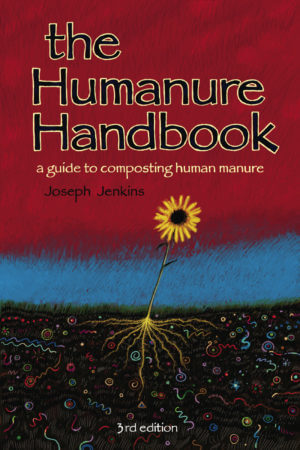 The Humanure Handbook
A Guide to Composting Human Manure, 3rd Edition
There are almost seven billion defecating people on planet Earth, but few who have any clue about how to constructively handle the burgeoning mountain of human crap. The Humanure Handbook, third edition, will amuse you, educate you, and possibly offend you, but it will certainly pertain to you–unless, of course, your bowels never move.
This new edition of The Humanure Handbook is:
The Tenth Anniversary Edition
Richly illustrated with eye-candy artwork
Perfect for reading while sitting on the "throne"
Revised, improved, and updated
256 pages of crap
Read More...
$

25.00
Add to basket
$

49.00
Add to basket
The Slate Roof Bible
Everything You Need to Know About the World's Finest Roof, 3rd Edition
Joseph Jenkins climbed on his first slate roof in 1968, authored the first edition of The Slate Roof Bible in 1997, and published the second edition in 2003. Both editions received national awards. Now, a dozen years later, Jenkins is still very active in the slate roofing industry. The third edition of the book reflects more than a decade of additional experience being passed on to the reader by the man who is arguably the foremost expert on slate roofs in the United States today.
The third edition, hardbound, completely updates and expands the material in the second edition, with more emphasis on the craft of slate roof installation. Expanded sections include slate siding, eyebrow dormers, turrets, soldering, flashings, international slate, American slate history, slating styles, installation and repair tips, and trade secrets. Dozens of new color photographs have been added, as well as step-by-step illustrations and line drawings.
This book is sure to become a classic. It belongs on the shelf of every architect, roofer, slate roof owner, architectural consultant, history buff, and anyone in the roofing industry.
Read More...
$

49.00
Add to basket
$

14.95
Add to basket
The Balance Point
A Missing Link in Human Consciousness, 2nd Edition
The Balance Point is the story of a search for something so mysterious that the main character doesn't even know what it is, or how to recognize it if he finds it. It touches on science, mathematics, economics, and other big-ticket issues such as religion and spirituality, in a manner that is both illuminating and disturbing.
Until her sudden and inexplicable death, Dr. Lucille Boggs, a maverick scientist at a large western university, had been uncovering surprising answers as to why people are so indifferent to environmental degradation. The Balance Point tells the story of her research through the eyes of her nephew, who receives her Last Will and Testament and, with it, becomes her final hope. Lured by the promise of a rich inheritance, Joseph Jenkins reluctantly assumes responsibility for finishing Dr. Boggs' work, inadvertently plunging himself and his family into the midst of a puzzle of global proportions.
The Balance Point takes the reader on a page-turning adventure from the author's comfortable Pennsylvania home to the farthest reaches of civilization in a search to solve Lucy's puzzle. On their quest to locate the missing links to her mystery, though, they discover that some answers lie closer to home, and that sometimes, the only way to find them is to look inside oneself.
A timely book with cutting-edge relevance, The Balance Point conveys a message that will be stay with the reader long after the last page has been turned. Although highly recommended for anyone concerned about the state of the planet, it also makes a great gift for the environmentally complacent.
Read More...
$

14.95
Add to basket