Stephen and Rebekah Hren, authors of The Carbon-Free Home: 36 Remodeling Projects to Help Kick the Fossil-Fuel Habit, are full of an astounding number of great tips to reduce energy consumption. This one is not only a great way to reduce your summer cooling costs, but also is a fun project that will improve the look of your house or apartment. Below Stephen and Rebekah outline their plans for a vine-covered horizontal trellis that will block the high summer sun's direct light from pouring into your home, but will still allow the low winter's sun to warm your windows.
Have fun!
Building a Horizontal Trellis for Shading
Renter friendly.
Project Time: An afternoon.
Cost: $50–200, depending on size.
Energy Saved: High. Shading, especially of windows, is extremely effective at reducing interior temperatures in summertime.

Ease of Use: Harvesting fruits can be somewhat more difficult when they are high up over windows.
Maintenance Level: Low. A well-constructed trellis could need some occasional tightening, and the climber will need some annual pruning.
Skill Levels: Carpentry: Basic.
Materials: 9-gauge galvanized or 121/2-gauge hightensile fence wire, trellis brackets (enough for every 10 feet or less), spring tighteners, washers.
Tools: Drill, wire cutters, needle-nose pliers, adjustable wrench or ratchet set, pilot drill bit for lags.
Building a well-functioning deciduous trellis for shading passive solar glazing is much simpler than building a permanent overhang. Even if you're just shading eastern or western walls, a wire trellis has the advantage of not only being long-lasting but also letting all available sunlight strike your home and enter any windows in morning or afternoon during winter. Concerning southern applications, since the deciduous vine will lose its leaves as the sun sinks in the sky in autumn and the solar gain becomes necessary, an accurate calculation of the horizontal overhang for shading purposes is not necessary. Generally, 2 feet of overhang for a one-story wall will provide plenty of shading during the hotter summer months as well as plenty of sun for your vine's happiness and well-being.
The basic components of a trellis system are shown in figure 10.9.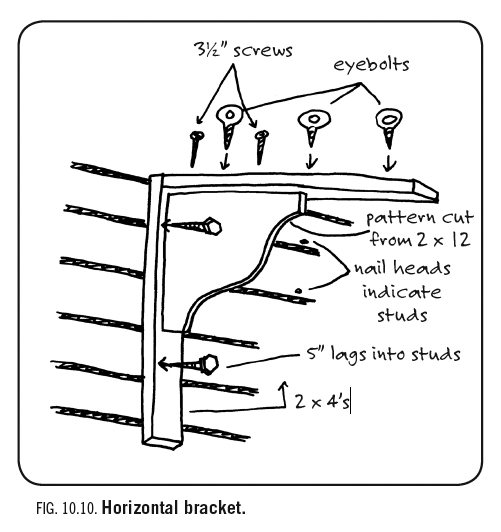 Making brackets. Trellis brackets can be purchased from garden supply stores or made out of a few sections of 2 °— 12 and 2 °— 4, which, if not a moisture-resistant wood, should be protected from the weather with some linseed oil or primer and paint. Cut out something curvy (see figure 10.10) with a jigsaw, making a pattern with some cardboard first. Finish out the bracket with a 2-foot piece of 2 °— 4 on the two straight sides, using several 31/2-inch exterior screws. This bracket will require eyeholes to be placed in the top of the bracket for holding wire. Note that wire must be used and not lathing as is the case with many trellises, as the lathing will block too much sun in the wintertime. For more durable assembly, use stainless-steel components (including the wire) instead of galvanized.
Assembling the trellis. Assembly of the trellis system is relatively straightforward, although a few points are crucial. The trellis brackets must be secured by lag screws into the structural members of your home, not just into the siding. If your home is made of masonry, thread cement screws through predrilled holes in the mortar. For wood-frame houses, find vertical studs by looking for the line of nails in the siding, making sure to get purchase for all of the required lags in the trellis bracket. For the bracket described above, drill through the vertical section of the 2 °— 4 next to the attached 2 °— 12, making sure to leave space for a washer. At least two 5-inch lags should be used to provide plenty of purchase through the 2 °— 4 and weatherboard into the actual stud. For metal brackets shorter lags can be used.
Attaching the wire involves threading two sections starting at each end and meeting in the middle at a spring tightener, which will keep your trellis wire from sagging, when your grape or passionflower is laden with fruit, for example. The wire can be held in place at the ends by wrapping it numerous times around a washer that is larger than the hole in the bracket or simply being tied through the eyehole. Thread the two wires into the spring tightener and ratchet it tight.
There are other methods for tightening wire, including Daisy tighteners and Hayes-style Strainers. Tension springs are the most commonly available, at least where we live, but any style can be used.
Windbreaks and Other Landscaping Considerations
Much literature has been devoted to landscaping strategies that involve tall deciduous trees on the east and west side of homes for summertime shading. While this is certainly effective, it blocks many other solar options from being pursued. The roof can no longer be used for photovoltaic or solar hot-water or air systems, and large amounts of gardening and orchard space are lost as a result. Large trees are not a good match for tighter urban spaces, as they also undermine home foundations, underground sewer and plumbing lines, and sidewalks and streets and can foul rainwater- catchment systems, as well as shading any of your neighbor's attempts at PV or solar hot water. The same cooling effects can be achieved by other strategies while maintaining your access to the sun (see chapter 7).
For windbreaks on the northern and sometimes western sides of houses, evergreen trees can be used to greatly reduce heat loss by reducing the wind load. Again, keep your neighbor's solar gain in mind as these trees mature. Consider smaller trees or harvesting larger trees if they get too tall. For a windbreak to be effective, there needs to be foliage near the ground.
Tree windbreaks are most effective when what you are trying to protect is 8 to 10 times farther away than the trees are tall, although they are still effective much closer in. Medium density is preferred, meaning about half of the wind is allowed through (this corresponds to how much light is allowed to pass through when looking at a stand of trees, so it's not too hard to make a visual estimate by looking at the branches of a mature specimen of the type of tree you are considering planting). If you're using very dense trees like red cedars, you'll want to have some space in between your trees. Otherwise, turbulence can develop downwind of the break and reduce its effectiveness. Keep in mind that red cedar can cause apple and other blights. Check the compatibility of your evergreens with any fruit trees you're thinking about planting.
Generally, a great many trees are planted initially and then thinned as they grow. Alternately, a quickgrowing species like Leland cyprus is planted for quick effect, and a row of slower-growing spruce, fir, holly, et cetera, is planted beside it. The Leland cyprus is then harvested once the slower, growing species grows tall enough.
There are at least a dozen species of pine nut that produce excellent edible seeds, can do double duty as a windbreak, and grow in almost every zone. The Korean pine (Pinus koraiensis) is the most widely cultivated in the United States. Pine nuts are harvested from the cones and contain up to 31 grams of protein per 100 grams, the most of any nut. Many of these species will eventually grow very tall, upwards of 100 feet, and lose their windbreaking characteristics although their food production will be going strong. The dwarf Siberian pine (Pinus pumlia) tops out at 9 feet, although it is much less frequently cultivated.
Trellising Walls as a Windbreak
Alternatively, you can create a windbreak right where it's needed, on the northern wall of your house. An effective way to do this is either by planting evergreen shrubs on the north side and keeping them pruned or by creating a trellis and growing evergreen vines. Keep in mind that the north side of your home is the most vulnerable to insect damage, especially termites. You never want to create a permanently damp area on any side of your home, but the northern side is the most vulnerable, the northeast corner especially so. The idea is to greatly reduce the airflow between your home and its coldest side, not eliminate that flow altogether. This is something that will require annual maintenance, usually an early spring pruning. For shrubs, prune off the lowest branches so the bottom part of your home can dry out.
If your northern wall is masonry, dampness is much less of a concern. What is a concern in this regard is the poor insulative value of masonry in general if your wall is, indeed, solid masonry and not just a veneer. If it is solid, you want to build up as many layers of vegetation as possible to actually create stagnant air gaps that provide insulation. Vining is an easy and effective method for accomplishing this. Greater care needs to be taken with facade masonry walls, by far the more common type in the United States, to ensure that the interior wood wall is not getting damp.
For masonry walls, English ivy (Hedera helix) is a common choice as an evergreen vine, although as previously mentioned it can be very aggressive. Variegated or duckfooted cultivars are showier and easier to contain. For the vertical trellis described below, native honeysuckle (Lonicera sempervirens) or evergreen clematis makes a good choice. Remember, in climate zones colder than 8, evergreen vines are for northern vertical trellises and deciduous vines are for all others in order to allow winter passive solar gain. Also, wire trellises are best for twining or tendril-type vines.
---