A do-it-yourself seed bank is simply your own frozen stash of seeds set aside for long-term storage. In the following excerpt from The Tao of Vegetable Gardening, author and plant breeder Carol Deppe discusses the do's and don'ts of saving your own seeds. Deppe believes the best seed banks are located in your own home or neighborhood and contain vigorous, regionally adapted varieties of the crops you already know how to grow and use.
To purchase open-pollinated, non GMO seeds directly from Carol's seed bank, Fertile Valley Seeds, visit her website at www.caroldeppe.com.
Related Links:
Basic Seed Saving by Janisse Ray
How to Become a Plant Breeder by Carol Deppe
Choosing the Right Seed Crop by John Navazio
*****
The Do-It-Yourself Seed Bank
Seeds tucked away in a vault in Svalbard, Norway, are fine as far as they go. But in hard times this is unlikely to be very far from Svalbard, Norway. Even in the best of times you, an individual gardener or farmer, won't be able to get any seeds out of the Svalbard seed bank. Only institutions that have deposited seed can get seed out, and then only the seed that they deposited in the first place.
A generic can of "survival" seeds is also not likely to be very useful. Such cans are full of varieties that are not optimal for your region, nor best for your purposes. Nor is the can likely to include more than trivial amounts of the big-seeded staple crop varieties such as corn, legumes, and squash, the very crops that would be most important in the event of any major disaster.
The best seed bank is the one that is full of vigorous, regionally adapted varieties of exactly the crops you care about the most, your very favorite varieties, those that do best for you, that you already know how to grow and use. It contains serious amounts of seeds of these crops, enough to plant a normal-sized crop of each of them for three years or more, not just a tiny sample of seed that has to be increased for several years before there is enough to be useful. And the best seed bank is in your own home or neighborhood.
Every gardener should have her own seed bank. Even if you aren't a seed saver, you should have your own seed bank. Even if you never experience any disaster beyond the ups and downs of ordinary living, it's useful to have your own seed bank.
Reasons to Start Your Own Seed Bank
First, if you buy seed, you can buy in bigger amounts and pay just a fraction of what you pay when you buy a little packet every year. You simply dry the bought seed for long-term storage, divide it up into one-year-sized packets, and put it into your freezer.
Second, there are years when we can be too poor or too busy to buy seed. With my own stash of seed, I buy seed when I can afford the money and time and dip into my stash when I can't. Some years I buy a lot of seed. Some years I buy none, but still plant everything I want. The personal seed bank gives me greater flexibility and resilience in good times as well as bad.
Third, many varieties these days are produced by only one grower in the country or world, even if sold by many retail seed companies. So you can find your favorite variety suddenly stamped with CROP FAILURE in every seed catalog one year. When that happens it's very nice to have your own stash of the variety.
Finally, the commercial seed trade regularly loses varieties. And the fact that a variety is widespread and very popular is no guarantee. Of my five favorite squash varieties from the 1980s the commercial trade has lost all of them. Often many seed companies continue selling the crossed-up trash under the traditional name. The more reputable seed companies drop the variety when it is no longer what it is supposed to be. The result is that you can buy varieties sold under the classic name long after the real variety that name represents no longer exists anywhere. All that has actually been preserved is the name.
One reason often given for saving our own seed is to be able to prevent the loss of varieties we care about. Where the seed isn't available otherwise, we have to do our own seed saving, of course. But when the seed is widely available we just need to stash some away so that, if it is lost, we have good seed we can use to start our own seed saving after it becomes necessary. I really wish I had just dried and frozen a little of every variety I liked thirty years ago. If I had, I would still have real 'Sugar Pie' pumpkins and real 'Guatemala Blue Banana' winter squash. (What is being sold by these names today bears little resemblance to and has little of the distinctive flavors they had thirty years ago.) And I would not have had to do all that work to breed the 'Sweet Meat— Oregon Homestead' line of winter squash after the commercial trade lost 'Sweet Meat'.
Types of Seed Varieties to Save and Avoid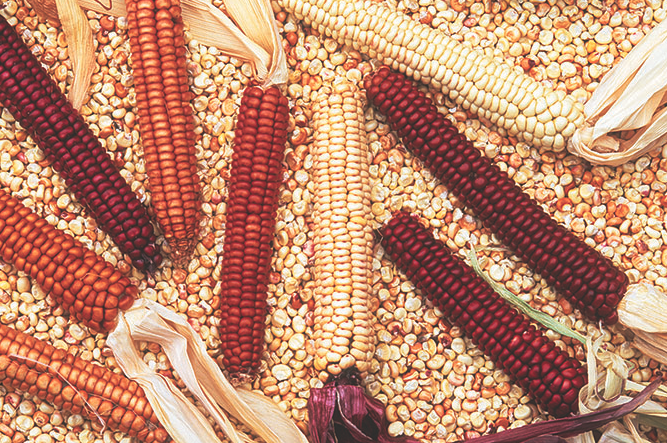 Even if you purchase most or all of your seed, only varieties that can be saved belong in your seed bank. The seed bank needs to feature open-pollinated varieties. If you cache hybrid seed you have only the seed you have stored and are at a dead end when it is used up. Whether your seed bank starts with saved or purchased seeds, its usefulness depends on your being able to save seed and perpetuate the variety after taking it out of the bank. So the seed in the seed bank needs to be of open-pollinated, not hybrid varieties. Hybrid varieties don't breed true. Some hybrids don't produce seed at all. Others do, but the seed produces plants with variable characteristics that reflect segregation for all the genes and traits that were different in the two parent varieties that went into the hybrid. Some hybrids can be dehybridized into uniform, open-pollinated, true-breeding varieties that resemble the original hybrid, but this is a breeding project that usually takes a number of years. And not all hybrids can be dehybridized. The more your gardening uses open-pollinated rather than hybrid varieties, the more complete your seed bank can be, and the more seed-supply resilience you have.
If you regularly use some hybrid varieties, search for equally good open-pollinated varieties you can switch to. Most hybrids in most crops are not superior to the best equivalent open-pollinated varieties. They are simply marketed more intensely by the company that produces them than are varieties for which no one has a monopoly. Furthermore, with open-pollinated varieties, the fact that gardeners and farmers can save their own seed puts a limit on what can be charged for it. Hybrid seed makes a captive market of anyone who becomes dependent on it. We gardeners have no reason to encourage and promote monopolies in our seed supply. So we need to do our homework and trial more varieties than just the heavily touted ones. We need to actively search for and replace the hybrid varieties in our gardens with varieties that are open-pollinated.
Beware AAS varieties. This acronym stands for "All American Selections." It could more accurately be said to stand for "All Agribusiness Selections." The rules of the contest require winners to pay a certain percentage of all worldwide seed crop sales for a number of years to the AAS organization. You can do this only if you totally control the seed, which you can do only with hybrid, patented, or PVP (plant variety protected) seed. So AAS is an award for the best new proprietary varieties, that is, the best new hybrid, PVP, or patented varieties only, not the best new varieties. Nor are these best new proprietary varieties better than preexisting public domain varieties. Nor are the "new" characteristics for which they are touted necessarily new. Sometimes they have been around in public domain varieties for years or decades. When you see the words AAS Winner be aware that the variety is proprietary, and that you cannot grow it without giving up your traditional ability or right to save your own seeds and some of your seed-supply resilience.
PVP varieties are open-pollinated varieties and breed true to type. However, they have legal restrictions that forbid you from selling, swapping, or even giving away seed. You are, though, allowed to produce seed for your own use or sell a vegetable crop grown from such seed. It is also legal to use PVP varieties to do crosses to develop new varieties of your own. (It isn't legal to derive a new variety simply by selection from a PVP, or to use a PVP to make a hybrid whose seed you sell.) So it is workable, though not ideal, to include PVP varieties in your seed bank. In a mega-disaster there probably wouldn't be anyone around to enforce the PVP rules. But most uses of seed bank seed will be in situations short of mega-disaster. And for seed-savvy gardeners and farmers, selling or distributing seed is an important option. I suggest avoiding all PVP varieties in your garden and seed bank unless the variety is genuinely superior to all other equivalents.
A third category to avoid putting into our seed banks is varieties that are sold only with seed treatments (fungicides). The seed treatments involve dangerous chemicals that are not practical to apply on the home scale. The varieties are not resistant to common diseases that are found in most gardens, so cannot grow without the treatments. The combination of a variety not resistant enough to ordinary diseases to grow without seed treatments and the seed treatments themselves makes for varieties for which you cannot save seed. Avoid buying treated seed. Avoid varieties that are sold only as treated seed.
Of course, we don't want GMO varieties in our seed bank. Even if we didn't mind the genetic modifications, GMO varieties usually have utility patents that are maximally restrictive. You are forbidden from saving seed even for your own use or for using the variety in breeding of any kind. You basically don't own the seed when you buy it. You are just leasing the use of that amount of seed for one year.
A Small Amount of Space is All You Need
In most cases your seed bank will start as a small box in a freezer. It may grow to a whole freezer of its own if you get ambitious and figure on storing enough seed for years, or for your entire neighborhood as insurance against a serious disaster. Properly dried for long-term storage and put into a freezer, the seed will keep virtually indefinitely as long as the power lasts, and for several years beyond should the power stop. During that several years beyond, you would save and replace the seed as you used it.
If at some point you want to expand your do-it-yourself seed bank to a whole freezer, consider getting a used chest freezer. These are often available free because people get rid of them to convert to more convenient upright freezers. Chest freezers are fine for seed, as you don't need frequent or convenient access. Most used chest freezers change hands via freebie ads placed by those wanting to get rid of or acquire one.
A seed bank can be designed around the needs of ordinary gardening or it can be oriented toward getting your family or neighborhood through serious hard times or even mega-disasters. I think the best do-it-yourself seed bank does at least some of both.
Related Articles:
---