5 Creative Summer Drinks to Help You Cool Off
Now that we're in the "dog days" of summer, the heat can feel a little unrelenting. When it all becomes too much to bear, there's no better way to cool off than with a refreshing, cold beverage – especially when it's made with local, organic ingredients that can give you an added health boost!
Our experienced foragers and nutrition experts have come up with the perfect cool-down summer drinks made with ingredients sourced right from your garden or local wild places. Test out their creations and then dive into our other food and drink books for more delicious recipes.
The following excerpts have been adapted for the web.
---
Thistle Root Chai Tea (Iced)
From The Wild Wisdom of Weeds by Katrina Blair
"We blend thistle roots into our homemade chai tea. By adding honey and homemade cashew milk, this local healing beverage is popular with all ages. The taste is delicious and spicy but with an added grounding mineral-rich component that only the thistle can offer."
Ingredients
2 cups fresh thistle root, chopped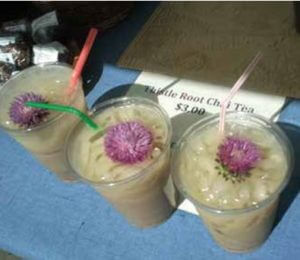 1 cup cashews
1/2 cup honey
4 cups water
1 teaspoon cinnamon
1 teaspoon cloves
1 teaspoon cardamom
1 teaspoon nutmeg
1/8 teaspoon cayenne pepper
1-inch piece ginger
Procedure
Blend all the ingredients until fine and strain with a kitchen strainer or nut bag for a finer consistency.
Serve over ice on a hot day.
---
Purslane Lemon Elixir
From The Wild Wisdom of Weeds by Katrina Blair
"Purslane is documented as being one of the most nutritious plants on the Earth. It is exceptionally rich in dietary fiber, vitamins, and minerals. Purslane contains 92 percent water, making it an ideal hydrating food. When water is contained within our food sources, we are accessing some of the best water available."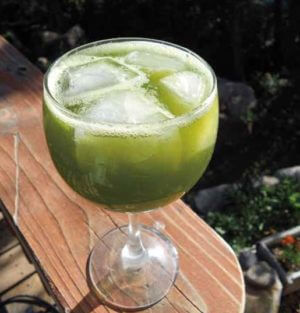 Ingredients
1 cup purslane
1 lemon, juiced
2 tablespoons honey
5 cups water
Procedure
Blend all ingredients and only if desired strain out the pulp.
Otherwise enjoy this soothing internal elixir for optimum health benefits.
---
Mallow Hibiscus Cooler
From The Occidental Arts and Ecology Center Cookbook
"Mallow is a benevolent summer herb found volunteering in summer gardens almost everywhere in America. The root is deeply hydrating on a hot summer day, as is vitamin-C-packed hibiscus flower. You can find hibiscus flowers or "Jamaica" in Mexican grocery stores."
Serves 4-6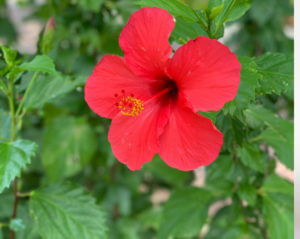 Ingredients
2 quarts water
1/4 cup dried or 2/3 cups fresh, scrubbed mallow root
1/3 cup dried hibiscus flowers
Sweetener to taste
Procedure
To cold-infuse the herbs, add the mallow and hibiscus to the water and cover. (If you're using whole, dried stevia leaves as a sweetener, add them here as well.)
Allow to steep overnight into a strong concentrate.
Strain and compost the spent herbs.
Add honey, sugar, or prepared stevia concentrate, if using, to taste.
If a cold beverage is desired, chill in the refrigerator until you're ready to serve, or pour over ice.
---
Fruit Kvass

From The Heal Your Gut Cookbook by Hilary Boynton & Mary Brackett
"This is a great way for our daughter to get a bit more fruit into her diet—following the fermentation process, the fruit's sugar content is largely or completely gone."
Makes 1 quart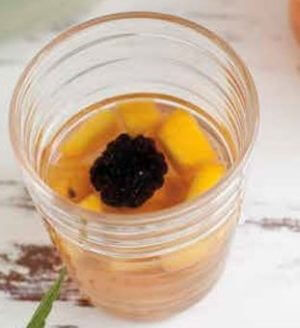 Ingredients
1 cup organic fruit (fresh or frozen)
1-­inch fresh ginger, peeled (optional, but I usually add to my ferments as it is so good for digestion)
Filtered water
Pinch of sea salt
1⁄2 cup whey
Procedure
Place the fruit and ginger in a quart-sized mason jar, filling it about a quarter of the way up.
Add filtered water up to the jar's shoulder, along with a pinch of sea salt and whey.
Cap the jar tightly and leave it on the counter, at room temperature, for 2 to 3 days or until the lid is taut. Turn it upside down a few times a day. This is an anaerobic process, so be sure to keep the lid closed.
Depending on the temperature, your kvass may take a bit longer to ferment. You will see little bubbles starting to form; that means it's fermenting and the pressure is building in your jar. Be sure to check the lid to see if you can press it down or not. If you can't, that usually means the kvass is fermented and ready to drink.
You can strain out the fruit, if you wish, or enjoy it in your drink. The kvass will last in the fridge for about 1 week.
---
Maple Mushroom Martini
From Edible Landscaping with a Permaculture Twist by Michael Judd
"The magic in this mushroom martini is the infused mushroom vodka. To some this may not sound appealing, but it must be tried. Mushrooms and vodka blend so smoothly and can actually have a tonic effect – magic for the soul and body."
Makes 1 drink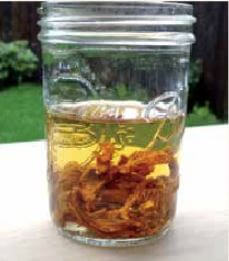 Ingredients
2 oz. mushroom-infused vodka
3/4 tsp maple syrup
5-6 dashes orange bitters
1/2 tbsp fresh squeezed lemon juice
1 dash aromatic bitters
Mushroom Vodka
1/4 cup dried Chanterelle Mushrooms or fresh mushrooms of choice
1 cup vodka
Procedure
Combine ingredients in a jar, seal, and infuse for about 3 days.
Strain.
If using fresh mushrooms, you will need more, so fill the jar and cover with vodka.
Mix all of the above ingredients in a cocktail shaker or jar with ice. This drink has the flavor of the mushroom, with a touch of sweetness from the maple, balanced with the tart lemon juice and bitters.
---
Recommended Reads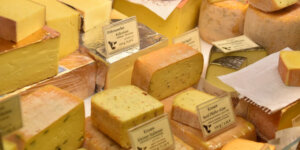 Have you ever wanted to try out exotic and rare types of cheeses, made non-traditionally? Well you might not be able to if the FDA has anything to say about it! Non-traditional cheesemaking using raw milk is under attack for all the wrong reasons, and it has sparked a revolution of cheese-lovers to stand up…
Read More