9 Things to Consider When Building Your Own Greenhouse
Daydreaming of extending your growing season and building your very own year-round greenhouse? It's easier, more affordable, and will provide you and your family with more food than you might think — thanks to one of North America's most accomplished permaculture designers, Jerome Osentowski.
In his groundbreaking book, The Forest Garden Greenhouse, Osentowski provides growers of all skill levels in-depth information on greenhouse construction plans, soil-building techniques, the secrets of successful companion planting, details on a revolutionary energy-cycling technology called the "Climate Battery," and much more. Complete with illustrations, photos, and case studies of successful greenhouse projects of all scales, The Forest Garden Greenhouse will fundamentally change the conversation about growing food indoors.
In the following excerpt adapted for the web, Osentowski presents some basic considerations to take into account when designing your greenhouse, long before construction begins. Pro Tip: Save money by using 50-70% salvaged materials—the author once built a new greenhouse with reclaimed steel he had saved for 15 years before finding just the right project for it!
Read on and get started turning your dream of a tropical backyard greenhouse into a reality.
---
Considerations for Building Your Own Greenhouse
In the beginning there was the rock; all soils start with the degradation of rocks, the parent material. As it breaks down, as it dissolves and erodes, it produces the minerals vital to the soil. We might also say that in the beginning was the sun; the first blast of sun coming over the ridge at the Central Rocky Mountain Permaculture Institute (CRMPI) is the energy that makes all of this possible. That's the first thing that we should be thinking about: not how to design a greenhouse but just basking in that sun without any structure.
When the Anasazi stumbled onto the caves down in Mesa Verde, at first they didn't have to build structures. They just stood there, and the low angle of the sun in the wintertime warmed up the surface of the red sandstone, shooting back into the cave; all that thermal mass warmed up, and that was their new home. That's where they could build a community; that's where they could set up shop, build their kivas, their kitchens, their adobe structures—it was so elemental. That's how we should start, just by doing some sun worshiping and acknowledging the fact that that's where it all comes from. Keep it simple.
Many people wonder why I selected my land. The steep, harsh environment up here on Basalt Mountain is not obviously suited for agriculture. The first time I saw it, I didn't know about permaculture, but I knew what I wanted, like many before me: a place that was close to nature and off the beaten path. The first time I came up Cedar Drive, the old stagecoach road to Denver, the road was impassable, and the realtor's car sunk to the axles in mud. I had to walk the last half mile up to the property. I stood up on the ridge with southern exposure, where my house and greenhouses now stand, and I could feel the sun and hear the spring water running in the ravine below, that same water I pump up into the house and greenhouses today. And that same sun is what has been encouraging and nourishing my growth and the growth of my plants, my photovoltaic solar panel system, my terraced forest garden, and all five greenhouses I have built here over the last forty years of this experiment. Many of my students and clients who are attracted to permaculture want to satisfy that same primal desire for self-sufficiency with the land.
Below I'll outline some of the basic considerations you should keep in mind as you design your greenhouse and before construction begins.
Freestanding or Attached
A freestanding greenhouse can be a great opportunity to create a completely new space with few restrictions. My Phoenix greenhouse at CRMPI is certainly a terrific example of using design flexibility to truly pick and choose details from the ground up, offering perhaps greater potential for high-end performance. However, the costs inherent in building a heavily insulated north wall can be significant, and it doesn't make much sense to build a small freestanding greenhouse for this reason; they tend to be overbuilt and inefficient unless of adequate size. I recommend minimum dimensions of 12 × 30 feet. Also, without an attached structure, it is more likely to need backup heat, depending on the climate zone step you want to achieve.
Attached greenhouses offer an oasis right off of your home, an extra living space through the winter, shared heating, and reduced construction costs because of a preexisting north wall. They can be any size, and they don't necessitate the extra paths and infrastructure that a separate structure would. At the same time an attached greenhouse will almost certainly obstruct the view to the outside and without a screen door can introduce insects to your home. They carry some risk of unwanted humidity without a sliding glass door and proper ventilation. Also, your design will be bounded by the preexisting conditions of the house that you want to retrofit.
Orientation
In North America the optimal orientation for a greenhouse is usually directly south or southeast, because in cold climates it's important to capture the early morning sun. An east-facing orientation can work as well, especially if there is some glazing with a southern exposure. In most situations western orientation or exposure should be avoided because of the potential to overheat.
These recommendations, by the way, should be understood to be guidelines, not hard and fast rules; it's important to examine your situation carefully. In regions where it's cloudy for most of the winter, such as the Northwest, orientation is less important because the cloud cover diffuses sunlight over the entire sky. Also, at higher latitudes, the summer sun moves much farther north.
Length-Width Proportions
A greenhouse that is shorter than it is wide doesn't have as long a window for solar gain during the day. At CRMPI, my Mana greenhouse is 24 × 35 feet and tends not to work as well as the 76 × 26 foot dimensions of Phoenix. This difference is because the sun has a lot more time in the day to heat up a space with a long east-west axis. It's an especially important consideration if you're building a freestanding greenhouse. A good rule of thumb is a 3:1 size ratio.
Foundation
There are many different materials and methods for building foundations, and you can use any that apply to building other structures to a greenhouse. At CRMPI the most recent foundations I've used have been concrete piers (see image below) tied together with the framing of the structure. Two earlier greenhouses here used sunken pressure-treated wooden posts for foundation footers. It's easy to overbuild greenhouse foundations because they are only holding up glazing and occasional snow loads, but depending on engineering regulations in your area and your approach to permitting, your options may be limited. Liability concerns can also be a factor in a school or business setting.
Roof Slope
Though Phoenix's roof has a slope of 4/12 (falling 4 inches for every foot of length), at EcoSystems Design we typically plan for a 6/12 slope to shed heavy snow loads, depending on the climate of the region. Because the greenhouse is warmer than the outside air, a layer of snowmelt often forms between polycarbonate glazing and snow, helping the roof to shed any snow of significant weight. Snow tends to stick more to double-inflated poly.
Related to the roof slope is the freeboard, the space between the lowest point of the roof and the ground. In areas with heavy snow, at least 3 or 4 feet is good to have so that snow won't pile back up onto the greenhouse roof or obstruct any vents.
Framing and Glazing Materials
The two most common framing materials are wood and metal. Wood is excellent for smaller greenhouses and has the advantage of being a cheaper, familiar material that is easier to work, with or without specialized tools. Salvaged, rough-sawn, or beetle-kill lumber is readily available. Wood requires greater upkeep; although depending on the type of lumber, it can easily last fifty years in a dry climate with the proper paint and maintenance.
Nearly all commercial greenhouses today are made with galvanized steel, often designed to be connected in a long series. Kit greenhouses are most often made of steel, and the included fasteners and instructions can make assembly quite easy. Galvanized steel has a much longer life span than wood and doesn't require staining, sealing, or much maintenance. As shown by the roof slope of Phoenix, steel framing often offers less flexibility in construction, especially when salvaged from other projects.
Glazing options are constantly evolving. Six-mm double- inflated poly will be cheaper, more flexible, and less insulating, while more expensive, rigid polycarbonate panels tend to last longer and hold up better against snow. Double-inflated poly was an excellent cheaper option in the early years at CRMPI, and it continues to function well on the roof of several of our greenhouses.
Glass can be appropriate for eastern or southern walls, but it should be used only for vertical glazing because of its considerable weight. Mounting problems can occur because of expansion and contraction, and glass presents a much bigger problem than polycarbonate or plastic if it breaks. It is typically more expensive and less insulating than polycarbonate and will also tend to intensify direct sunlight, which can even burn plants in some cases.
Insulation
Insulation is essential on the north wall and the west wall; make sure to insulate all the walls you do not have glazing on. Foam insulation or structural insulated panels (SIPs) work well but need to be sealed and kept dry—they aren't rated for the humidity in a greenhouse. I used these panels when constructing Phoenix, but commercially we've started to use metal siding directly against the Styrofoam on the inside of the SIP to eliminate any wood product. There's a lot of room to implement your own preferred method here. Straw bales are a popular natural building method but probably not a good idea for use in a greenhouse because of the potential for mold problems in a high-humidity environment.
Beds and Paths
People often want to install large paths to accommodate carts and wheelbarrows, but think carefully about the way you're going to be using your greenhouse. After the initial construction and bed preparation, there isn't much need to bring large amounts of material in and out. Here at CRMPI I tend to build smaller pathways to maximize growing space, and I keep a large staging area near the door to bring mulch and materials in with fifteen-gallon nursery pots.
Microclimates
Each greenhouse creates a new macroclimate inside it, but within that can be a variety of microclimates. These will be produced by your design and the materials used and may change over time with the addition of thermal mass by water tanks, more plant biomass, or new infrastructure. While the greenhouse climate will be mostly homogenous, it's important to identify existing microclimates to help in establishing thriving plant communities.
For instance, cold air sinks, so if your greenhouse has two levels or slopes, the lowest path will be a cold sink, and the outer edges of the space will be colder in the winter where they lose heat to the outside. By installing circulating fans, you can help mitigate this problem. The southwest corner will usually be the sunniest and hottest quadrant of the greenhouse because it receives the most sun exposure. The northeast will be cooler and is a good place for a propagation table or washing station. Be aware of the way plant growth will create shady zones over time, and plan for your tallest perennials in the northwest, often the tallest point of the greenhouse.
Building from Salvage
I would be doing a disservice to readers if I didn't catalog and share the experience that I've gained using salvage over the years with just about every project I've done at CRMPI. For most people, buying all the materials at 100 percent on the dollar and hiring someone to build a greenhouse is way beyond their financial capabilities. If you can do it yourself, I highly recommend you take a workshop and try to salvage 50 to 70 percent of the materials.
I have salvaged an incredible amount of building material from the dump: plywood, doors, windows, metal siding, marble, garage doors, and steel posts and trusses. If you want to find new things or get rid of material, check out your local Salvation Army or Habitat for Humanity ReStore for great deals. Online I've found Craigslist to be a good spot to check periodically. Local greenhouse supply stores might also provide a forum for customers to exchange information on available used materials. My personal favorite, other than the dump, is neighborhood scouting. In your travels keep an eye out for abandoned projects; make the homeowners an offer. All you have to do is make a list of what you want, look around, and put it out there to the universe. You'll be amazed how things just show up. You can cover and store them out of the way until you are ready to put them into your next or first greenhouse project. For example, I stored salvaged posts, trusses, and gutters in a neat pile for my CORE greenhouse for fifteen years before I began construction.
There are so many projects that go belly-up in our disaster capitalism, boom-and-bust economy: vacant greenhouses just left standing, waiting for someone to pay 50 or 20 cents on the dollar of the original cost and take them down to reuse them or reinvent another use for them. That's exactly what I was able to do with a greenhouse from Planted Earth Nursery. I was actually able to get it taken down by the Town of Carbondale because it was originally supposed to be used for a community project in town. That never materialized, so I was able to store the materials for a couple of years before I realized I could use it to rebuild after my first greenhouse, Pele, burnt down. It didn't dawn on me right away that I could use this stored greenhouse, but it was all there. The trusses and posts were all galvanized steel and already thirty years old, but most of them were in pretty good shape. Anything that needed straightening could be straightened; anything that needed a spot weld could be spot welded. I take what I get and make it work.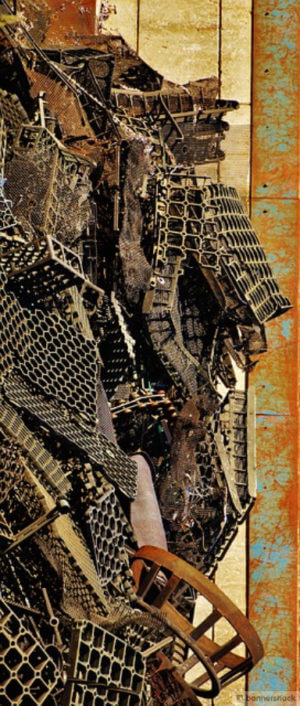 For my newest greenhouse, CORE, I used two salvage piles to complete the one greenhouse. One pile was material left over from the construction of Phoenix, and the other was the steel I'd kept for fifteen years, obtained from a commercial hoop house near Rifle, Colorado. I would encourage you to use steel when you can find it because otherwise it just goes to the scrap yard, and it doesn't get the highest possible reuse.
Save your money for the things you cannot salvage: the polycarbonate insulated wall panels, Styrofoam installation, metal siding, fans, and climate battery piping. And don't fret if your salvage building project gets put on hold or is stop-and-go as you work on the design and gather materials. This is what Peter Bane in The Permaculture Handbook calls "hodge-podge growth." Create a stockpile on your property where you can, out of the way and neatly stacked. It's extremely convenient and environmentally friendly to store extra building materials for future projects. If they're cataloged, stacked, and covered, they usually don't look like a rubbish pile. You may hold something for half a year or a decade before you know its best use. So if you get stalled, try to get done what you can. The foundation should be poured before the ground freezes, if possible. Once you have footers up, it's possible to work through the winter, especially with steel.
Salvage industrial and structural supplies but also soil-building material. I would recommend you start this salvage a year in advance. Whenever you drive by leaves in bags that are alongside the curb, pick those up and start stockpiling them. Put a trailer down at the city organic material drop-off for leaves; contact a landscaping company, and ask them to drop off their chips or leaves or any material that you could use. Even branches can be used for cutting up and making hugelkultur beds (raised soil beds filled with woody material) or mulch. You can sometimes go to the landfill to get free wood chips, and be on the lookout for rotten hay or straw; anything that gets spoiled can be hauled away for free or bought at a dollar a bale.
Look for llama and goat operations where you can go in and clean out their yard and stockpile it; that is a major nitrogen source. Make compost far in advance, and after the pile cools down, put some worms in it. Or you can use that material when you're sheet mulching the beds right in the green- house. Also be on the lookout for a good source of mycelium; bring along a bag while you take your evening walks. Haul back wood chip piles that have a good stash of mycelium already growing, and stockpile that for the nursery trees, making sheet mulch, and mulching around the trees in your forest garden or greenhouse. Keep an eye out for and stockpile all your rock dusts—gypsum, sulfur, granite, and ashes—for a mineral source. If you're next to the ocean, you should be collecting seaweed.
Again, I recommend that you aim to keep 50 to 70 percent of your greenhouse recycled. Save up, and spend as little as possible so that you're not going into debt building your greenhouse. You don't want to feel that you have to make money right away; that's always a stressful thing to do. Invite other people who want to build a greenhouse to help so they can get that actual hands-on experience. They help you get your greenhouse built, and you help them to start their own project.
---
Related Link: A Simple Way to Grow Fresh Greens Indoors This Winter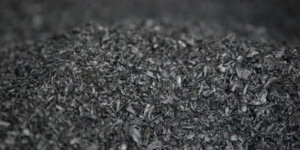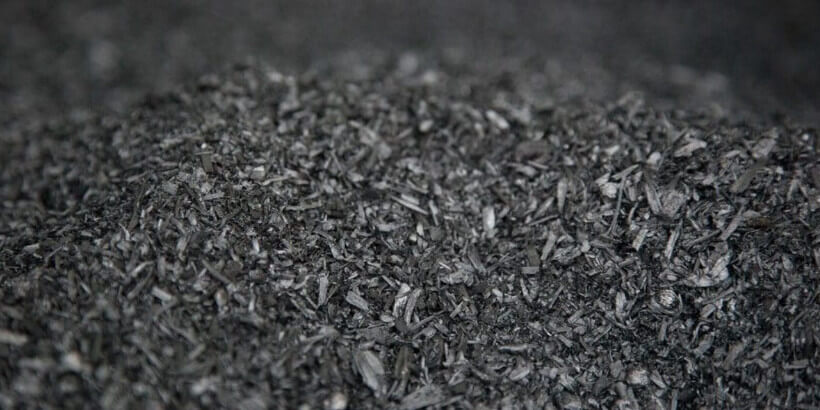 For something that looks like a lump of charcoal, biochar certainly has a great press agent. The subject of books, articles, blog posts, research papers, workshop presentations, conference talks, and various top-ten-ideas-that-will-change-the-world lists, biochar enjoys a reputation that has, so far, exceeded its actual accomplishments. That's too bad. Its potential ability to address a variety…
Read More