What in the World is a Pawpaw?
Have you heard of the pawpaw?
A few generations ago, most would say "yes!" You could ask just about anyone and they could tell you what this fruit looked and tasted like, and more importantly, where to find it. But today, the pawpaw remains a mystery to some and entirely unknown to others.
In Pawpaw: In Search of America's Forgotten Fruit, author Andrew Moore dives into the pawpaw's unique story and details why most Americans stopped eating, much less knowing about, them. In an interview, he notes, "The reasons for this are myriad, but include our shift away from wild foods, and the pawpaw's perceived difficulties—it's highly perishable and fragile." Past attempts to bring the fruit into commercial cultivation stalled, but in recent years there has been a renewed energy among groups and local food enthusiasts to bring "pawpaws to the people."
As Moore details in this fascinating book—nominated for a James Beard Foundation Book Award in 2016—the climate for success has never been greater than it is today to make this happen. Pawpaws are native to 26 eastern states, and can be grown in at least a small portion of most other states. In fact, California and the Pacific Northwest already have established plantings that are thriving.
As award-winning food writer Michael W. Twitty notes in his foreword, "This is more than a celebration of an American food; it is equally in awe of the everyday people who incorporate it into their identities. … With this at one serious and joyful account of the resurrection of an odd and storied fruit, Andy has given its seekers both a guide and a mandate."
With the local food movement on the rise and more and more people looking for a deeper connection to what they eat, the sweet, custard-like pawpaw just might be placed back on the American plate.
Read an excerpt below, and learn how you can help bring this delicious fruit back from obscurity, and into the kitchen. Perhaps you'll discover your own pawpaw patch.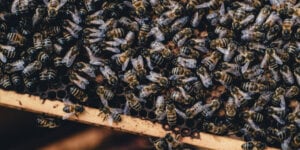 Spring is here and I don't know about you, but I can't wait to get started on all of the projects I mapped out during the cold winter months – including trying my hand at incorporating bees into my homesteading adventure! As a new-bee (get it?!), I need help to get started so I did…
Read More