The Physic of Spring: An Excerpt from In Late Winter We Ate Pears

Is asparagus popping up in your neck of the woods? Today is the Spring Equinox, and to honor it we'd like to share this excerpt and simple recipe from In Late Winter We Ate Pears by Deirdre Heekin and Caleb Barber.
Fifteen days after the fact, the radio weather forecaster tells us that March fifth was really the first day of spring, the day the earth's pattern began to change significantly. Although we've noticed the sun rising earlier and that it's still light out when we drive home from work at night, this is a fool's game I think: up here in northern New England we've had more snow since the first of March than we've had all winter. Three feet, six inches on top of the eighteen inches already on the ground, with a prediction of two more feet by the end of this week, a storm I overheard someone say began as rain in Peru. Maybe time leaped both backward and forward since the last day of February. I think the leap confused the clocks, confused the spring birds whose calls have started to punctuate the silence of the landscape, confused the skunk who came out and fended off a dog the other night in front of our restaurant. The leap even confused the porcupine who stopped to look over his shoulder at my husband Caleb when he drove home the other night, and of course our cat, Tommasino, who sits at the door ready to go outside. How rudely surprised he was when the door opened to be blinded by the great wall of white snow our shovels and the plow have made, a solid barricade bordering our front walk. Tommasino looked out in disbelief—hair on end and trembling from the cold—and turned back inside. Maybe April Fool's Day has inverted itself, like one of those undulating principles in physics, and this whole month of March in Vermont will be one long, cruel joke, these thirty-one boxes on the calendar displacing the twenty-four hours of a single day. But why am I surprised? Isn't it always like this?
We battle these late-winter days with an effort toward spring. Skiers from New York and Boston arrive each weekend, slowing the highway veins leading to our point—Woodstock, Vermont—every Friday night, clear weather or blizzard. Each weekend threatens to be their last of the ski season, and they embrace each chance to enjoy what may be their final run. At our restaurant, we feed them hints of spring: mashed fava beans with garlic, salt, and pepper served on crostini with a curl of parmigiano, or early asparagus, tender and thin, with two fried eggs and a grating of hard cheese from Lombardia. Or il raviolo, our handmade pasta, one large pillow the size of a large, flat soup bowl, stuffed with fresh ricotta, spinach, and an egg yolk served with butter and fresh sage. We've filled tall vases with pussy willows, those naked stems taunting warmer weather. And the days are warmer, the sun bright, and the sky blue in the face. The sap has begun to run, the signs of sugaring season dotting the edges of forest outside the village. We forgive the balance of cold nights for keeping the old tradition of maple syrup alive.
Caleb and I stave off doldrums by poring over big Michelin maps spread out on the floor in front of the fire, our well-worn Italian guidebooks, dictionaries, and wine compendiums in piles all over the living room. We're planning our spring trip—yes, another attempt to thumb our noses at the longest Vermont season. We leave in ten days for Paris, from where we'll make our way to Torino and then north to the dramatic mountains of Aosta, exploring the sights, tastes, and hospitality of the Piedmont region, where we've never been. We yearn to taste ruby wines in ancient cantinas, take baths at one of the hot springs, visit a couple of cheese farms—whose La Tur, Rocchetta, and Robiola we stock in our cheese case, creamy cheeses made from goat, cow, and sheep's milk, all with a rind blushed with white mold.
We crave an antipasti plate with raw celery and carrots, sautéed eggplant and zucchini, steamed red peppers, all served with bagna cauda, a traditional dip made with garlic and anchovies long simmered in butter and olive oil. Or we imagine a deep wine-red risotto made with Barolo, and beef braised in red wine too, with more carrots and celery, the meat so tender. We remember days spent north of Milan on a lake where we ate the first spring asparagus served with the surprise of fried eggs and shaved parmigiano.
On the first day of spring as we know it, this twentieth of March, we'll serve that asparagus with two gently fried eggs with parmigiano, or tagliatelle with shrimp, tomatoes, and black Ligurian olives, or a sauce of artichoke hearts sautéed in white wine. The past two weeks have been crazy with visitors, a strange coincidence of people who are from the Piedmont, or know people who live there. Strange because, though we know no one there, we suddenly have a wealth of names and places to visit. After long talks at our bar regarding the culture of Italian coffee and why the zucce (the pumpkins) in Mantova taste different from any other pumpkins in the world, one gentleman from Verona—who now lives in New York—tells us he will secure a room for us at his company's hotel in Torino. And we've met another couple from the city, a wine and food writer and his wife, a food photographer. They make us lists of places to see, eat, visit, and include names of friends in Torino or La Morra with whom we should talk. Go see the chocolatier in Torino, or tour the Lavazza factory, or the small, artisanal pastaficcie, and meet with the winemaker in Annunziata and talk with his viticulturalist. Compare the modern wines with the classical methods. Eat at the Tre Galline, make a reservation in advance. In exchange for an espresso, biscotti, and hot food after a ski, they offer us such gems. Then there's the guy who moved away, back in Woodstock for his fortieth birthday, who will call his friends who live outside Torino, who've also eaten at our restaurant, an older couple who have a castle, a vineyard, horses, and one floor devoted to a ballroom. "Wait until you see the ballroom!" he exclaims.
Just two days ago a woman originally from Torino came in. I'll call her Carolina (because she reminds us of Caleb's mother, Carol). She traveled to this country when she was twenty-two and hasn't been back to Italy for many years. Our white vanilla meringhe look just like the sweets of her childhood on the corso, and she relishes the scent of the panino Caleb makes her, prosciutto and arugula with olive oil. She and her husband chat with Caleb for over an hour. I listen as I lean into the pastry table shaping biscotti di dina, round orange-lemon cookies. Carolina is overcome with memories, the sharing of stories and recipes exchanged, and can hardly take all these thoughts and emotions in at once. She wants to tell us everything, and breathlessly talks of her siblings, her family, a twin sister who died not long ago, a brother who still lives in Torino with his wife and family. She tells us about her mother who's since moved to the seaside, and how she used to send dry goods like pasta, beans, and chocolate to her and her twin when they first came here, when they spoke no English, and life was hard. She asks us to go to her old street in the city where the buildings are of white marble, yes, white like the meringhe, she says, and will we come back and tell her all that we've seen? She'll make us lunch, or dinner, we can stay as long as we like, and she'll teach us all her mother's old recipes. We can lean over her shoulder while she cooks.
She now lives in Danville, Vermont, nearly a two-hour drive from here. We give her two loaves of bread to take with her and she takes my face between her hands and says, "Bread like this is a gift from the mouth of God. I am blessed, and He will bless you."
I feel like we are blessed in these past few weeks—even though the snow falls hard today, the electricity has gone out, and one building contractor for our house can't fit us into his schedule so we'll have to find yet another, this will be the third, and because I can't reach the plowman on the phone I will have to shovel my car out of the driveway. In these past couple of weeks, the restaurant has been filled with life-lines intersecting: each junction allows the flow to change course. We've been given a gift to include these new people whose lives and stories are now part of ours, simply because of these chance meetings, and their experiences will change us, move us forward. Days will move forward. Though time seems to keep pulling us back into winter, it only seems to be regressive, because eventually the electricity will return, spring will come, and we will travel to Paris and northwest Italy. Like stepping into a page of a storybook, we'll go to Carolina's childhood street. We'll eat fanciful chocolates, walk through vineyards tasting new wines, and fall asleep in featherbeds with big white goosedown comforters that look like mountains of fresh snow.
Time won't stop. A page will turn. Eventually, we'll return to Vermont. Physics will play a role here too, the lines of time, circumstance, and chance rolling and intersecting. Two places on a map, thousands of miles apart, will become one and the same. Because of our history and love for another language, food, landscape, our notions and feelings about home will somehow encompass both locations. We'll leave part of ourselves in Italy, and come back to the part of ourselves in Vermont. We will be blessed by this largess. I imagine us like Carolina, moved by the crossing of her life in Vermont with her childhood in Italy, and I know our true fortune lies in our return to a country in which we used to live, in which we learned to love, and—anyway we look at it—whether we're headed east or west, we get to come home again.
*****
Asparagi alla Milanese
Asparagus with Fried Eggs
This is the dish to eat on a warm June day, outside in the sunshine, with a basket of crusty rolls and a glass of cold beer or crisp Lugana from the shores of Lake Garda. It is simple and satisfying, especially if you are blessed with your own asparagus patch, or a neighbor who has one, as freshly cut asparagus is worlds beyond that which must travel far to reach your local produce purveyor. This recipe is for one person, but simply multiply to suit the number dining at your table.
2-inch-thick bundle fresh asparagus
2 to 3 tablespoons butter
Salt and freshly ground pepper
2 eggs
Parmigiano-Reggiano
Wash and trim the asparagus of any tough, fibrous ends. If the asparagus is quite large, you can peel the bottom half of the shoots to remove the tough outer layers. In a large skillet with a lid bring 1/2 inch of lightly salted water to the boil and lay in the asparagus. Cover and cook until the bottoms of the shoots are just tender when poked with a fork. (Very slender asparagus will cook in 6 to 8 minutes, and fat shoots can take up to 15 minutes, but you must pay attention, as overcooked asparagus is limp and all wrong for this dish.) Using the lid to hold back the asparagus, pour off the water. Melt a little butter in the pan with the asparagus and season with salt and pepper. Remove the asparagus immediately to the serving plate(s) and quickly wipe out the skillet with a paper towel if there are bits of asparagus remaining in the pan. Restore the heat under the pan to medium low, melt a little more butter, crack the eggs into the pan, season with a little salt and pepper and gently cook them to your preferred state of doneness. (At a café, this dish would be served sunny-side up or over easy so the broken yolks provide a dressing for the asparagus.) Slide the cooked eggs directly on top of the asparagus. Top with a blanket of freshly grated Parmigiano-Reggiano and serve immediately.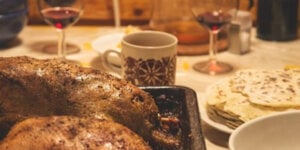 From gathering items from the woods during your morning walk to using homemade chevre in your risotto to fermenting your own bubbly, there's something about working for your supper that makes it so much more delicious when you finally get to tuck in. If you're looking to really earn your Thanksgiving dinner this year, then…
Read More