Garden Psychology: An Excerpt from Slow Gardening
Felder Rushing is a tenth-generation American gardener, raised into his teen years under the apprenticeship of a horticulturist great-grandmother who grew flowers, vegetables, herbs, and fruits without a hose or pesticides, and a garden club grandmother who garnered hundreds of blue ribbons for her plant breeding and displays.
Felder's new book, Slow Gardening: A No-Stress Philosophy for All Senses and Seasons, was inspired by Slow Food, an international movement that encourages a tempo of life more in keeping with natural systems, while honoring local food sources and cultures. In much the same way, a slow-gardening approach can help us ease up on the plant, feed, and weed accelerator and take the time to become more laid back and thoughtful in our gardening habits and styles.
Learn more about Slow Gardening in this excerpt, below. The book is available for pre-order now, and will ship in mid-June.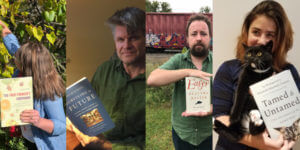 Are you new to the Chelsea Green community and aren't sure which book to read first? Or maybe you're a long-time fan and want to continue your binge-reading but need some fresh ideas. Regardless of how you got here, we can help! From the enlightening and thought-provoking to the quirky and fun, we, the Chelsea…
Read More