Washington Post Praises the Wonders of Fermented Foods, and Sandor Ellix Katz!
After tuning in to David Gumpert's blog about the recent madness surrounding raw milk and other raw foods, it's refreshing to find some mainstream media coverage that focuses on the deliciousness and benefits of fermentation and friendly bacteria.
As usual, author Sandor Ellix Katz and his essential cookbook Wild Fermentation are given the praise they deserve, and other "fermentation fetishists" in the DC area are highlighted. Lovely photos accompany the article on the Washington Post's website.
By Kristen Hinman

Special to The Washington Post
Tuesday, September 14, 2010; 10:14 AM Friendly bacteria might not be an easy notion to wrap your brain around in the context of food these days.

Monica Corrado says bring 'em on. And she's not the only one.

Pack raw food into a jar, then seal it to keep out air, says the Takoma Park teacher of lactofermentation. Leave at room temperature and let feisty, naturally occurring microbes go to town for several days or even weeks. Open. Taste. Feast.

To see Corrado lick her lips after lapping up some of her "live" homemade ketchup, to watch her eyes dance as she opens a jar of her bubbling salsa and, yes, to taste her hissing peach chutney, redolent with crushed red pepper, is to concede that she might be on to something.

Part science, part art, lactofermentation is an ancient method of food preservation using live bacterial cultures. Anathema though it may seem to a generation of antibacterial hand-gel obsessives, the technique is increasingly being embraced by DIY aficionados and whole-food advocates who like the idea of low-tech preservation and also believe that unpasteurized foods aid digestion and boost immunity.

As Corrado puts it, "We're live people. We're not meant to eat only dead food!"

…

"I would say 99.999 percent of people in the United States eat fermented foods every single day," says Sandor Ellix Katz, author of "Wild Fermentation" (Chelsea Green, 2003). "Bread, cheese, yogurt, sour cream, coffee, tea, chocolate, salami: Many everyday foods are produced by microorganisms and fermentation. Even though it mostly takes place behind factory doors, where nobody has to think about the fact that it's the cultivation of bacteria that are enabling these foods to grace our table, there they are, everywhere."
Check out Wild Fermentation in our bookstore, and in just a few weeks we'll also have available a DVD of one of Sandor's popular fermentation workshops. Watch a trailer in the bookstore!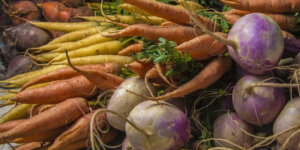 If you love to cook with fresh produce but happen to live in a climate where it's nearly impossible to access during the winter months, we feel ya! Here in the northeast, chilling winds and heaps of snow make it hard to leave the house, let alone grow fresh produce, but that doesn't mean we…
Read More