Global Research Review: The Raw Milk Revolution

Here's the latest review of David Gumpert's The Raw Milk Revolution – from the Montreal-based GlobalResearch.ca, a project of the Centre for Research on Globalisation.
Criminalizing Nature's Most Perfect Food: FDA's war on private food contracts
Is the FDA's war on milk part of US strategy to ban all private food contracts?
By Rady Ananda
In his latest book, The Raw  Milk Revolution: Behind America's Emerging Battle over Food Rights, David Gumpert details several cases of malicious prosecution against the natural dairy industry, reporting the myths, exaggerations and deceptions by authorities charged with protecting the food supply.
What you won't get from the book is a whitewash of the raw milk movement. Even advocates were caught exaggerating claims or ignoring evidence. Gumpert also includes tender, heart-wrenching stories in the words of mothers whose children became critically ill from drinking contaminated raw milk, or so they believe. Though the link was never scientifically made in those cases, it was in others, including a raw milk herd share. Gumpert bridges compassion for those mothers with compassion for dairy owners who are financially wiped out by the government's strategic war on private food arrangements.
From the cases explored in the book, and from recent government actions and statements, it becomes clear that food safety authorities are using their power to destroy competition of drugged, genetically engineered, factory processed foods.
For years, writers and researchers have shown how regulatory agencies have been captured by industry. President Obama exemplifies this in his Food Policy picks, recruiting directly from biotech firms like Monsanto and lobbying groups like CropLife America. His Supreme Court pick, Elena Kagan, in her capacity as Solicitor General, intervened on behalf of Monsanto in the first case to reach the US Supreme Court regarding genetically engineered food.
In the potent Foreword to the book, farmer Joel Salatin admits:
"People like me don't trust Monsanto. We don't trust the Food and Drug Administration. We don't trust the Department of Agriculture. We don't trust Tyson. And we don't think it's safe to be dependent on food that sits for a month in the belly of a Chinese merchant marine vessel."
And the outcome?
"When the public no longer trusts its public servants, people begin taking charge of their own health and welfare. And that is exactly what is drving the local heritage food movement."
Meet the FDA head of Dairy and Egg Safety, John F. Sheehan
Apparently bent on stopping the 'local heritage food movement' is John F. Sheehan, whom the FDA hired in 2000 to head its Dairy and Egg Safety Division. Gumpert spends much time on this elusive bureaucrat, a patent lawyer with a bachelor's degree in dairy science.   Sheehan's actions epitomize the destruction that captive agencies can wreak on small producers when regulators cater to monopoly interests. (Image of John F. Sheehan, FDA Director of Dairy & Egg Safety, by David Gumpert. Used with permission.)
Sheehan also serves as a US delegate on the Milk & Milk Products Committee of the Codex Alimentarius Commission. Codex is a United Nations offshoot that harmonizes food standards to facilitate international trade. Some believe Codex also seeks to limit trade of Earth's natural supplements and whole foods. (See, e.g., Kevin Miller's 2005 film, We Become Silent: The Last Days of Health Freedom.)
Gumpert, an investigative journalist focused on the intersection of health and business, found Sheehan's background elusive.  The FDA stonewalled Gumpert's efforts to gather information about him, only revealing that Sheehan worked in the large end of the dairy industry for 17 years.  Many efforts to meet him failed. Gumpert admits with a little embarrassment that he traveled 2,500 miles just to photograph the man. Alas, Sheehan refused to speak to him, as did other FDA regulators.
Disparate Treatment of Natural Foods and Pharmaceutically-Driven CAFOs
That John Sheehan is a patent lawyer is not incidental. Concentrated animal feeding operations use patented, genetically modified drugs and feed. Having a patent lawyer head the FDA's Dairy and Egg Division benefits the biotech end of food production. That may reveal Sheehan's loyalties, which in turn may reveal what's driving the FDA's war on natural food.
Sheehan's preferential treatment of Wright County Egg, which was involved in this year's half-billion egg recall after 1,500 people were sickened by salmonella poisoning, stands in perfect contrast to his malevolent war on natural milk suppliers whose products sickened no one.
Providing a timeline of infractions covering decades, The Atlantic said, "[Wright County Egg owner, Jack] DeCoster has left a trail of illness, injury, mistreatment, and death in his wake for decades. That he has been left to police himself for so long is a stunning testament to the failure of federal regulators."
The AP reported that "his facilities tested positive for salmonella contamination hundreds of times in the two years before this summer's outbreak."
Congressman Henry Waxman told the New York Times that for decades, "DeCoster farms have had warning after warning. Yet they continue to raise chickens in slovenly conditions and to make millions of dollars by selling contaminated eggs."…(continued)
***
Read the full review at Global Research
David Gumpert's The Raw Milk Revolution is available now!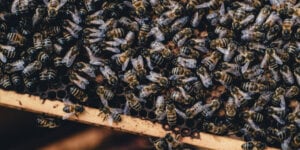 Spring is here and I don't know about you, but I can't wait to get started on all of the projects I mapped out during the cold winter months – including trying my hand at incorporating bees into my homesteading adventure! As a new-bee (get it?!), I need help to get started so I did…
Read More