RECIPE: How To Make Blue Cheese
Attention moldy cheese lovers, this recipe is for you! It's true, moldy isn't usually a quality we look for in our food, but when it comes to blue cheese, the mold cultures contribute largely to its unique texture and bold flavor.
Try your hand at making an authentic Rindless Blue Cheese using the ingredients and techniques listed in the excerpt below from cheesemaking expert Gianaclis Caldwell.
If you are interested in making your own artisan cheeses, Caldwell's book, Mastering Artisan Cheesemaking, provides an incredible amount of detail around the intricacies of cheesemaking science with instructions for preparing a variety of cheese types.
Her book is a must have for home hobbyists and anyone serious about the commercial artisan cheese business.
And now, it's moldy cheese time. Enjoy!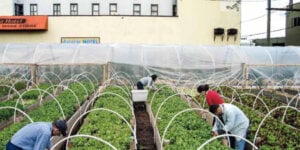 What if farms and food production were integrated into every aspect of urban living—from special assessments to create new farms and food businesses to teaching people how to grow fruits and vegetables so farmers can focus on staple crops. Urban farming is a story of recovery, of land and food, of people, and of the…
Read More