Wisconsin Becomes Ground Zero in Raw Milk War

From his blog, The Complete Patient.
The raw milk battle in Wisconsin is becoming ever more complicated, and intense. I've been at the Acres USA annual conference in St. Paul this past weekend, and much of the discussion among hundreds of owners of small farms in the Midwest is about happenings in Wisconsin. Some updates:
–On the legislative side, it appears that a bill that would legalize the sale of raw milk for Grade A dairies is gaining support. The legislation, which would allow dairies with Grade A licenses to sell raw milk, butter, and cream, now has eight sponsors in the Assembly and seven in the Senate—this from Brian Wickert of the Josephine Porter Institute, a provider of biodynamic products, who is helping coordinate an aggressive consumer campaign to push for the legislation.
–On the resistance side, the planned courthouse demonstration in Viroqua, WI, in support of buyers club owner Max Kane Dec. 21 is gaining momentum. After I spoke about it to nearly 200 farmers and other attending my talk at the Acres conference yesterday afternoon, more than half a dozen came up to me wanting details about where and when. Ann Marie Michaels, publisher of several food blogs, including CheeseSlave, has put a summary together.
There are a lot of unhappy dairy farmers in Wisconsin. They're getting close to the point of telling DATCP, "We're mad as hell, and we're not going to take it any more."
***
Embattled dairy farmers in Wisconsin and around the country received lots of encouragement Thursday evening from Mark McAfee of Organic Pastures Dairy Co., who gave a fiery keynote speech. He spoke about "taking back the food chain." He advised the nearly 1,000 attendees, "The most patriotic thing we can do as farmers is rebel. Tell the FDA (U.S. Food and Drug Administration) to pasteurize themselves….The farmer will become the pharmacist for America."
The crowd gave him a standing ovation.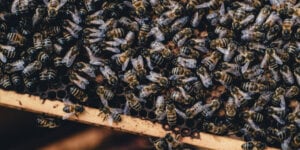 Spring is here and I don't know about you, but I can't wait to get started on all of the projects I mapped out during the cold winter months – including trying my hand at incorporating bees into my homesteading adventure! As a new-bee (get it?!), I need help to get started so I did…
Read More