There's Still Time to Plant Seeds for a Winter Vegetable Harvest!

If your part of the world is anything like Vermont, it's been hot as the dickens the last couple of weeks, and sunny to boot. Sometimes I feel like I live on the desert planet Tatooine (you know—because of the binary star system). Too late to start planting? Nope. You can still get yourself an honest-to-goodness, legitimate farmer's tan—by planting your seeds for a bountiful winter harvest.
From the Providence Journal:
There is still time to plant seeds to provide fresh vegetables well into winter.

Eliot Coleman, author of Four-Season Harvest and The Winter Harvest Handbook, grows vegetables through the winter in Maine.

It's much easier in Southern New England.

There are several varieties of radishes that grow so quickly that they will be ready to pick before winter arrives, says Eva Littlefield, a customer service representative for Johnny's Selected Seeds, an employee-owned company in Winslow, Maine.

Hakurei, a white turnip that Johnny's carries, grows quickly and tastes delicious raw, when it is about as large as a golf ball, or cooked, when it is about the size of a tennis ball. When it grows larger, voles or some other critters tend to nibble on it beneath the soil's surface. It matures in 38 days.

Radishes mature quickly, too. A beautiful example is Amethyst, ready in 30 days. Cherriette, a small radish, matures in 26 days.

Carrots mature in about nine weeks. Plant a variety such as Sugarsnax — the name says it all — before the end of August, and they will be ready to pull before the end of October. In his first book, Four-Season Harvest, Coleman says the variety Napoli will endure winter.

Some varieties of kale and salad greens will make it through the winter. Winterbor, Starbor, and Ripbor are especially hardy varieties of kale, says Eva Littlefield. With absolutely no protection from the cold and snow a patch of kale — planted last September — made it through last winter, and it could be harvested through the snow. It is a hybrid that has been growing in the garden for four years, and every summer, we save the seed it produces.
Related Articles: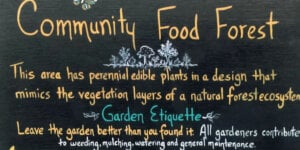 More than 80 percent of the US population now resides in urban areas. This number is projected to rise in the next few decades. Finding ways to maximize use of existing open space is imperative, and increasing access to food through sustainable management of edible landscaping is one important approach among many that are underway.…
Read More