Tuesday, November 4th, 2014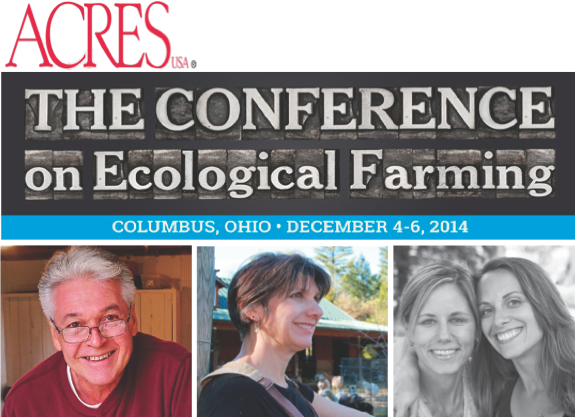 Interested in all things agriculture — sustainable, organic or eco? Want to learn more about the most up-to-date, or time-tested, techniques designed to improve animal, soil, and human health and the food you eat?
Our friends at Acres U.S.A. are hosting their annual conference next month in Columbus, Ohio, and there's still time to register for a full slate of workshops, pre-conference seminars, and keynote presentations.
Join several Chelsea Green authors along with dozens of others of the country's best and brightest in agriculture for this three-day event. Among the featured speakers and the workshop leaders, will be the following Chelsea Green authors:
Hilary Boynton and Mary Brackett will be at the conference to lead a Saturday morning workshop on using the GAPS Diet and making it work for your life and family. The workshop is partially based on their popular new book, The Heal Your Gut Cookbook: Nutrient-Dense Recipes for Intestinal Health Using the GAPS Diet. Dr. Joseph Mercola — the conference's keynote speaker — featured their book on his popular website in September.
Gianaclis Caldwell, author of The Small-Scale Dairy, The Small-Scale Cheese Business, and the award-winning Mastering Artisan Cheesemaking. Caldwell is well-known on the conference circuit for her engaging and informative workshops. At this year's Acres conference, she'll present two workshops — one on the benefits and challenges of working with goat milk, and another on once-a-day milking strategies.
Cole Ward, author of The Gourmet Butcher's Guide to Meat, will present a workshop on the basics of butchering and the opportunities it presents for farmers. A native of Vermont, Ward is an experienced butcher, teacher, and his workshops are always informative, and with just a dash of humor. Ward will also present an introduction to gourmet butchering during the pre-conference Eco-Ag U.
Find out more about each of our authors' recent books below, and be sure to get your tickets now for what promises to be another great Acres U.S.A. conference.
The Heal Your Gut Cookbook
by Hilary Boynton and Mary G. Brackett
In The Heal Your Gut Cookbook, readers will learn about the key cooking techniques and ingredients that form the backbone of the GAPS Diet: working with stocks and broths, soaking nuts and seeds, using coconut, and culturing raw dairy. The authors offer encouraging, real-life perspectives on the life-changing improvements to the health of their families by following this challenging, but powerful, diet. With more than 200 straightforward, family-friendly, nutrient-dense recipes, this book is a must-have if you are considering the GAPS Diet, or simply looking to improve your digestive health and—by extension—your physical and mental well-being.
The Small-Scale Dairy
by Gianaclis Caldwell

The Small-Scale Dairy includes everything you need to know in order to successfully produce nourishing, healthy, farm-fresh milk. Whether for home use, direct sale to the consumer, or sale to an artisanal cheesemaker, high- quality raw milk is a delicate, desirable product. Successful and sustainable production requires the producer to consider and tackle many details, ranging from animal care to microbiology to good hygienic practices—and, for those with commercial aspirations, business plans, market savvy, and knowledge of the regulations.

The Gourmet Butcher's Guide to Meat
by Cole Ward
Vermont-based master butcher Cole Ward delivers a comprehensive guide to whole-animal butchery that goes beyond conventional "do-it-yourself" books and takes readers inside the world of truly sustainable meat production. The Gourmet Butcher's Guide to Meat demystifies the process of getting meat to the table, and its wide scope will be welcome to those who not only wish to learn the rudiments of butchery, but also want to understand how meat animals are raised, slaughtered, and marketed in a holistic system that honors both animals and consumers.