Wednesday, February 25th, 2015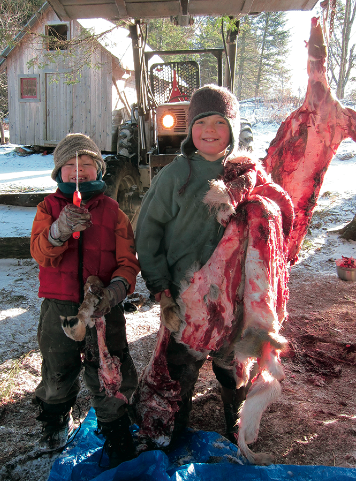 We've all come across one while driving — a doe, a deer, a female deer — dead on the side of the highway. Admit it, carnivores and omnivores alike, you've often thought to yourself, "I wonder how long it's been there … and … boy, am I hungry!"
After checking the rearview a couple times and being thwarted by oncoming headlights, you probably speed off with the smells of an imaginary venison stew giving your stomach pangs. Your trunk? Also empty.
Face it, lean times financially mean many of us seek inexpensive, yet still wholesome, ways to feed our families.  Author and homesteader Ben Hewitt asks us to consider roadkill as an option of putting meat on the table. Yes, honestly and truly – roadkill. And, why not? In many instances, the animal has been freshly killed, and if it's a sizable deer (or even moose), that's a lot of meat that can be stored away into the freezer for another day.
In his new book, The Nourishing Homestead, Hewitt offers some basic tips on the etiquette and edibility of "asphalt hunting." One thing is to be sure, there is an upside to the deep freeze of a winter that many of us are experiencing.
Read on, and start searching the side roads for your next meal.
*****
Determining the Edibility of Roadkill
Folks who hear of our fondness for "asphalt hunting," which has netted us three deer over the past four years, frequently ask how we determine whether or not a piece of roadkill is prime for the stew pot. Like so many aspects of food production and processing, such a determination depends on a number of factors.
First and foremost, what time of year is it? While we have harvested roadkill during the warm months, doing so requires much more luck (to have come across the kill shortly after it met its fate) and a bit more discernment (to know what safely constitutes "shortly after"). For that reason, I can only recommend harvesting in winter, with the exception being if you are unfortunate enough to be the one who hit the animal or if you actually witness its demise.
When we come upon roadkill, the first thing we do is to assess the level of bodily damage. This is not always obvious, because severe internal injuries are not generally visible, although they also don't preclude harvest, as there's still likely to be a fair bit of edible meat. Generally speaking, if we find a deer that's really torn up, with a fair amount of visible blood, we leave it. Shattered and twisted legs look dramatic but are actually a sign that the animal took the hit down low, rather than directly to the body, where the majority of the meat is contained.
Regarding freshness, the colder it is, the less you need be concerned. That said, anything that's frozen stiff suggests to me that (1) it's been there awhile and (2) it's going to be a real hassle to transport and dress. The ideal situation is exactly like the one I came across last October, when I rounded a corner on a rural road to find an SUV pulled to the side of the road and a fellow in designer jeans hauling a dead doe into the ditch. I hit the brakes and hopped out of the car. "Are you planning to do anything with that," I asked. It was a rhetorical question, because I could see that his plans for the deer ended the moment he reached the bottom of the ditch. He looked at me quizzically: "No, why? You want it?" He sounded skeptical, but was kind enough to help me load the animal into the back of our Subaru. Ninety seconds later, I was on my way home with a freezer full of fresh venison. I doubt more than 10 minutes passed between impact and loading the deer into our car.
That doesn't happen too often, so you should be prepared to make a judgment call. In general, what I like to see in cold weather is a body that's still limber and maybe even a little warm. That's a sure sign it was a recent hit. Of course, if there's snow on the road, you can usually tell whether any spilled blood is fresh and bright red or congealed and duller in color. I suppose it goes without saying, but when it doubt, leave it for the birds. Which brings me to another simple rule: If birds or animals have been feeding from your quarry, it's been there too long. Or too long for my taste buds, anyway.
Do expect some internal damage. A burst stomach is not uncommon, and while its contents can appear to have spoiled a lot of meat, it's actually pretty easy to clean up the resultant mess, via either a vigorous scrubbing or a careful cutting away of affected areas. Fortunately, there's not much meat directly around the stomach cavity, so contamination of prime cuts is unlikely.
Finally, you might want to check state wildlife laws before gleaning any roadkill. Here in Vermont, it's actually illegal to glean roadkill without notifying a game warden; the deer herd belongs to the state, a fine example of how the common wealth of the land has been commoditized. The truth is, most wardens are happy to see the meat go to good use. The other truth is, damned if I'm going to let a perfectly edible animal rot in a ditch while I try to track down a warden for permission.