Friday, August 29th, 2014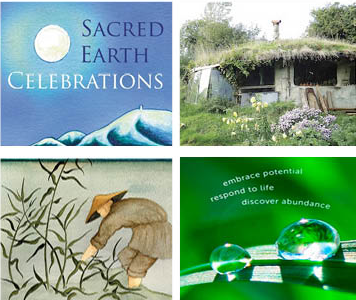 From learning how to address personal, social, and environmental concerns in simple practical steps in our daily lives to building a low-impact roundhouse, we're bringing a handful of new books to US readers for the first time.
At Chelsea Green Publishing, we partner with like-minded publishers and writers around the world to bring their books on sustainable living to a wider readership in the United States. Below is the latest selection of books available from one of our strongest publishing partners, Permanent Publications. They publish books that encourage people to live more healthy and resilient lives, as well as the internationally recognized magazine Permaculture: Practical Solutions for Self-Reliance which is read in 77 countries.
New Books from Permanent Publications:
Sacred Earth Celebrations explores the eight Celtic festivals, how they were celebrated and understood in the past, the underlying changing energy of the Earth, and the ways we may use this energy to create meaningful celebrations for today to deepen our connection to the Earth and our fellow human beings. It is an uplifting and inspiring source book for anyone seeking to celebrate and honor the changing rhythms and seasons of the Earth and her cycles.
Building a Low Impact Roundhouse is a captivating story of one of the UK's most unique homes. Now in its third edition, Author Tony Wrench shares his many years of experience, skills, and techniques used to build this affordable low-impact home. He offers advice on roofs, floors, walls, compost toilets, wood stoves, kitchens, windows, and planning permission. Complete with color photographs of life in and around the dwelling, this is both an engaging story and a practical "how to" manual for anyone who loves the idea of low-impact living.
The Unselfish Spirit is an essential twenty-first-century guide to unlocking the secrets of how we as a race can collectively grow our consciousness to solve the complex web of challenges that threaten life on Earth. Author Mick Collins draws inspiration from such diverse fields as cosmology, new biology, and quantum physics, along with insights from depth psychology, occupational science, and mysticism. More than just a learned exploration about psycho-spiritual transformation, this book is a pathway to evolving entirely new ways of living creatively and harmoniously as a species.
7 Ways to Think Differently explores ways to address personal, social, and environmental concerns in simple practical steps in our daily lives, helping us to make incremental, achievable changes. As well as addressing our internal landscapes, author Looby Macnamara explains how individuals and communities can work together to achieve positive change. This book is for anyone who wants to make a difference in the world. It offers potent medicine for a world full of challenges. (this book is available September 24, 2014)