Sunday, April 1st, 2012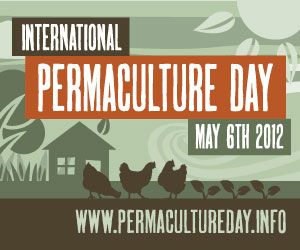 What does permaculture mean to you? Bill Mollison and David Holmgren first coined the term in their groundbreaking 1978 book Permaculture One. In essence, permaculture is a system of designing households and communities that are productive, sustaining and largely self-reliant, and have minimal impact on the environment.
From the globally-inspiring, no-till farming practices of Masanobu Fukuoka to the home-scale projects designed by Toby Hemenway, permaculture can be found at work everywhere in the world.
International Permaculture Day is just around the corner—May 6th — and we've put a wide range of permaculture inspired books on sale.
What do you have planned for May 6th? Do you need to learn more? Or are you just getting started? Or maybe you want to inspire a friend? Whether you're tackling edible garden spaces or farm fields, we offer books for all levels of permaculture activists.
Happy reading from the folks at Chelsea Green Publishing.
P.S. Don't forget we have free shipping on orders of $100 or more.
The Small-Scale Poultry Flock: An All-Natural Approach to Raising Chickens and Other Fowl for Home and Market Growers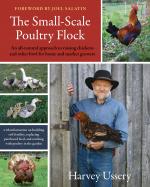 Retail Price: $39.95
Sale Price: $25.97

The most comprehensive and definitive guide to date on raising all-natural poultry for the homesteader and small farmer. Ussery's model presents a practical and integrative model for working with chickens and other domestic fowl, based entirely on natural systems, and will prove invaluable for beginner homesteaders, growers looking to incorporate poultry into their farm, and farmers seeking to work more holistically with their poultry. 
"Here's the ultimate book for those who want to know everything there is to know about raising poultry. And every detail is backed up by the author's own (and often entertaining) experiences. I could not find—in this encyclopedic array of chicken knowhow—one detail that I would quibble with." —Gene Logsdon, author of Holy Shit and The Contrary Farmer 
Excerpt from Chapter 2 – The Integrated Small-Scale Flock. READ IT HERE…
Gaia's Garden, Second Edition: A Guide to Home-Scale Permaculture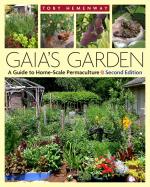 Retail Price: $29.95
Sale Price: $19.47

The first edition of Gaia's Garden sparked the imagination of America's home gardeners, introducing permaculture's central message: Working with Nature, not against her, results in more beautiful, abundant, and forgiving gardens. This extensively revised and expanded second edition broadens the reach and depth of the permaculture approach for urban and suburban growers.
Learn Permaculture 101 in Gaia's Garden: A Guide to Home-Scale Permaculture. READ IT HERE…
"The world didn't come with an operating manual, so it's a good thing that some wise people have from time to time written them. Gaia's Garden is one of the more important, a book that will be absolutely necessary in the world ahead."—Bill McKibben

Sepp Holzer's Permaculture: A Practical Guide to Small-Scale, Integrative Farming and Gardening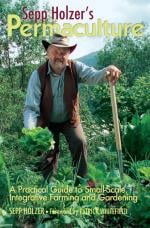 Retail Price: $29.95
Sale Price: $19.47

His farm is an intricate network of terraces, raised beds, ponds, waterways and tracks, well covered with productive fruit trees and other vegetation, with the farmhouse neatly nestling amongst them.
This is in dramatic contrast to his neighbors' spruce monocultures. Holzer covers every aspect of his farming methods, not just how to create a holistic system on the farm itself, but how to make a living from it.
"A fascinating book written by a man who has devoted a lifetime to working with nature and creating extraordinarily diverse polycultures. His work is breathtaking." —Maddy Harland, editor of Permaculture Magazines
Excerpt from Preface – Sepp Holzer's Permaculture. READ IT HERE…

Permaculture Pioneers: Stories from the New Frontier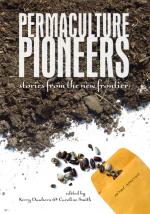 Retail Price: $34.95
Sale Price: $22.72
Permaculture is much more than organic gardening. Arguably it is one of Australia's greatest intellectual exports, having helped people worldwide to design ecologically sustainable strategies for their homes, gardens, farms and communities.
This book charts a history of the first three decades of permaculture through the personal stories of Australian permaculturists. From permaculture co-originator David Holmgren, to ABC TV's Gardening Australia presenter Josh Byrne, the authors span the generations and the continent.



Food Not Lawns: How to Turn Your Yard Into a Garden and Your Neighborhood Into a Community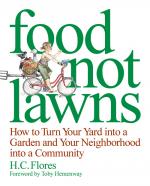 Retail Price: $25.00
Sale Price: $16.25
Gardening can be a political act. Creativity, fulfillment, connection, revolution-it all begins when we get our hands in the dirt. Food Not Lawns combines practical wisdom on ecological design and community-building with a fresh, green perspective on an age-old subject.
Activist and urban gardener Heather Flores shares her nine-step permaculture design to help farmsteaders and city dwellers alike build fertile soil, promote biodiversity, and increase natural habitat in their own "paradise gardens." 
 Excerpt from Chapter One: Free Your Lawn. READ IT HERE…
Edible Forest Gardens (2 volume set)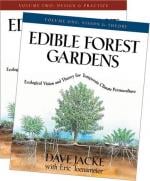 Retail Price: $150.00
Sale Price: $97.50
Edible Forest Gardens is a groundbreaking two-volume work that spells out and explores the key concepts of forest ecology and applies them to the needs of natural gardeners in temperate climates.
Volume I lays out the vision of the forest garden and explains the basic ecological principles that make it work.
In Volume II, Dave Jacke and Eric Toensmeier move on to practical considerations:concrete ways to design, establish, and maintain your own forest garden. Along the way they present case studies and examples, as well as tables, illustrations, and a uniquely valuable "plant matrix" that lists hundreds of the best edible and useful species.
Taken together, the two volumes of Edible Forest Gardens offer an advanced course in ecological gardening-one that will forever change the way you look at plants and your environment.  
Perennial Vegetables: From Artichokes to Zuiki Taro, a Gardener's Guide to Over 100 Delicious, Easy-to-Grow Edibles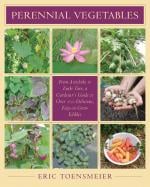 Retail Price: $35.00
Sale Price: $22.75
There is a fantastic array of vegetables you can grow in your garden, and not all of them are annuals. In Perennial Vegetables the adventurous gardener will find information, tips, and sound advice on less common edibles that will make any garden a perpetual, low-maintenance source of food.
Perennial vegetables are perfect as part of an edible landscape plan or permaculture garden. Profiling more than a hundred species, with dozens of color photographs and illustrations, and filled with valuable growing tips, recipes, and resources.
Perennial Vegetables is a groundbreaking and ground-healing book that will open the eyes of gardeners everywhere to the exciting world of edible perennials.
Permaculture: Principles and Pathways Beyond Sustainability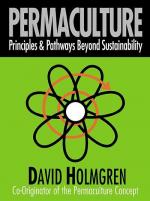 Retail Price: $30.00
Sale Price: $19.50

David Holmgren brings into sharper focus the powerful and still evolving Permaculture concept he pioneered with Bill Mollison in the 1970s.
Permaculture draws together and integrates 25 years of thinking and teaching to reveal a whole new way of understanding and action behind a simple set of design principles.
For anyone seriously interested in understanding the foundations of sustainable design and culture, this book is essential reading. Although a book of ideas, the big picture is repeatedly grounded by reference to Holmgren's own place, Melliodora, and other practical examples. 
More Permaculture Titles On Sale

* Books on Sale until May 31st*