Our Mission and History
Founded in 1984, Chelsea Green Publishing is regarded as the preeminent publisher of books on sustainable living. With well over 400 titles in print, its best-selling titles include:
Books on the politics of sustainability including the National Bestseller Don't Think of an Elephant. George Lakoff's definitive handbook for progressives to understand and communicate effectively about key political issues started the national discussion on framing the political debate. Over 200,000 copies printed in 6 months;
The End of America, Naomi Wolf's gut-wrenching patriotic call to action. This New York Times Bestseller urges every American to recognize the fragility of freedom. Wolf catalogs the ten steps that governments have historically followed when shutting down an open society such as our own. Left unchecked by patriotic civilians, America could suffer a disasterous fate;
The Man Who Planted Trees, an ecological fable that has sold over 250,000 copies in 18 years, setting a standard for quality of writing, beauty of design and illustration, creative publishing and inspirational message;
The Straw Bale House, a revolutionary building book that has sold over 100,000 copies, launching the company's natural building and renewable energy list and helping establish our recognized leadership in this field;
Eliot Coleman's The Four Season Harvest and The New Organic Grower, landmark books in sustainable agriculture and organic food;
A number of inspirational non-fiction trade titles, including Gaviotas, This Organic Life, Believing Cassandra and A Cafecito Story.
Chelsea Green titles have received numerous awards, including ALA and Booklist Notable Books of the Year, the John Burroughs Medal, James Beard Award finalist, Garden Globe Award.
In 2003 the company began to reorient its editorial mission reflected in the following vision statement:
With the destruction of the natural world ramped up to epidemic proportions, one wonders what "sustainable" really means. Indeed, one begins to wonder what "living" really means or will come to mean in the opening decade of the twenty-first century. Can anything be deemed sustainable when life itself--in all its myriad forms--is threatened at so many levels? Is it enough to focus on the how-to of "green living" in the face of such overwhelming force, the "shock and awe" of forest and ecosystem destruction, the rampant plundering of the world's oceans, the terror of GMO-contaminated food, and the unintended consequences of biotechnology?

A new worldwide grassroots movement is taking shape. In India, Africa, and South America, in countries left "behind" and stripped of their resources and cultures, people increasingly feel that they have no choice: In order to continue living, they must reclaim, must lay claim to, their ecosystems, their food and water, their land and housing, their sufficiencies. It's a new kind of politics, what Arundhati Roy calls, "Not the politics of governance, but the politics of resistance. The politics of opposition. The politics of forcing accountability. The politics of slowing things down. The politics of joining hands across the world and preventing certain destruction1." It is the new, vibrant politics of sustainable living.

We wish to move the company forward boldly and with a new sense of urgency. While continuing our commitment to remain at the forefront of information about green building, organic growing, and renewable energy--the practical aspects of sustainability--we will also publish for a new politics of sustainability, for the cultural resistance that living demands of us now.

While we support one another in reducing the destructive impacts of our daily lives, we must also support one another in the daunting task of building the collective consciousness of individuals committed to a less violent way of life. We must nurture the voices of those who see ever-widening disparities of wealth, the collapse of rural economies, the hegemony of industrial agriculture, the build up of toxics in the environment and other accumulating costs of an ever-accelerating, ever-expanding economy based on material wealth.
We are determined to keep Chelsea Green independent and to create a business model that will reflect, at as many levels of structure and function as possible, our commitment to sustainability. As a business, we are dedicated to what Paul Hawken calls "restorative economics," built around an integrated concern for intellectual capital, social capital, natural capital, and financial capital.
The business of publishing may be undertaken for any number of defined purposes: providing popular entertainment, building the culture's body of knowledge, giving an audience to academic research, or giving voice to non-commercial literary, political or artistic work. Publishers specialize accordingly, but "the industry" is most widely known for its entertainment sector, owned by international, multimedia conglomerates.
Given what's going on in the world today, it has never been more important that the oppositional voices of independent publishers be preserved. The consolidation of mainstream media into ever more gigantic entertainment empires threatens the essence of democratic debate and freedom of expression.
Chelsea Green sees publishing as a tool for effecting cultural change. Our purpose is:
to stop the destruction of the natural world by challenging the beliefs and practices that are enabling this destruction and by providing inspirational and practical alternatives that promote sustainable living.
We seek to promote better understanding of natural systems as a global commons. We seek to empower citizens to participate in reclaiming the commons, to serve as its effective stewards, and to help mitigate worldwide social and environmental disruptions.
We seek to build a community of new voices that will empower and inspire individuals to reduce their ecological impact and to participate in the restoration of healthy local communities, bioregional ecosystems, and a diversity of cultures.
1 From Arundhati Roy's Power Politics
Our Commitment to Green Paper
As well as being a publisher of books for sustainable living, Chelsea Green is committed to being a sustainable business enterprise. This means reducing natural resource and energy use to the maximum extent possible. We print our books and catalogs on chlorine-free recycled paper, using soy-based inks, whenever possible.
We are members of the Green Press Initiative, a non-profit organization dedicated to increasing the use of recycled paper in the book industry. Publishers who join the Green Press Initiative make a pledge that at least ten percent of their book titles will meet or exceed the Initiative's recycled content and bleaching process. For more information please visit their site: http://www.greenpressinitiative.org/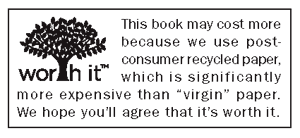 Chelsea Green is one of the first publishers to sign on to the Green Press Initiative. At left is the WorthIt logo we put on all our new books.