Since 1984, Chelsea Green has been the publishing leader for books on the politics and practice of sustainable living. We are a founding member of the Green Press Initiative and have been printing books on recycled paper since 1985, when our first list of books appeared. We lead the industry both in terms of content—foundational books on renewable energy, green building, organic agriculture, eco-cuisine, and ethical business—and in terms of environmental practice, printing 95 percent of our books on recycled paper with a minimum 30 percent post-consumer waste and aiming for 100 percent whenever possible. This approach is a perfect example of what is called a "triple bottom line" practice, one that benefits people, planet, and profit, and the emerging new model for sustainable business in the 21st century.

AN INTERVIEW WITH MARGO BALDWIN, PRESIDENT AND PUBLISHER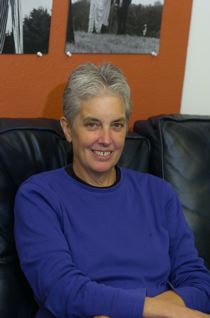 Chelsea Green publisher Margo Baldwin.
Vermont Commons: Your publishing house, Chelsea Green, is publishing Bill Kauffman's book on secession movements in the United States this fall. Was there much "in house" discussion about Chelsea Green publishing a book on this topic? What do you want our readers to know about Kauffman's book?
Margo Baldwin: Yes, there was some discussion about it. His book will interest a different audience than our normal progressive politics book. I think that's fine, as we don't necessarily have to adhere to any kind of strict party line. Also, there is a lot to be said about scale, which Kauffman understands. He's a "small is beautiful" advocate and so are we. The left tends not to get this. They see big government as the solution.
Kauffman's book is provocative and, by examining the various secession movements around the country, shows us that this is not a traditional left/right issue. It's a big/small issue; a national/local issue; an unsustainable-empire issue.
And in the end, it's not going to matter what we think about it when collapse kicks into high gear; things (like the US of A) will just start breaking apart. It happened very quickly in the Soviet Union, so I'm not sure why that can't happen here. Already we're seeing local governments unable to provide essential services. What's happening in the Gulf with the oil spill is catastrophic. California is bankrupt; so is New York State. So what's going to happen if we have a few more of these events, an earthquake in L.A., a hurricane in the Gulf, a Euro collapse, escalating home foreclosures and bank failures?
READ MORE
AN INTERVIEW WITH FOUNDERS MARGO AND IAN BALDWIN
VERMONT BUSINESS MAGAZINE
, FEBRUARY 2006

Chelsea Green Publishing was established by Ian and Margo Baldwin in 1984, with the publication of The Man Who Planted Trees by Jean Giano. Today, Chelsea Green is considered the major publisher of books on sustainable living.

Ian, 67, served as CEO from the company's beginning until the mid-1990s, when Stephen Morris was hired to eventually take over the day-to-day business operations, while Ian moved on to focus on other publishing ventures and his art. Morri's left in 2002 when Margo, 55, stepped back in to run the company and redefine its mission.
The new mission statement in 2003 says of the company's redefined sense of direction, in part: "...Is it enough to focus on the how-to of 'green living' in the face of such overwhelming force, the 'shock and awe' of forest and ecosystem destruction, the rampant plundering of the world's oceans, the terror of GMO-contaminated-food, and the unintended consequences of biotechnology? We wish to move the company forward boldly and with a new sense of urgency. While continuing our commitment to remain at the forefront of information about green building, organic growing, and renewable energy - the practical aspects of sustainability - we will also publish for a new politics of sustainability, for the cultural resistance that living demands of us now."

Ian is a co-founder of the Marion Institute which sponsors the www.metahistory.org website. He is also part of Vermont Commons, an organization dedicated to the proposition that Vermonters should peaceably secede from the United States and govern themselves as an independent republic.

The Straw Bale House, Gaviotas, The Four Season Harvest and the recent Don't Think of an Elephant by George Lakoff Chelsea Green's first New York Times bestseller - are some of the company's better known titles.

Chelsea Green titles have received numerous awards over the years, including ALA and Booklist Notable Books of the Year, the John Burroughs Medal, James Beard Award finalist and the Garden Globe Award.

The Baldwins live in Chelsea and have two children. Ian also has two children from a previous marriage.

VBM: I'd like to begin with your background. How did you come to Vermont, how did the two of you meet, and how did you a become involved in this business?

Ian: We met in 1978, and married in 1980. We moved to Vermont in 1982. I had a background in publishing, but neither one of us had any intention of going into publishing. We got to Vermont, we slowed down and took it easy. We had a lot of fun, we met neighbors. And we did some haying. We landed here where Margo's mother and stepfather had a place. That's how it started.

Margo bought me a book by what you would call a fine press, that Michael McCurdy illustrated. She was obviously struck by it cause she bought it and gave it to me for Christmas. I was struck by it because it reminded me of why I was drawn to publishing 15 years back. He was a Spanish poet who had just won the Nobel Prize, Vicente Aleixandre, and we were impressed that a Nobel Prize writer could be published, privately almost. It was beautifully illustrated because McCurdy is an illustrator primarily. Right about that time, one of our neighbors, an old high school classmate of mine, give us a story that was printed as almost a mimeographed pamphlet called, The Man Who Planted Trees.

Margo: No. It was called The Man Who Planted Hope and Grew Happiness.

Ian: That's right! It was written by the French writer, Jean Giono. It was supposedly commissioned for Reader's Digest and then they found out that the story wasn't true, and it was for their Unforgettable Characters column. Giono had a blowup with them but then it ended up in the French edition of Vogue magazine.

We had a long, torturous process, but out of that came the company. We persuaded McCurdy, who lived in the Berkshires, and still does, to get out of the publishing business, which is not making you happy, and do what you like to do, which is to design and illustrate books. So his career shifted and ours got started. We persuaded him to do the illustrations for The Man Who Planted Trees, which is the book that got us launched.

Margo: We didn't think we were going to do publishing, and then we got to Vermont and we thought, this is great for a year, but how do we stay here? So we thought, we guess we'd better start our own business.

VBM: So you weren't independently wealthy?

Margo: No, and had we known what we know now we might never have gotten into publishing.

Ian: No, we wouldn't have.

Margo: We said, "God, it sounds so romantic, and it's so stimulating, you meet lots of interesting people..."

Ian: We like ideas and we like people who have ideas. Neither one of us had a marketing background. I'd done some fundraising work, so I was able to raise a little money getting started. Neither of us had a business background, so we had some serious learning to do. My background was as an editor in publishing.

Personal computers had just started coming in. Margo designed a distribution and order processing system for us.
Margo: I was working in the healthcare industry, and I knew I didn't want to keep doing that.

Ian: We had, I would say, extremely good editorial judgment, and we published quality books, so we built a brand name of a quality publisher that was interested primarily in non-fiction, but what we didn't have was a sense of who are audience was - you've got to pick out your audience and you've got to be extremely precise. So we had difficult times. We had to keep going back and attempting to raise money - but never enough money.

Margo: We were trying to be eclectic, but it became clear that in order to survive you had to be a niche. We were already headed in that direction. Eliot Coleman was an early author of ours, and the organic gardening movement. The other thing we realized was that you really needed to have a backlist of books that sell year after year. That just takes plain old time to build up. That can't be fiction, or temporary non-fiction.

VBM: You need books that people are going to go back to because the information is going to be as good 20 years from now as it is today.

READ MORE