Featured Release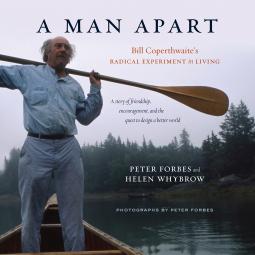 Bill Coperthwaite's Radical Experiment in Living
by
Peter Forbes
,
Helen Whybrow
A Man Apart is the story—part family memoir and part biography—of Peter Forbes and Helen Whybrow's longtime friendship with Bill Coperthwaite (A Handmade Life), whose unusual life and fierce ideals helped them examine and understand their own.
In this intimate and honest account—framed by Coperthwaite's sudden death and brought alive through the month-long adventure of building with him what would turn out to be his last yurt—Forbes and Whybrow explore the timeless lessons of Coperthwaite's experiment in intentional living and self-reliance. They also reveal an important story about the power and complexities of mentorship: the opening of one's life to someone else to learn together, and carrying on in that person's physical absence.
"What is a good life? The models offered by our celebrity culture are mostly shabby and shallow. To find worthier examples you need to look elsewhere—to books, for example, where you can meet Thoreau, Aldo Leopold, Rachel Carson, Gary Snyder, Barbara Kingsolver, and Wendell Berry, among others. To that lineage of American rebels you can now add Bill Coperthwaite. In this eloquent portrait, Peter Forbes and Helen Whybrow document the search for integrity, wide-ranging competence, and high purpose, not only in Coperthwaite's life, but in their own. This is a wise and beautiful book."