Featured Release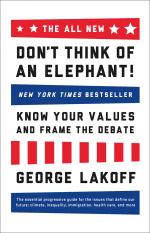 Know Your Values and Frame the Debate
by
George Lakoff
Completely revised and updated to tackle today's issues, the 10th Anniversary Edition not only explains what framing is and how it works but also reveals why, after a brief stint of winning the framing wars in the 2008 elections, the Democrats have gone back to losing them, and what can be done about it.
In this powerful new volume, George Lakoff delves into the issues that will dominate the midterm elections in 2014, the coming presidential elections, and beyond. He examines the current progressive and conservative frames on climate change, inequality, immigration, education, abortion, marriage, healthcare, national security, energy, and more. He explores why some issues have been difficult to frame, guides readers on how to frame complex issues without losing important context, and drives home the important differences between framing and spin.
"When the original Don't Think of an Elephant! came out in 2004, Lakoff showed us that progressive Democrats voted on values, not issues—just like the right. Now, Dr. Lakoff is back to prevent a relapse of bad framing. The ALL NEW Don't Think of an Elephant! is a must read, every bit as important as the first edition. This time we have to train ourselves to think for the long term. Buy this book, memorize it, and teach it to your children. Progressives may be smart, but we don't communicate our ideas well. This book is the blueprint for how to do better."