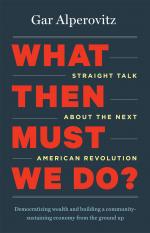 Like this book? Digg it!

Book Data
ISBN: 9781603585040
Year Added to Catalog: 2012
Book Format: Paperback
Dimensions: 6 x 9
Number of Pages: 224
Book Publisher: Chelsea Green
Release Date: April 3, 2013
Web Product ID: 741
What Then Must We Do?
Straight Talk About the Next American Revolution
"Rigged by generations of bankers and politicians to enrich Wall Street at the expense of Main Street, the current economic system makes American workers and communities expendable by providing few alternatives to layoffs, bankruptcies, and plant closures during hard times. Gar Alperovitz knows that we must look for new ways to create and sustain good jobs. In What Then Must We Do?, he has outlined a practical, common sense strategy to improve our economy by making it more democratic. As the United Steelworkers has shown in its innovative partnership with Mondragon, combining employee equity with a progressive collective bargaining process results in higher accountability, productivity, and efficiency because all workers have an equal stake in the company. Instead of measuring the value of a corporation only in profits, losses, and shareholder dividends, we must take into account how the enterprise serves its community."

—Leo Gerard, international president, United Steelworkers Union
Democratizing wealth and building a community-sustaining economy from the ground up
Never before have so many Americans been more frustrated with our economic system, more fearful that it is failing, or more open to fresh ideas about a new one. The seeds of a new economy—and, if we act upon it, a new system—are forming.
What is that next system? It's not corporate capitalism, not state socialism, but something else—something entirely American.
In What Then Must We Do?, Gar Alperovitz speaks directly to the reader about why the time is right for a revolutionary new economy movement, what it means to democratize the ownership of wealth, what it will take to build a new system to replace the decaying one—and how to strengthen our communities through cooperatives, worker-owned companies, neighborhood corporations, small and medium-size independent businesses, and publicly owned enterprises.
For the growing group of Americans pacing at the edge of confidence in the old system, or already among its detractors, What Then Must We Do? offers an evolutionary, common-sense solution for moving from despair and anger to strategy and action.