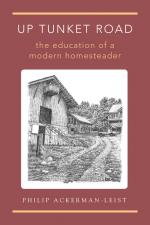 Like this book? Digg it!

Book Data
ISBN: 9781603580335
Year Added to Catalog: 2009
Book Format: Paperback
Book Art: Line drawings & photos
Dimensions: 6 x 9
Number of Pages: 312
Book Publisher: Chelsea Green Publishing
Release Date: May 2, 2010
Web Product ID: 497
Up Tunket Road
The Education of a Modern Homesteader
Recent Presentations by the Author
Recent Lectures, Presentations, & Readings
by Philip Ackerman-Leist
Associate Professor of Environmental Studies
Director of the Green Mountain College Farm & Food Project
Co-owner of UpTunket Farm in Pawlet, VT
2009-2010 Academic Year:
Middlebury College (Jan): Brief lecture on "Sustainable Agriculture & the Liberal Arts," as part of a panel on sustainable agriculture in higher education
NOFA-VT Annual Conference (Feb) : "Agriculture & Higher Education" panel member
Vermont Farm to Plate Statewide Summit (Apr): Moderator for stakeholder input on "Livestock Processing in VT"
Antioch New England Graduate School (Apr): Reading of excerpts from Up Tunket Road as part of an alumni authors presentation
GMC Faculty Colloquium (May 2010): Debut reading of Up Tunket Road as part of 2008-09 sabbatical report to the college
Union College (May): Presentation on "Sustainable Agriculture and Homesteading in the Liberal Arts Tradition"
Invitation to participate in the National FoodCorps Summit in Detroit (May): A gathering of 40 leaders from around the US to develop a model for a National FoodCorps
Book reading (May): Phoenix Books in Essex, VT
Book reading (June): Briggs & Carriage Bookstore in Brandon, VT
Book reading (July): Northshire Bookstore in Manchester, VT
Solarfest 2010 (July): Two workshops, including "High Tunnel Season Extension with Solar Thermal Root-zone Heating" and "Modern Homesteading"
Bookstock at Woodstock (August): "Rethinking the Back-to-the-Land Literary Tradition: Reflections from Up Tunket Road: the Education of a Modern Homesteader"
Book reading (August): River Landing Retirement Community in Greensboro, NC
Speaker for Empire State College's "Adirondack Residency" at Raquette Lake (Oct): Guest lecture on "Farming, Food, & the Environment: The Challenge of Knowing Better"
2008-2009 Academic Year:
American Livestock Breeds Conservancy conference presentation (September): Invited to present an overview of the use of rare breeds for education on GMC's Cerridwen Farm and in our curriculum at the annual ALBC conference in Kalamazoo, MI
Terra Madre 2008 (October): Invited to present the GMC Farm & Food Project to the 800 U.S. delegates, and the GMC presentation was one of the three presentations posted as a video sampling of the U.S. meeting on the Internet
Addison County Farmers' Gathering (February): RAFFL board members presented RAFFL's Food Hub concept to a gathering of farmers in Addison County, including the college's role in the development of the concept
VT Campus Compact (April): Co-presented with Theresa Snow of the VT FoodBank on food security in VT and the idea of creating a VT FoodCorps in collaboration with Vermont Campus Compact
SIT Renew Conference (April): Invited to present on the integration of farming and food issues into higher education curricula and to privately consult with SIT students and faculty on strategies for successfully starting an effective campus garden/farm
Solarfest 2009 (July): Two presentations, including "Season Extension" and "Modern Homesteading"
2007-2008 Academic Year:
UVM Center for Sustainable Agriculture "New Farmer Workshop" (August): Hosted on the GMC college farm in August, including tour and presentations
National Farm-Based Education Alliance conference (November): organized and chaired a panel on college farms
Statewide conference in Virginia on rebuilding the Virginia food system (March): Presentation on the GMC Farm & Food Project and guest lectures at James Madison University and Eastern Mennonite University
Solarfest 2008 (July): Two workshops, including one on season extension and the other one the ethics and ecology of raising meat for food
Slow Food's Terra Madre 2006 (October): Presentation on fall 2006 block course approach to researching regional food systems and local food purchasing programs
Annual Farmers' Gathering, co-sponsored with Rutland Area Farm & Food Link (RAFFL) (December): Presentation of information derived from block course on potential for and challenges to institutional food purchasing from local producers
NOFA-VT Annual Conference (February): One of three workshop panelists on implementing changes for purchasing of local foods in educational institutions
Community Food Security Coalition National Conference (March): One of three workshop panelists on leveraging and supporting local food purchasing in institutional settings
Solarfest (July): Two-hour workshop on "Season Extension"

US Orders Only.
International Orders: Click here.
Additional Information
Philip Ackerman-Leist's Upcoming Events
(publicity) Philip Ackerman-Leist on KPFT


, Houston TX

May 30, 2013, 8:10 pm

Philip Ackerman-Leist at 2013 AFHVS / ASFS Conference


, East Lansing Michigan

June 19, 2013, 12:00 pm

(publicity) Philip Ackerman-Leist on Heritage Radio


,

June 20, 2013, 1:00 pm

Philip Ackerman-Leist at Denver Public Library


, Denver CO

July 13, 2013, 12:00 pm

(publicity) Philip Ackerman-Leist on Easy Organic Gardener Radio Show


,

July 21, 2013, 11:00 am