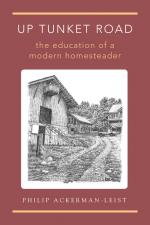 Like this book? Digg it!

Book Data
ISBN: 9781603580335
Year Added to Catalog: 2009
Book Format: Paperback
Book Art: Line drawings & photos
Dimensions: 6 x 9
Number of Pages: 312
Book Publisher: Chelsea Green Publishing
Release Date: May 2, 2010
Web Product ID: 497
Up Tunket Road
The Education of a Modern Homesteader
"Up Tunket Road captures the heart of homesteading by exploring its many tensions: romanticism versus pragmatism, humility versus bold determination, interdependence versus self-reliance, and vulnerability versus fortitude. Any thoughtful homesteader will find their perspective challenged and broadened by the anecdotes and reflections in these pages."

—Abigail R. Gehring, editor of Back to Basics and Homesteading
Ever since Thoreau's Walden, the image of the American homesteader has been of someone getting away from civilization, of forging an independent life in the country. Yet if this were ever true, what is the nature and reality of homesteading in the media-saturated, hyper-connected 21st century?
For seven years Philip Ackerman-Leist and his wife, Erin, lived without electricity or running water in an old cabin in the beautiful but remote hills of western New England. Slowly forging their own farm and homestead, they took inspiration from their experiences among the mountain farmers of the Tirolean Alps and were guided by their Vermont neighbors, who taught them about what it truly means to live sustainably in the postmodern homestead--not only to survive, but to thrive in a fragmented landscape and a fractured economy.
Up Tunket Road is the inspiring true story of a young couple who embraced the joys of simple living while also acknowledging its frustrations and complexities. Ackerman-Leist writes with humor about the inevitable foibles of setting up life off the grid--from hauling frozen laundry uphill to getting locked in the henhouse by their ox. But he also weaves an instructive narrative that contemplates the future of simple living. His is not a how-to guide, but something much richer and more important--a tale of discovery that will resonate with readers who yearn for a better, more meaningful life, whether they live in the city, country, or somewhere in between.