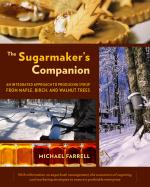 Like this book? Digg it!

Book Data
ISBN: 9781603583978
Year Added to Catalog: 2013
Book Format: Paperback
Book Art: Full-Color Throughout
Dimensions: 8 x 10
Number of Pages: 344
Book Publisher: Chelsea Green
Release Date: October 4, 2013
Web Product ID: 759
Also in Gardening & Agriculture
The Sugarmaker's Companion
An Integrated Approach to Producing Syrup from Maple, Birch, and Walnut Trees
Praise
"The Sugarmaker's Companion is an amazing book. It uniquely fills the gaps in currently available maple reference material. It does not repeat what is in the North American Maple Syrup Manual but perfectly supplements it with up-to-date information, fresh ideas, and interesting examples. It also does not try to duplicate the details in the New York State Maple Tubing and Vacuum Notebook and the New York State Maple Confections Notebook but wonderfully adds to the ideas in these areas. It is the first book that integrates the making of other tree-based syrups such as birch and various nut species with the production of maple, improving the efficiency of equipment use and market opportunities. This is a great reference for all tree lovers."

—Stephen L. Childs, New York State Maple Specialist
"This most useful book for tree tappers is especially valuable because it includes the most up-to-date information on all the facets of the sap and syrup business. Particularly written for those in commercial sugaring, the book is also most interesting for the hobbyist or beginner who may not be aware of the amazing advances that have been made in the business lately. The book also gives detailed information on the tangential commercial and hobby possibilities in sugaring that are seldom examined in earlier books."

—Gene Logsdon, author of A Sanctuary of Trees
"The Sugarmaker's Companion is a delightful read. For the family with access to a few trees, or the larger sugarbush owner, the information provided in this book will be an affirmation of their efforts. The book delves into not only the maple harvest, but also many of our lesser-known tree resources, as well as fascinating facts like the nutritional benefits of maple sap. The message is clear. To preserve our forests we must enjoy them... yummy!"

—B. Keith Harris, B.Sc., owner/CEO, Troll Bridge Creek Inc.
"Thomas Jefferson urged all farmers to plant maple trees, so that the colonies would not have to rely on imported sugar. In this spirit, Michael Farrell provides us with everything we need to know to produce America's own, natural, delicious sweetener. The section on maple sap—a healthy beverage that deserves a place in the American diet—is especially welcome."

—Sally Fallon Morell, president, The Weston A. Price Foundation
"Mike Farrell's The Sugarmaker's Companion should be on every maple producer's bookshelf. Along with the North American Maple Producers Manual and resource notebooks from Steve Childs, it is an essential reference resource. It contains a substantial amount of information not found elsewhere, especially marketing ideas, novel products, economic analyses, and creative ideas for expanding markets for pure maple products. Topics that are covered elsewhere receive updated treatment. Difficult concepts are explained well with attractive illustrations. The author's enthusiasm for this engaging business is displayed through an easy-to-read conversational style containing many personal anecdotes and opinions. There is a good amount of firsthand information from many hours spent in the woods, in the sugarhouse, and involving his community in enriching their lives with maple. Mike's positive point of view and creative ideas will encourage sugarmakers to engage a broader audience of potential customers."

—Brian Chabot, professor, Cornell University
"In The Sugarmaker's Companion, Michael Farrell presents both a philosophical and a practical look at today's tree sap and syrup industry. The book provides pertinent and useful information for both hobby and commercial tree tapping operations. In a changing industry that is heavily shadowed by tradition, Michael combines the old tested methods with up-to-date research and science. This comprehensive book looks at both the big picture and many of the small details. Even for non-sugarmakers, it will be an informative and enjoyable read."

—Gary Backlund, author of Bigleaf Sugaring: Tapping the Western Maple
"Dr. Farrell's book is a must for any novice or beginning sugarmaker. It clearly explains the industry, products, and processes of maple sugaring. For experienced sugarmakers this is a book to join the Nearings' The Maple Sugar Book and the North American Maple Syrup Producers Manual—always on the shelf for ready reference. Thanks to Michael for a welcome addition to the maple library."

—David Marvin, president, Butternut Mountain Farm
"Having quality 'go to' sources of information for the sugarmaker, whether they are new to the craft or experienced is wonderful. When research is done and compiled into easy to read and understand formats that hold the interest of the reader, it benefits the sugarmaker and the maple industry. Today's sugarmakers are hungry for sources just such as this to learn all they can to improve techniques, efficiency, and quality in their operations. This book is a wonderful resource!"

—Glenn Goodrich, owner, Goodrich Maple Farms