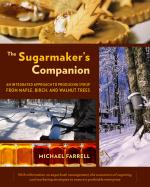 Like this book? Digg it!

Book Data
ISBN: 9781603583978
Year Added to Catalog: 2013
Book Format: Paperback
Book Art: Full-Color Throughout
Dimensions: 8 x 10
Number of Pages: 344
Book Publisher: Chelsea Green
Release Date: October 4, 2013
Web Product ID: 759
Also in Gardening & Agriculture
The Sugarmaker's Companion
An Integrated Approach to Producing Syrup from Maple, Birch, and Walnut Trees
Upcoming Author Events
WAUSAU, WI

SARATOGA SPRINGS, NY

SARATOGA SPRINGS, NY

January 26, 2014, 9:45 am

Michael Farrell at NOFA NY Winter Conference

Saratoga Springs Hilton, Saratoga Springs NY

Michael Farrell will present a second workshop on sugaring at 9:45 AM on Sunday, January 26. The workshop is titled, "Tips and Tricks for Developing an Enjoyable, Productive, and Profitable Sugaring Operation."

BURLINGTON, VT

February 15, 2014, 12:00 pm

Michael Farrell at NOFA VT Winter Conference

Davis Center, University of Vermont, Burlington VT

Michael Farrell will present a workshop at the NOFA VT Winter Conference on February15 and 16 in Burlington, VT. More details to come.