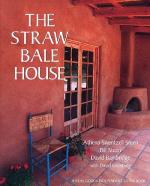 Like this book? Digg it!

Book Data
ISBN: 9780930031718
Year Added to Catalog: 1994
Book Format: Paperback
Book Art: b&w illustrations and photographs, 8-page color section, appendices, index
Number of Pages: 8 x 10, 320 pages
Book Publisher: Chelsea Green Publishing
Old ISBN: 0930031717
Release Date: December 1, 1994
Web Product ID: 38
Also By These Authors
The Straw Bale House
with David Eisenberg
Excerpt
Athena Swentzell Steen's Story

I grew up building. My mother, originally from Santa Clara Pueblo in northern New Mexico, would regularly haul my two sisters and me from our home in Santa Fe to the pueblo a half hour away, where we were expected, as part of the extended family, to participate in the continual building projects. There was always something that needed to be built: a larger bread oven, another adobe wall, or an extra room for my grandparents.
Like the rest of the pueblo, Grandma's house was constantly in flux. Walls would go up and then come down. Spaces forever shifted in order to meet changing demands. not only the needs of the individual, family, and community had to be met, but the larger needs of nature as well. Houses, like people, were allowed to be alive. Structures were built and respected as over time they grew, flourished, and eventually died.
We would come together as a family to build. there was never a right or wrong way-we just did it however we knew how. We used whatever was close by: rocks from the wash, dirt from the side of the house, or the neighbor's melting adobe blocks. The process was not much different from making pottery and bread, and primarily involved women and children. Little ones learned as they played alongside us. Our hands coated with mud, we would let the earth take form and watch with amazement as it did. We would laugh at each other and at ourselves.
This was my mother's world. A world which taught me that the process of building and the process of being together were as important as the final product. From this way of being came a highly natural and organic aesthetic. My father, on the other hand, had his own approach to building. Thriving more on theory than in the actual doing, he would spend much more time analyzing a building on his computer than he would building it. He loved things to be simple, cheap, and easy, and consequently, he built that way.
He was always accused of not having an aesthetic. I realize now that it wasn't a lack of an aesthetic sense, but that his was different than most. My mother could never understand how he could find breathtaking beauty in the massive power lines drolloped across the mesa, looking like "giant kachinas holding up their skirts," or in the way the highway department could slice perfectly through the middle of a hill instead of going around it. He had a way of looking beyond the principle of the thing and seeing an astonishing sense of natural order, even amidst, as my mother would call it, "the utter insensitivity of mankind." It was from these two seemingly opposed worlds that I learned to build.
In 1979 , while I was in high school, we built our house on the outskirts of Santa Fe. My mother, fresh out of architecture school, was ready to build a beautiful mud home, while my father, taking a year off from teaching at a liberal arts college, wanted to build the ultimate passive solar house. I can still remember the arguments between them. Yet the house got built. With its mud floors, curved adobe walls, black water barrels, and lots of south-facing glass, it was a house I will always come back to as a model.
In the middle of winter in 1981, my first husband and I found ourselves in sudden need of shelter. We decided to build on our land on Glorieta Mesa, near Santa Fe. there was no electricity or water on the property, and being full-time students, we had very little time or money. We weren't carpenters, and working with adobe at that time of year was out of the question. We considered buying a teepee or a yurt, but after watching friends suffer through winters in such structures, we opted to look for something warmer.
In the search for something fast, easy, warm, and inexpensive, we talked to my father. As soon as he mentioned straw bales, we knew that was the answer. Enthusiastically, we began to build. Not knowing exactly what to do, we made it up as we went along, learning in the process what not to do again.
It was a cozy little one-room house. The roof rested on the bales, even though we had posts in each corner. The south side was framed with double-paned plastic panels, and 55-gallon drums for thermal mass lined the inside. Our bed was a simple loft with storage underneath. A buried tub beneath a trap door, a removable "hoola hoop" curtain, and a suspended bucket of warm water served as our shower. We burned very little wood and often had the door open during sunny winter days. We had a propane stove and refrigerator, and studied by kerosene light. The space was small but highly efficient. Quite comfortably, we lived there for five years-the last two years with babies. It was a wonderful place; however, Brian and I eventually separated, and the property and house were sold.
It was not until I received a phone call from Bill Steen, eight years later, wanting to photograph my little straw house, that I discovered that straw bales had been used historically in Nebraska as well as more recently by a handful of others.
Bill and I were soon married, and together our inspiration for working with bales grew. As we've had the opportunity to work on projects, each patio wall, guest house, wall-raising, and experimental dome has taken us ever closer to comprehending the vast potential of straw bale construction.
Now as I watch bale walls rise into highly insulated, functional space with remarkable speed, the whole process feeling more like play than work, I am reminded of my father. Watching hands of all sizes plaster the undulating walls, shaping subtle curves with layer upon layer of mud, I am reminded of my mother. Reflected in the golden walls of straw, I see their two worlds becoming one.

[from chapter 2] Benefits of Straw Bale Construction

All things considered, straw bales literally stack up as a remarkable building material. They are produced from a waste product that can be sustainably grown in a short period of time, are biodegradable, and can help alleviate multiple environmental problems with their use. They are easy to modify, flexible enough to be used in a variety of ways, solid and substantial, durable over time, and easy to maintain. In addition, they require only inexpensive uncomplicated tools and unspecialized labor, and are easily acquired and affordable in most locations around the world.
Modern building materials, in contrast, tend to be difficult to work with, inflexible, require specialized tools and labor, can be expensive, possess little aesthetic character, are often toxic, and generate significant amounts of pollution and waste as they are produced, maintained, and demolished.
An additional benefit of straw bale buildings not traditionally measured when evaluating building materials is the high level of social interaction and community participation that occurs in this process become directly and enthusiastically involved.
When straw bales are combined with other materials of similar characteristics, it becomes possible to create buildings that are affordable in all respects, natural in character, and beautiful.