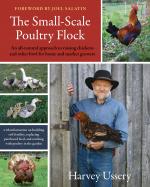 Like this book? Digg it!

Book Data
ISBN: 9781603582902
Year Added to Catalog: 2011
Book Format: Paperback
Book Art: 4-color throughout (including photos, tables and several line drawings)
Dimensions: 8 x 10
Number of Pages: 416
Book Publisher: Chelsea Green Publishing
Release Date: September 21, 2011
Web Product ID: 637
Also in Gardening & Agriculture
The Small-Scale Poultry Flock
An All-Natural Approach to Raising Chickens and Other Fowl for Home and Market Growers
Foreword by Joel Salatin
Upcoming Author Events
CHARLOTTESVILLE, VA

September 13, 2014, 10:30 am

Harvey Ussery at Heritage Harvest Festival

Heritage Harvest Festival, Monticello , Charlottesville VA

The annual Heritage Harvest Festival, sponsored at Thomas Jefferson's estate, Monticello, by Southern Exposure Seed Exchange, just gets better and better each year—lots of vendors and dozens of interesting speakers and topics. Copies of my book The Small-Scale Poultry Flock (Chelsea Green, 2011) will be on sale, with several book signings on the schedule. I will give three presentations: The Small-Scale Poultry Flock: An All-Natural Approach to Raising Chickens and Other Fowl for Home and Market Growers My signature presentation on holistic poultry husbandry in the sustainable homestead. Appropriate for beginners and more experienced flocksters alike. The Sustainable Home Flock A discussion of three foundations of a more holistic homestead flock independent of outside purchases: (1) Breed choice, with a discussion of my flock of Icelandic chickens as my ideal homestead breed. (2) Feeding as much as possible from home resources. (3) Breeding our own improved stock using techniques that maximize genetic diversity and avoid inbreeding depression. Trash to Treasure: Bioconversion of Organic "Wastes" into Resources We will look at some fascinating examples of "trash to treasure," such as Growing Power's turning 10,000 tons of food residuals a year in the Milwaukee/Chicago area into soil fertility for their greenhouses; or Vermont Compost's use of flocks of hundreds of layers to work compost while feeding from the heaps and producing thousands of dozens of eggs as an additional income stream—entirely without purchased feeds. Bioconversion of organic wastes goes far beyond Sir Albert Howard's classic compost heap, and this talk will explore some of the possibilities at the home and farm scale.