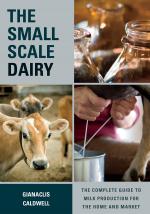 Like this book? Digg it!

Book Data
ISBN: 9781603585002
Year Added to Catalog: 2014
Book Format: Paperback
Book Art: Full Color - 50-70 Pictures
Dimensions: 7x10
Number of Pages: 232
Book Publisher: Chelsea Green
Release Date: March 14, 2014
Web Product ID: 794
The Small-Scale Dairy
The Complete Guide to Milk Production for the Home and Market
Praise
"Caldwell doesn't try to convince you that dairy farming is easy (it's not), but she does give you the tools and information you need to make your hard work pay off. From choosing equipment, to caring for your cows, goats, or sheep, to making your own kefir or yogurt, Caldwell covers it all in clear, layperson's terms. An excellent companion for any new or wannabe small-scale dairy farmer."

—Abigail Gehring, author, The Homesteading Handbook and The Illustrated Encyclopedia of Country Living
"If you're considering taking your passion for dairying full time, this is absolutely the book for you. Gianaclis Caldwell's The Small-Scale Dairy expertly and comprehensively guides you through the entire process of making milk products for home and market. From the science of microbiology and the function of udders, to what's needed to create a milking parlor and even sample floor plans for dairies of all sizes and scales, everything you need to run a dairy is here."

—Ashley English, author, Home Dairy with Ashley English: All You Need to Know to Make Cheese, Yogurt, Butter & More, and Handmade Gatherings: Recipes and Crafts for Seasonal Celebrations and Potluck Parties
"Raw milk is today's fastest growing agricultural market, a niche product poised to become mainstream. In The Small-Scale Dairy, Gianaclis Caldwell provides those wishing to meet the demand for unprocessed milk everything they need to produce safe, healthy, raw dairy products. From cow and goat care to milk sanitation and testing, Caldwell answers all your questions and provides reliable advice based on years of experience. For both producers and consumers, The Small-Scale Dairy is a must read and a valuable contribution to a growing movement."

—Sally Fallon Morell, president, The Weston A. Price Foundation; founder, A Campaign for Real Milk
"What a pleasure to read a book about milk production that is at once engaging, nonpolitical, and full of level-headed advice on how to start a small milking operation. I love the practical information on everything from pecking order to water troughs to animal nutrition to finding markets outside the commodity processing system. I can see dog-eared copies of this book becoming staple references in the back pockets of their owners' overalls."

—David E. Gumpert, author, Life, Liberty, and the Pursuit of Food Rights

US Orders Only.
International Orders: Click here.
Gianaclis Caldwell's Upcoming Events
Gianaclis Caldwell at State of Maine Cheese Co.


461 Commercial St, Rockport ME

April 26, 2014, 12:00 pm

Gianaclis Caldwell at Mother Earth News Fair in Puyallup, WA


Mother Earth News Fair, Puyallup WA

May 31, 2014, 12:00 pm

Gianaclis Caldwell at American Cheese Society Conference


American Cheese Society , Sacramento CA

July 29, 2014, 12:00 pm

Gianaclis Caldwell at Mother Earth News Fair


Mother Earth News Fair, Seven Springs PA

September 12, 2014, 12:00 pm