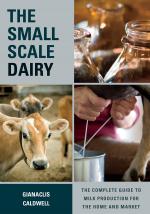 Like this book? Digg it!

Book Data
ISBN: 9781603585002
Year Added to Catalog: 2014
Book Format: Paperback
Book Art: Full Color - 50-70 Pictures
Dimensions: 7x10
Number of Pages: 232
Book Publisher: Chelsea Green
Release Date: March 14, 2014
Web Product ID: 794
The Small-Scale Dairy
The Complete Guide to Milk Production for the Home and Market
"Raw milk is today's fastest growing agricultural market, a niche product poised to become mainstream. In The Small-Scale Dairy, Gianaclis Caldwell provides those wishing to meet the demand for unprocessed milk everything they need to produce safe, healthy, raw dairy products. From cow and goat care to milk sanitation and testing, Caldwell answers all your questions and provides reliable advice based on years of experience. For both producers and consumers, The Small-Scale Dairy is a must read and a valuable contribution to a growing movement."

—Sally Fallon Morell, president, The Weston A. Price Foundation; founder, A Campaign for Real Milk
The Small-Scale Dairy includes everything you need to know in order to successfully produce nourishing, healthy, farm-fresh milk. Whether for home use, direct sale to the consumer, or sale to an artisanal cheesemaker, high- quality raw milk is a delicate, desirable product. Successful and sustainable production requires the producer to consider and tackle many details, ranging from animal care to microbiology to good hygienic practices—and, for those with commercial aspirations, business plans, market savvy, and knowledge of the regulations.
Applicable to keepers of cows, goats, or sheep, The Small-Scale Dairy offers a holistic approach that explores the relationships between careful, conscientious management and the production of safe, healthy, and delicious milk. A historical overview offers readers a balanced perspective on the current regulatory environment in which raw milk lovers find themselves.
Included are options for designing a well-functioning small dairy, choosing equipment, and understanding myriad processes—such as the use of low-temperature pasteurization where raw milk sales are prohibited. Whether you have a one-cow home dairy, a fifty-goat operation, or are simply a curious consumer, The Small-Scale Dairy is an accessible and invaluable resource for achieving your goals.