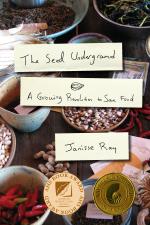 Like this book? Digg it!

Book Data
ISBN: 9781603583060
Year Added to Catalog: 2011
Book Format: Paperback
Dimensions: 6 x 9
Number of Pages: 240
Book Publisher: Chelsea Green
Release Date: June 29, 2012
Web Product ID: 665
The Seed Underground
A Growing Revolution to Save Food
Praise
"This is an important book that should be required reading for everyone who eats. Big biotech companies are patenting and privatizing seeds, making it illegal for farmers to retain their own crops for replanting. In a series of engaging and lyrical profiles, Ray shows that by the simple and pleasurable act of saving seeds we can wrest our food system from corporate control."

—Barry Estabrook, author of Tomatoland: How Modern Industrial Agriculture Destroyed Our Most Alluring Fruit
"Traveling about the country to introduce us to some of her devoted fellow seed savers, Janisse Ray teaches us more than we thought we needed to know about seeds: how remarkable they are, why they need saving, how to save them, and how many of them—each holding the future of some particular plant—have been lost and are being lost to our indifference. But in a world where everything we love—including seeds—seems to be under threat, Ray ultimately offers us hope. 'Everything the seed has needed to know is encoded within it,' she assures us, 'and as the world changes, so it will discover everything it yet needs to know.' A poetic, and always hopeful, book."

—Joan Gussow, author of Growing, Older and This Organic Life
"What a dream of a book—my favorite poet writing about my favorite topic (seeds) and the remarkable underground network of growers who are keeping diversity alive on the face of this earth while putting delicious food on our tables! If books can move you to love, this one does."

—Gary Paul Nabhan, author of Chasing Chiles and Renewing America's Food Traditions
"This is an unmatched treasure trove of information... The Seed Underground is an excellent choice for readers seeking a depiction of the current critical situation in farming all in one, easy-to-read book."

—Gene Logsdon, author of A Sanctuary of Trees and Holy Shit
"If I get to feeling a little blue about our prospects, I'm liable to reach down one of Janisse Ray's books just so I can hear her calm, wise, strong voice. This one's my new favorite; a world with her in it is going to do the right thing, I think."

—Bill McKibben, founder of 350.org

US Orders Only.
International Orders: Click here.
Additional Information
Janisse Ray's Upcoming Events
Janisse Ray at The Tophat


, Missoula MT

April 22, 2014, 12:00 pm

Janisse Ray at Spokane Community College


, Spokane WA

April 24, 2014, 12:00 am

Janisse Ray at the Chicago Botanic Garden


1000 Lake Cook Rd , Glencoe IL

May 2, 2014, 9:00 am

Janisse Ray at Severson Dells Nature Center


8786 Montague Rd, Rockford IL

May 3, 2014, 7:00 pm

Janisse Ray at Severson Dells Nature Center


, Winnebago IL

May 4, 2014, 12:00 am