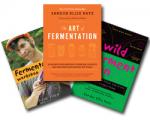 Like this book? Digg it!

Book Data
ISBN: 9781603584845
Year Added to Catalog: 2012
Book Format: Hardcover, Paperback, and DVD
Book Publisher: Chelsea Green
Release Date: September 15, 2012
Web Product ID: 716
The Sandor Katz Fermentation Set
Upcoming Author Events
LIBERTY, TN

October 29, 2014, 12:00 pmSandor Katz at Walnut Ridge Fermentation School

Walnut Ridge, Liberty TN

Sandor will lead a two-week fermentation residency program at his fermentation school at Walnut Ridge, an 1820's log cabin he and many helpers have been restoring for the past two years. Over 12 days, you will do a variety of fermentation projects, including: Fermenting vegetables; alcoholic beverages from seasonal fruits; kombucha, kvass, water kefir, mauby, and other sour tonic beverages; sourdough, porridges, and beers; tempeh; koji and miso; yogurt and kefir; and any others, based upon the interests of participants. Please submit your application at the above link.

RED BOILING SPRINGS, TN

November 1, 2014, 1:00 pm

Sandor Katz at Long Hungry Creek Farm

Long Hungry Creek Farm , Red Boiling Springs TN

Annual Harvest and Kraut-Chi-making Workshop at Long Hungry Creek Farm in Red Boiling Springs, TN, with Jeff Poppen, the legendary "barefoot farmer" and Sandor Katz. Fermentation workshop will begin at 1pm. Bring cutting boards, knives, graters, and jars to fill with veggies.

AUSTIN, TX

November 15, 2014, 11:00 amSandor Katz at the Austin Fermentation Festival

3110 Esperanza Crossing Suite 100, Austin TX

Texas Farmers' Market and Le Cordon Bleu College of Culinary Arts Austin are proud to announce the Austin Fermentation Festival with keynote speaker and fermentation expert Sandor Katz. This is a free event that runs from 11a.m.–4p.m. at the Le Cordon Bleu Austin campus in the Domain. The day will include a series of fermentation workshops, a community culture swap, fermented foods and product vendors, book sales, food for purchase, fermented beverages, a vegetable farmers' market, and live music. Tickets for the AFF after-party and Sandor Katz meet-and-greet with Dai Due Butcher Shop will be on-sale starting in May 1. Proceeds from this event will benefit local food and farm advocates.

December 5, 2014, 12:00 pm

Sandor Katz at Tennessee Local Food Summit

Vanderbilt University, Dyer Observatory, TN

Sandor Katz will speak at the Tennessee Local Food Summit on December 5-7 at Vanderbilt University. More details to come...

Online for US Orders Only
International orders can be placed by phone (802-295-6300) or email
Additional Information
Sandor Ellix Katz's Upcoming Events
Sandor Katz at Walnut Ridge Fermentation School


Walnut Ridge, Liberty TN

October 29, 2014, 12:00 pm

Sandor Katz at Long Hungry Creek Farm


Long Hungry Creek Farm , Red Boiling Springs TN

November 1, 2014, 1:00 pm

Sandor Katz at the Austin Fermentation Festival


3110 Esperanza Crossing Suite 100, Austin TX

November 15, 2014, 11:00 am

Sandor Katz at Tennessee Local Food Summit


Vanderbilt University, Dyer Observatory, TN

December 5, 2014, 12:00 pm