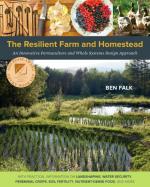 Like this book? Digg it!

Book Data
ISBN: 9781603584449
Year Added to Catalog: 2012
Book Format: Paperback
Book Art: Full-Color Throughout
Dimensions: 8 x 10
Number of Pages: 320
Book Publisher: Chelsea Green
Release Date: May 31, 2013
Web Product ID: 722
Also in Gardening & Agriculture
The Resilient Farm and Homestead
An Innovative Permaculture and Whole Systems Design Approach
Ben Falk extends the conversation about resilience to deep resilience--resilience from the level of personal attitudes and skills to the design and creation of the maximally resilient homestead.The Resilient Farm and Homestead weaves together permaculture theory as modified by actual practice on a ten-acre Vermont farm with a thorough preparedness guide for times of climate change and greater uncertainties of all kinds and sizes. The book is greatly enhanced by numerous glorious photos of permaculture plantings as hedge rows, rice paddies, people swimming in swale-enclosed ponds, fruit and vegetable harvesting, and foraging sheep, chickens, and ducks. I particularly appreciate that Falk tells us what didn't work as well as what did. This book will be essential reading for the serious prepper as well as for everyone interested in creating a more resilient lifestyle or landscape.

—Carol Deppe, author of The Resilient Gardener: Food Production and Self-Reliance in Uncertain Times
With practical information on landshaping, water security, perennial crops, soil fertility, nutrient-dense food, and more
The Resilient Farm and Homestead is a manual for developing durable, beautiful, and highly functional human habitat systems fit to handle an age of rapid transition.
Ben Falk is a land designer and site developer whose permaculture-research farm has drawn national attention. The site is a terraced paradise on a hillside in Vermont that would otherwise be overlooked by conventional farmers as unworthy farmland. Falk's wide array of fruit trees, rice paddies (relatively unheard of in the Northeast), ducks, nuts, and earth-inspired buildings is a hopeful image for the future of regenerative agriculture and modern homesteading.
The book covers nearly every strategy Falk and his team have been testing at the Whole Systems Research Farm over the past decade, as well as experiments from other sites Falk has designed through his off-farm consulting business. The book includes detailed information on earthworks; gravity-fed water systems; species composition; the site-design process; site management; fuelwood hedge production and processing; human health and nutrient-dense production strategies; rapid topsoil formation and remineralization; agroforestry/silvopasture/grazing; ecosystem services, especially regarding flood mitigation; fertility management; human labor and social-systems aspects; tools/equipment/appropriate technology; and much more, complete with gorgeous photography and detailed design drawings.
The Resilient Farm and Homestead is more than just a book of tricks and techniques for regenerative site development, but offers actual working results in living within complex farm-ecosystems based on research from the "great thinkers" in permaculture, and presents a viable home-scale model for an intentional food-producing ecosystem in cold climates, and beyond. Inspiring to would-be homesteaders everywhere, but especially for those who find themselves with "unlikely" farming land, Falk is an inspiration in what can be done by imitating natural systems, and making the most of what we have by re-imagining what's possible. A gorgeous case study for the homestead of the future.

US Orders Only.
International Orders: Click here.
Ben Falk's Upcoming Events
Ben Falk at PASA's 2014 Farming for the Future Conference


, State College PA

February 6, 2014, 9:00 am

Ben Falk at NOFA VT Winter Conference


Davis Center, University of Vermont, Burlington VT

February 15, 2014, 12:00 pm

Ben Falk at the New Hampshire Liberty Forum


Crowne Plaza Nashua, 2 Somerset Parkway, Nashua NH

February 22, 2014, 12:00 pm

Ben Falk at Lyndon State College


1001 College Rd, Lyndonville VT

April 22, 2014, 12:00 pm