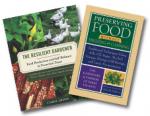 Like this book? Digg it!

Book Data
ISBN: 9781603584869
Year Added to Catalog: 2012
Book Format: Paperback
Book Publisher: Chelsea Green
Release Date: September 15, 2012
Web Product ID: 718
The Preserving the Harvest Set
Upcoming Author Events
Carol Deppe's Events
CORVALLIS , OR

February 7, 2015, 1:00 pm

Carol Deppe at Insights Into Gardening

Insights into Gardening, Corvallis OR

Carol Deppe will speak at the Insights Into Gardening event, which is sponsored by Oregon State University on February 7 at 1:00 PM. The location: LaSells Stewart Center on the OSU campus. Carol's workshop is titled: The Eat-All Greens Garden Description: Based upon twenty years of original research, Carol Deppe presents a new method for growing greens with much less land and labor than ever before possible. With this method a family can raise all their summer greens as well as freeze and dry enough greens for winter with even a tiny garden. Books will be available for sale and signing.

ALBANY, OR

June 6, 2015, 9:00 amCarol Deppe at Oregon Mother Earth News Fair

3700 Knox Butte Rd E, Albany OR 97322

Carol Deppe will lead several workshops at the Mother Earth News Fair in Albany, Oregon from June 6-7th. Workshop topics will include the eat-all greens garden, the do-it-yourself seed bank, gardening and farming with climate change, and growing your own cornbread, polenta and other corn-based baked goods. More information to come!

EUGENE, OR

August 28, 2015, 12:00 pm

Carol Deppe at NW Permaculture Convergence

NW Permaculture Convergence, Eugene OR

Carol Deppe will speak at the NW Permaculture Convergence on August 28-30. Carol's books will be available for sale and signing at the event. More details to come.
Gardeners & Farmers of Terre Vivante's Events