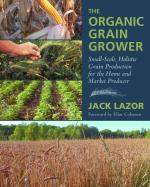 Like this book? Digg it!

Book Data
ISBN: 9781603583657
Year Added to Catalog: 2012
Book Format: Hardcover, PLC
Book Art: 2 16-Page Color Inserts
Dimensions: 8 x 10
Number of Pages: 448
Book Publisher: Chelsea Green
Release Date: July 28, 2013
Web Product ID: 724
Also in Gardening & Agriculture
The Organic Grain Grower
Small-Scale, Holistic Grain Production for the Home and Market Producer
Foreword by Eliot Coleman
"I believe I can safely say, without losing any money, that if you know of one fact truly necessary to growing grains organically in the United States that is not in this book, I'll pay you five bucks out of my own pocket. Plus there's a whole bunch of stuff about how to process and use grains in the barn or on the table that I have not found all in one place before."

—Gene Logsdon, author of Small-Scale Grain Growing
With information on nutrient density, building soil fertility, grinding grains for livestock rations, and more . . .
The ultimate guide to growing organic grains on a small and ecological scale, The Organic Grain Grower is invaluable for both home-scale and commercial producers interested in expanding their resiliency and crop diversity through growing their own grains. Longtime farmer and organic pioneer Jack Lazor covers how to grow and store wheat, barley, oats, corn, dry beans, soybeans, pulse crops, oilseeds, grasses, nutrient-dense forages, and lesser-known cereals. In addition to detailed cultivation and processing information, Lazor argues the importance of integrating grains on the organic farm (not to mention for the local-food system) for reasons of biodiversity and whole farm management. Including extensive information on:
The history of grain growing and consumption in North America
The twenty-first century and the birth of the local-food movement
Considering your farm's scale and climate
Understanding soil fertility and structure
Planting your crop (including spring vs. fall cereals and preparing your soil)
The growing and ripening process (reproductive, milk, hard-and-soft dough stages)
The grain harvest
Preparing grain for sale, storage, or end use (drying, cleaning seed, grain handling)
Seed breeding and saving
Machinery, infrastructure, and processing (both home-scale tools and larger farm equipment)
Grinding grains for livestock rations (including how to put together a ration based on protein content) and sample rations for dairy cows, pigs, and chickens
Processing grains for human consumption
Additional resources and information for new grain farmers, and more . . .
Beginners will learn how to grow enough wheat for a year's supply of bread flour for their homestead, and farmers will learn how to become part of a grain co-op, working alongside artisan bakers and mills. Never before has there been a guide to growing organic grains applicable both for the home-scale and professional farming scale. This will be a classic for decades to come and a crucial addition to any farmer's, homesteader's, gardener's, agronomist's, or seed-saver's library.