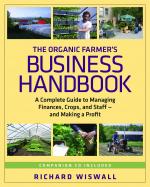 Like this book? Digg it!

Book Data
ISBN: 9781603581424
Year Added to Catalog: 2009
Book Format: Paperback with CD-ROM
Book Art: Photos, charts, & graphs
Dimensions: 8 x 10
Number of Pages: 200
Book Publisher: Chelsea Green Publishing
Release Date: September 30, 2009
Web Product ID: 473
The Organic Farmer's Business Handbook
A Complete Guide to Managing Finances, Crops, and Staff—and Making a Profit
"What a breath of fresh air! Richard Wiswall challenges the conventional notion that there's no real money in farming. He argues that farmers should be well-compensated, and then he shows how to make that happen. Every farmer--organic or not, beginner or experienced--should read this book."

—Lynn Byczynski, editor and publisher of Growing for Market, a journal of news and ideas for local food producers
Contrary to popular belief, a good living can be made on an organic farm. What's required is farming smarter, not harder.
In The Organic Farmer's Business Handbook, Richard Wiswall shares advice on how to make your vegetable production more efficient, better manage your employees and finances, and turn a profit. From his twenty-seven years of experience at Cate Farm in Vermont, Wiswall knows firsthand the joys of starting and operating an organic farm—as well as the challenges of making a living from one. Farming offers fundamental satisfaction from producing food, working outdoors, being one's own boss, and working intimately with nature. But, unfortunately, many farmers avoid learning about the business end of farming; because of this, they often work harder than they need to, or quit farming altogether because of frustrating—and often avoidable—losses.
In this comprehensive business kit, Wiswall covers:
Step-by-step procedures to make your crop production more efficient
Advice on managing employees, farm operations, and office systems
Novel marketing strategies
What to do with your profits: business spending, investing, and planning for retirement
A companion CD offers valuable business tools, including easy-to-use spreadsheets for projecting cash flow, a payroll calculator, comprehensive crop budgets for forty different crops, and tax planners.